White City Stadium, Lower Breck Road, Anfield, Liverpool.
POSTCODE———————————-L6 4BX
LOCATED————————————About one mile south east of Liverpool Football Club's Anfield Stadium.
ORIGINAL SITE—————————–Belmont Road Institute Athletics grounds.
DATE CONSTRUCTED——————–1931
DATE VENUE OPENED——————August 1932.
Meaning other sports may have taken place prior to the arrival of Greyhound Racing.
FIRST MEETING—————————-August 20th 1932.
Greyhound Racing only.
LICENSED OR INDEPENDENT———Majority of the time NGRC.
All venues covered would have to be licensed with the government, licensed suggested in this section would refer to tracks operating under NGRC Rules.
INSIDE OR OUTSIDE HARE TYPE——Outside Sumner.
Please note that the Electric Hare suggested is only a guidance and would have been in operation for a certain amount of time at this venue. Although it is not necessarily guaranteed that it was operational all the time, as other types of lure may have been used and updated as time progressed.
DISTANCES———————————–310 and 500 yards.
Please note that most racing venues distances had become varied throughout the years, the ones given above were at once point set and offers only a guidance to the track size.
CIRCUMFERENCE————————–440 yards.
Please note that alterations at most racing venues throughout its existence would see that the circumference of the track would vary, the one shown above offers only a guidance to the track size.
BIG RACE NAMES————————–None found.
STADIUM SHARED WITH—————-Nothing found.
LAST MEETING—————————–October 6th 1973, 800 attended.
Greyhound Racing only.
STADIUM CLOSURE DATE—————October 1973 having been sold to developers for £250,000.
Meaning other sports may have taken place after Greyhound Racing had ceased.
STADIUM DEMOLITION——————1974
BUILT ON SITE——————————–The St Margerets Primary School in Anfield, along with its sportsfield situated at the rear of the school.
In some cases, structure's that originally covered the venue after the stadium had been demolished, may have been themselves demolished too, so the one described is more likely to be the one which now presently covers the site.
EVIDENCE LEFT TODAY——————–Earth settlement and trees on its south eastern boundary are evident from images from google earth gives an impression of were the stadium once lay.
FURTHER COMMENTS———————The stadium had covered roof all the way round, similar to those of the old Crayford and Gosforth Stadiums.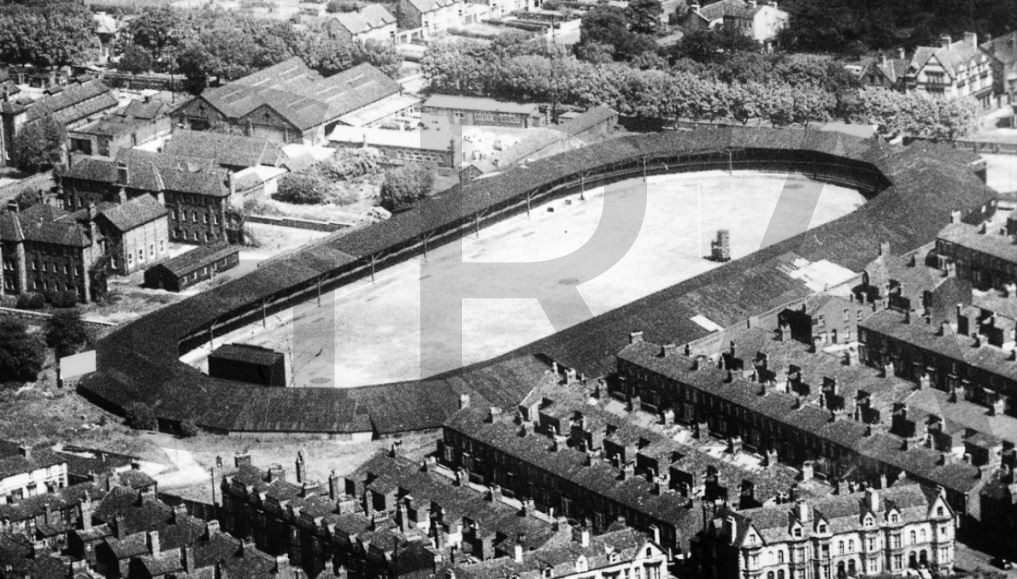 Liverpool's White City Greyhound Stadium was found in the district of Anfield, situated just off Lower Breck Road, roughly one mile southeast of Liverpool Football Club. The site had originally been The Belmont Institute Athletics Ground and had been purchased by a Glaswegian born greyhound racing enthusiast. His idea was to construct a track similar in design to that of The White City Stadium in Glasgow, a popular track which had opened for greyhound racing three years previous.
Construction began in 1931, but once complete, the stadium designers could proudly boast that they had built the venue in record time and had become the first ever purpose-built greyhound stadium to have covered accommodation for racegoers all the way around. On the 20th of August 1932, and at a cost of over £70,000, the New Liverpool White City Greyhound Stadium was ready to stage its opening meeting. The newly formed greyhound company would supply most of the greyhounds, with all events being run over the 440-yard circuit, with an outside Sumner type hare used as the lure.
The bulk of its existence had seen it stage racing under NGRC rules, but due to circumstances Liverpool White City did operate as an independent track during the early 1960's before reverting back NGRC rules in 1964. The venue struggled with a restricted number of greyhounds available, and regularly staged meetings with just four dog races. But something else was different with this track compared to others, which was a ruling written in clearly across the centre of its race card. It read, Notice" In All Scratch Races No. 1 Will Be Run On The Inside Rail, In All Handicap Races No. 1 Will Run On The Outside Rail (Hare Rail), clearly unheard of today.
Yet poor crowds and the limited number of greyhounds available had already put the future of Liverpool White City in doubt, but yet more fuel was added to the fire in 1972 after the venue was sold to the GRA. It was a period that also witnessed the GRA purchase two others tracks that of Portsmouth and the Carntyne track in Glasgow. But these purchases by the GRA were expected to boost business, but it was not to be the case, as both Liverpool White City and Carntyne had been sold on again this time to their appropriate councils. It had only taken a matter of months for the GRA to buy and sell both stadiums, with the Liverpool venue being sold to the council for £250,000, but what became more of a concern was that the council acquired the site for redevelopment.
It came as no surprise when it was announced that the stadium would close, with its final meeting being staged on the 6th of October 1973, with almost 800 racegoers in attendance. The site was eventually bulldozed, seeing The St Margaret's Primary School covering part of the site, with the other part being grassed over to act as a sports field for the school. Any evidence left behind by The White City Stadium has now been virtually removed, yet the sports fields boundaries which are surrounded by trees and earth settlement still pinpoints were it once lay.
A programme, photograph or even memorabilia for this track is required for this page, if you can help please contact me.