Moorfield Stadium, Sunderland Road, Easington, County Durham.
POSTCODE———————————-SR8 3TS
LOCATED————————————About half a mile north of Easington village on the B1482.
ORIGINAL SITE—————————–Farm grazing land.
DATE CONSTRUCTED——————–1934, although Whippet Racing did take place on the meadows prior to its construction.
DATE VENUE OPENED——————-December 1934.
Meaning other sports may have taken place prior to the arrival of Greyhound Racing.
FIRST MEETING—————————-December 25th 1934.
Greyhound Racing only.
LICENSED OR INDEPENDENT———-Independent
All venues covered would have to be licensed with the government, licensed suggested in this section would refer to tracks operating under NGRC Rules.
INSIDE OR OUTSIDE HARE TYPE——Outside Swaffham.
Please note that the Electric Hare suggested is only a guidance and would have been in operation for a certain amount of time at this venue. Although it is not necessarily guaranteed that it was operational all the time, as other types of lure may have been used and updated as time progressed.
DISTANCES———————————–247, 410 and 585 metres.
Please note that most racing venues distances had become varied throughout the years, the ones given above were at once point set and offers only a guidance to the track size.
CIRCUMFERENCE—————————338 metres.
Please note that alterations at most racing venues thought its existence would see that the circumference of the track would vary, the one shown above offers only a guidance to the track size.
BIG RACE NAMES—————————Easington Derby.
STADIUM SHARED WITH——————Nothing known of other than possibly Whippet Racing.
LAST MEETING——————————-October 29th 2017.
Greyhound Racing only.
STADIUM CLOSURE DATE—————-Still operating as a schooling track.
Meaning other sports may have taken place after Greyhound Racing had ceased.
STADIUM DEMOLITION——————–N/A
BUILT ON SITE——————————–N/A
In some cases, structure's that originally covered the venue after the stadium had been demolished, may have been themselves demolished too, so the one described is more likely to be the one which now presently covers the site.
EVIDENCE LEFT TODAY———————N/A
FURTHER COMMENTS———————-When it opened in 1934, it was advertised as The New White City Stadium.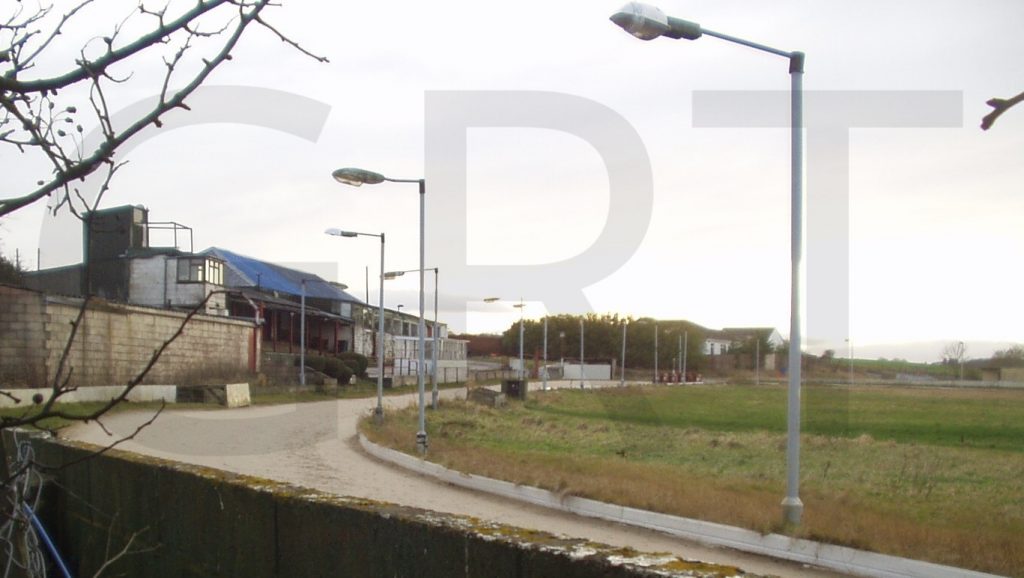 Seventeen miles north of Middlesbrough lies the town of Easington in County Durham, a town more recognised to historians for its coal mining disaster that claimed the lives of 83 miners in 1951. The town also acted as a home to The Easington Greyhound Stadium, which only recently closed for racing due to lack of entrants. The venue is situated in a rural area and is still clearly visible when travelling along the A19, set back on a hillside to the east.
It was during the early 1930's that the first signs of any sporting activities took place on a farmer's field next to the B1482 Sunderland Road, just less than half a mile north of the town. Originally the site had become a gathering for Whippet Racing enthusiasts, a sport which during that period ran side by side with most local mining communities. It wasn't until 1934 that the idea of Greyhound Racing would eventually be tried at Easington with the proprietors noticing that the sport was already in full swing across the UK, and booming in the north east.
It began life as a flapping track, with its first meeting being staged on the afternoon of Christmas Day 1934, an afternoon event organised due to the track having no lighting. The new stadium had been advertised as The New White City, a name that would hope to attract extra punters. The meeting staged an eleven race event, with the five fastest greyhounds of the eleven races running twice to make up a twelfth. A greyhound called "Must Win" won the very first event, yet it was another hound called Dark Lady who made a name for herself by winning her heat, and also the final.
Prior to the outbreak of the Second World War, the White City name was dropped, this due to its name being more associated with other greyhound companies, and therefore changed its name to The Moorfield Stadium. A ball hare type system was used as its lure, a system that still was in use right up until the late 1980's, before switching to a more recognised inside Sumner type, before switching again, this time to a more recognised outside Swaffham type.
During the good times, the venue hosted six dog racing over distances of 247, 410 and 585 metres, on a sanded track that was 338 metres in circumference. In the later years, the Easington venue only raced once a week – on Sundays – but it eventually closed with the last meeting on 29th October 2017. It operated as a schooling track until the whole site was demolished to allow the construction of a housing estate, which now bears the name Moorfield – a reminder of the existence of the old Moorfield Stadium dog track.
Memorabilia for this track is required for this page, if you can help please contact me.