Hornsay Street, Off Old Kent Road, New Cross, London
POSTCODE———————————-SE15 1PN
LOCATED————————————The site is located five miles south east of London City centre. At the eastern side of Hornshay Street, 200 yards south of The New Den the home of Millwall Football Club.
ORIGINAL SITE—————————–A triangular section of land formed by the coming together of railway lines, then opened as an athletics venue during the early 1900's.
DATE CONSTRUCTED——————–1932-33
DATE VENUE OPENED——————-June 1st 1933
Meaning other sports may have taken place prior to the arrival of Greyhound Racing.
FIRST MEETING—————————–1933
Greyhound Racing only.
LICENSED OR INDEPENDENT———-Independent early days then switched to NGRC in 1936.
All venues covered would have to be licensed with the government, licensed suggested in this section would refer to tracks operating under NGRC Rules.
INSIDE OR OUTSIDE HARE TYPE——Inside Sumner.
Please note that the Electric Hare suggested is only a guidance, and would have been in operation for a certain amount of time at this venue. Although it is not necessarily guaranteed that it was operational all the time, as other types of lure may have been used and updated as time progressed.
DISTANCES———————————–415, 550, 600, 770 and 880 yards.
Please note that most racing venues distances had become varied throughout the years, the ones given above were at once point set and offers only a guidance to the track size.
CIRCUMFERENCE—————————354 yards.
Please note that alterations at most racing venues throughout its existence would see that the circumference of the track would vary, the one shown above offers only a guidance to the track size.
BIG RACE NAMES—————————The Berkeley Cup, The Millwall Cup and The Greenwich Cup.
STADIUM SHARED WITH——————Speedway 1934-1963, Stock Car Racing and Occasionally Millwall football Club used it for training purposes.
LAST MEETING——————————-April 3rd 1969.
Greyhound Racing only.
STADIUM CLOSURE DATE—————-1969
Meaning other sports may have taken place after Greyhound Racing had ceased.
STADIUM DEMOLITION——————-Mid 1970's
BUILT ON SITE——————————-Partly houses on John Williams Close and grassland known as Bridgehouse Meadows.
In some cases, structure's that originally covered the venue after the stadium had been demolished, may have been themselves demolished too, so the one described is more likely to be the one which now presently covers the site.
EVIDENCE LEFT TODAY——————-Small sections of wall are visible plus odd gateposts, but the shape is still evident of satellite views.
FURTHER COMMENTS——————–The smallest NGRC track that operated in Greater London and was sometimes called The Frying Pan.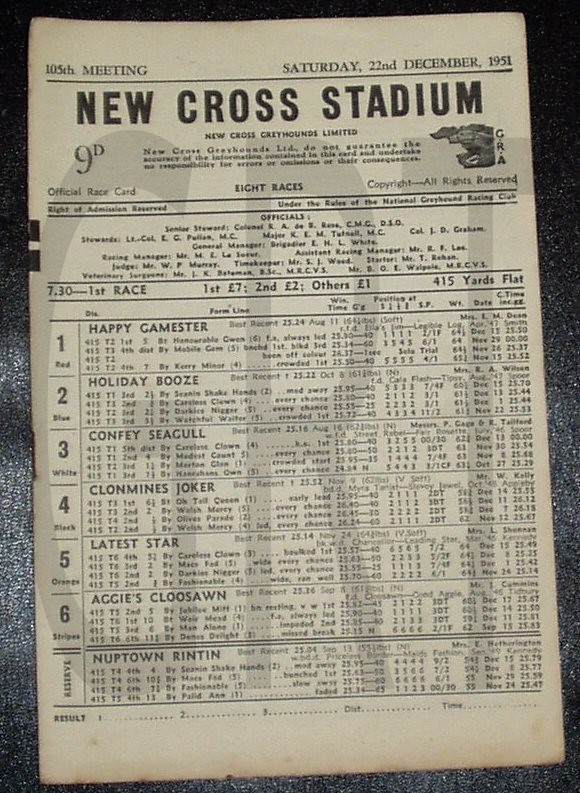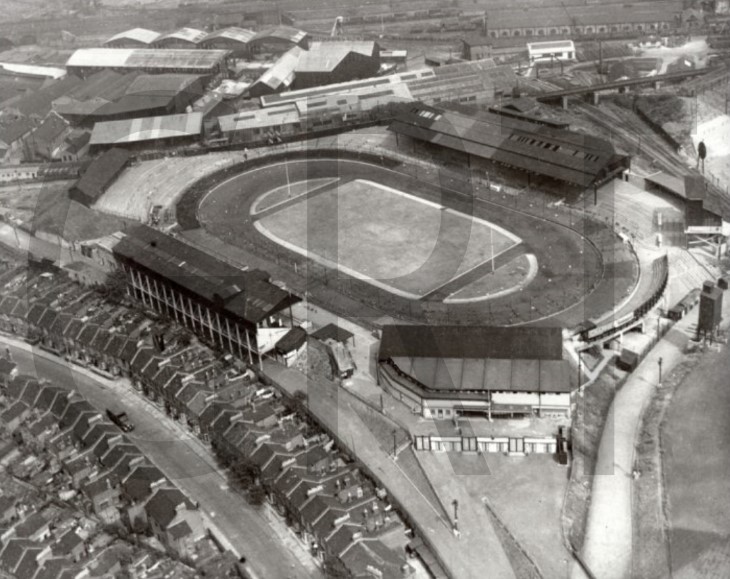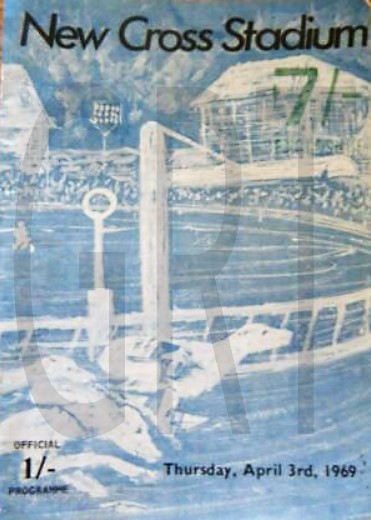 Another one of South London's past greyhound stadiums was found just off The Old Kent Road, at the bottom of Horsley Street, and became known as The New Cross Stadium. Originally the site had been nothing more than waste land owned by The East London Railway Company, a triangular section of land created by the coming together of three railway lines.
But by the early 1900's the site had transformed into an athletics track and had become the first of two notable sporting venues that would develop in the area, the other being The Den, an early football stadium belonging to Millwall Football Club, which had been built during 1910. From a distance it seemed the two stadiums lay virtually next to each other, but it was not the case as a disused railway line divided them both and left them with no immediate access to each other.
By the early 1930's London was in the midst of the greyhound racing boom, the success seen at Catford, situated just three miles away, which had opened in 1932, had given food for thought for a group of businessmen who were ready to invest in a sport that had caught the imagination of a densely populated area of East London. It was during 1932 that the newly formed greyhound company purchased the five-acre site of the athletics track, with the New Cross Greyhound Stadium beginning life as a flapping track and staging its inaugural meeting the following year.
The greyhound track that had been laid was very small indeed when comparing it to other London tracks, having a circumference of just 354 yards, a circuit which could be classed as tiny compared to that of West Ham's huge 540-yard track. Even the back and finishing straights were short, just 86 yards in length, but it did however benefit by having banked bends, as most during that period did not.
Another statistic was added in 1934, when a Speedway track was constructed within the infield of the greyhound track, this had a circumference of just 200 yards, making it the smallest speedway track in Britain, and became known to speedway fanatics as The Frying Pan. Speedway played a big part in the stadium's history, featuring up to and after The Second World War, before staging its final event during 1963. It also played a role in a well-known feature film called "The Jolly Swagman", which starred Dirk Bogart and Bill Owen, and had played centre stage of the film during its 1948 filming.
The early success of Greyhound Racing witnessed at New Cross had caught the eye of the GRA who purchased the stadium in 1936. New investment had seen a glass fronted grandstand and restaurant built, along with enough covered terracing to support a crowd of at least 20,000 onlookers. The venue was beginning to establish itself as a multi-purpose venue with other sports also being staged at New Cross, such as Boxing, and then becoming one of the pioneering venues to promote Stock Car Racing firstly in 1954 and continued to do so up until 1966. It also had links with its neighbour, Millwall Football Club, who used the venue, but that was just for training purposes only.
It promoted attractive competitions such as The New Cross Sprint run in January, The Berkeley Cup run in April, both run over 415 yards, and also The Millwall Cup and The Greenwich Cup. By the 1960's six dog racing was being staged over distances of 415, 550, 600, 770 and 880 yards, on a track that was made up of an unusual fine granulated peat which consisted of an inside Sumner type hare. In 1968 New Cross accepted an invitation to sign up to a BAGS Contract, although it was only temporary, it all came about due to the sudden closure of the Stamford Bridge track during August of that year. But the future of the stadium looked in doubt after the GRA sold the stadium just as the lease ran out in 1969.
Their intentions were hoped that the nearby GRA owned track at Catford, would presumably attract the trackless New Cross punters, with the benefits of having one less track to maintain. New Cross staged its very last meeting on the 3rd of April 1969, although experimental trials were still held during 1970, due to the GRA's plans of stage eight dog racing elsewhere.
By March 1974 all outbuildings had been removed, leaving nothing but mounds of rubble behind, with just the perimeter wall still intact. Then in 1976, a proposal was made by a local professional trainer, to construct a new greyhound track on the abandoned site, along with a new kennel block, with the hopes of become a schooling track. Disappointingly the project never materialised, and within the next few years new housing began to cover part of the site. Although those houses located on John Williams Close, cover a smallish area, the larger grassed area now known as Bridgehouse Meadows has become landscaped.
Looking down from satellite views, evidence still remains of where the track once was, as earth mounds still gives it shape, along with the trees that follows the disused railway lines on its eastern edge. Yet back on earth, concrete posts, crumbling sections of perimeter walls, and also a small section of terracing remain evident, enough to back up that it once was there. The site today is found 200 yards south of Millwall Football Clubs present stadium, The New Den, but I do fear in the near future that this site too will be lost to more housing.
Memorabilia for this track is required for this page, if you can help please contact me.