Green Lanes, Harringay, Greater London.
POSTCODE———————————-N4 1DS
LOCATED————————————About six miles north of London city centre, and just east of Harringay Green Lanes Railway Station.
ORIGINAL SITE—————————–A Pottery Works during the 19th century, then a dumping ground for waste from the construction of a local Railway line.
DATE CONSTRUCTED——————–1927
DATE VENUE OPENED——————-1927
Meaning other sports may have taken place prior to the arrival of Greyhound Racing.
FIRST MEETING—————————–September 13th 1927.
Greyhound Racing only.
LICENSED OR INDEPENDENT———-NGRC.
All venues covered would have to be licensed with the government, licensed suggested in this section would refer to tracks operating under NGRC Rules.
INSIDE OR OUTSIDE HARE TYPE——Outside
Please note that the Electric Hare suggested is only a guidance, and would have been in operation for a certain amount of time at this venue. Although it is not necessarily guaranteed that it was operational all the time, as other types of lure may have been used and updated as time progressed.
DISTANCES———————————–414,480, 660 and 832 metres.
Please note that most racing venues distances had become varied throughout the years, the ones given above were at once point set and offers only a guidance to the track size.
CIRCUMFERENCE—————————Dont know
Please note that alterations at most racing venues throughout its existence would see that the circumference of the track would vary, the one shown above offers only a guidance to the track size.
BIG RACE NAMES—————————The Pall Mall, The Oaks and Gold Vase.
STADIUM SHARED WITH——————Speedway from 1928-1961. Stock Car Racing from 1954-1980.
LAST MEETING——————————-September 25th 1987.
Greyhound Racing only.
STADIUM CLOSURE DATE—————-1987
Meaning other sports may have taken place after Greyhound Racing had ceased.
STADIUM DEMOLITION——————-1987-88
BUILT ON SITE——————————-Housing on Finsbury Park Close, Wiltshire Gardens and Maldon Court. Also a Sainsbury Shopping Store and its car park.
In some cases, structure's that originally covered the venue after the stadium had been demolished, may have been themselves demolished too, so the one described is more likely to be the one which now presently covers the site.
EVIDENCE LEFT TODAY——————-A possible perimeter brick wall between new housing and an existing factory on the sites eastern edge.
FURTHER COMMENTS——————–None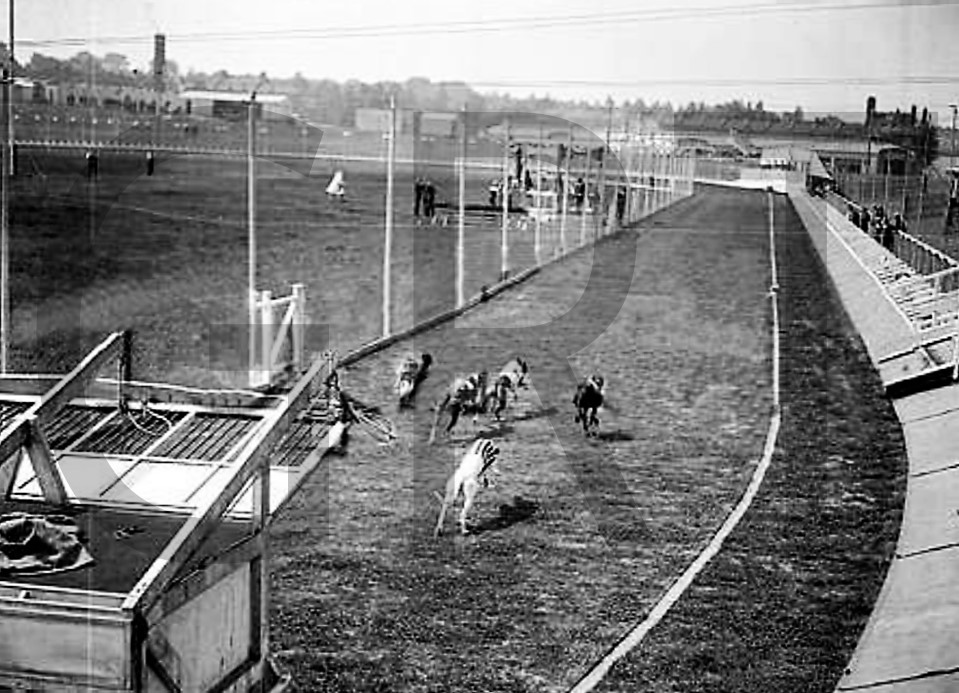 Harringay Greyhound Stadium was located roughly six miles north of the city of London, just east of the present day Harringay Green Lanes Railway Station. Originally the site had been the grounds of a pottery works, a company which had been in production since the mid 1700's, and had continued to produce goods right up until the turn of the twentieth century. The years between the pottery factory's demise and the greyhound stadium's construction, had been nothing more than a dumping ground for waste material left over from the construction of a local railway line.
Construction of the Harringay Stadium began in 1927 and took nearly nine months to complete at a total cost of £35,000. At the time Harringay had become recognised as London's number two track, after the White City Stadium had opened for Greyhound Racing in June of that year, both being controlled under the guidance of the GRA. Harringay's first meeting came on the 13th of September 1927, and became Britain's third licensed track to open, after London's White City and Manchester's Belle Vue.
Originally named Harringay Park, the stadium could now accommodate up to 50,000 people, with 3,000 seated in the main grandstand, with the majority allowed to view races on steeped earth banks which totally surrounded the track. Big crowds gathered during its early days and continued to do so right up until the outbreak of the Second World War, with regular meetings often attracting 10,000 plus crowds, along with as many as 395 bookmakers in attendance.
In 1937 the nearby Romford Greyhound Stadium featured cheetah racing, with Harringay playing a big part by allowing experimental trials on their own track. In 1930, Harringay became one of the first tracks to install a tote system, before upgrading it during 1948, then the same system being used continuously right up until its closure in 1987.
The stadium once hosted The Greyhound Derby final, but this was unofficial because it was held during wartime hostilities. The stadium also had a reputation of crowd disturbances, when one incident witnessing six fire engines dispersing rioters, after they had set fire to the track's tractor, and also smashed track lighting and windows, all because the judges disqualified a winning dog. The years between 1965 and 1985 had seen occasional live televised Greyhound Racing from Harringay, shown on a Saturday afternoon as part of The World of Sport's popular ITV Seven, being used only as a backup for when Horse Racing meetings had been cancelled because of adverse weather conditions.
Incidentally the ITV Seven, was where you had to pick seven winners in a rollover bet, costing just 10p, a bet which would always pay big dividends at the time, usually well in to four sometimes five figure sums. Other sports featured at the Harringay Stadium, such as Speedway, first seen during 1928, then Stock Cars from 1954 until 1980, notably known as the venue to stage its World Championship finals, and also Baseball which made a brief appearance during the Second World War.
Harringay had always run under the NGRC rules banner, with six dogs chasing an outside hare, over distances of 414, 480, 660 and 832 metres. Its big race attractions were The Pall Mall Stakes contested over 480 metres, mainly run in April, The Oaks run over the 480 metres trip in November, The Gold Vase run over 660 metres in July, and The Poor Mick Marathon raced over 832 metres in October. But like so many other stadium's, its graphical position had become a target for developers, and was sold to a supermarket chain for 10.5 million in 1985. Harringay just celebrated its 60th year of existence, before the stadium closed, staging its final meeting on the 25th September 1987.
The site now is covered by a Sainsbury's Superstore along with its car park, but also housing which is found on Finsbury Park, Wiltshire Gardens and Maldon Court, all of which covers its eastern flank. The only possible evidence left of the Harringay Stadium, lies with a perimeter wall and a banking, which separates the new houses from a nearby factory.
Memorabilia for this track is required for this page, if you can help please contact me.