Eastbournia Avenue, Lower Edmonton, London.
POSTCODE———————————-N9 0HA
LOCATED————————————The site lies two miles north west of Tottenham Hotspur's Football Stadium, north of Tottenham Park Cemetery on Montague Road hemmed in between a small river and some houses.
ORIGINAL SITE—————————–A grazing meadow next to Salmons Brook.
DATE CONSTRUCTED——————–1930
DATE VENUE OPENED——————-December 1930
Meaning other sports may have taken place prior to the arrival of Greyhound Racing.
FIRST MEETING—————————–December 14th 1930.
Greyhound Racing only.
LICENSED OR INDEPENDENT———-Independent
All venues covered would have to be licensed with the government, licensed suggested in this section would refer to tracks operating under NGRC Rules.
INSIDE OR OUTSIDE HARE TYPE——Dont know
Please note that the Electric Hare suggested is only a guidance, and would have been in operation for a certain amount of time at this venue. Although it is not necessarily guaranteed that it was operational all the time, as other types of lure may have been used and updated as time progressed.
DISTANCES———————————–300, 460 and 650 yards.
Please note that most racing venues distances had become varied throughout the years, the ones given above were at once point set and offers only a guidance to the track size.
CIRCUMFERENCE—————————Dont know
Please note that alterations at most racing venues throughout its existence would see that the circumference of the track would vary, the one shown above offers only a guidance to the track size.
BIG RACE NAMES—————————Nothing found.
STADIUM SHARED WITH——————Nothing known of.
LAST MEETING——————————-Possibly early 1950's.
Greyhound Racing only.
STADIUM CLOSURE DATE—————-Possibly early 1950's.
Meaning other sports may have taken place after Greyhound Racing had ceased.
STADIUM DEMOLITION——————-Around 1960.
BUILT ON SITE——————————-Council Flats on Barrowfield Close, Lower Edmonton which developed during the 1960's.
In some cases, structure's that originally covered the venue after the stadium had been demolished, may have been themselves demolished too, so the one described is more likely to be the one which now presently covers the site.
EVIDENCE LEFT TODAY——————-Nothing known but its entrance was on Eastbournia Avenue.
FURTHER COMMENTS——————–None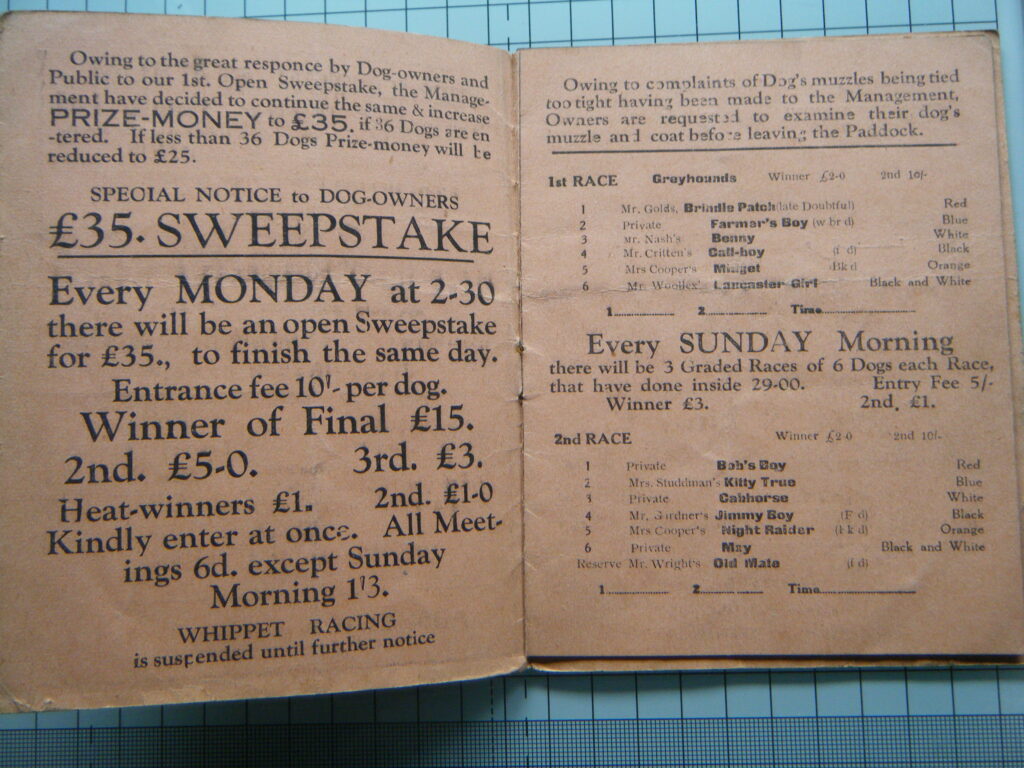 Another addition to the small list of London's flapping tracks was the one in Lower Edmonton. The Borough of Edmonton lies in North London, roughly two miles north of Tottenham Hotspurs White Hart Lane Stadium.
The venue was Constructed during 1930, on a narrow strip of land that lay between a small stream known as Salmon Brook, and a housing estate, with access to the track at the bottom of Eastbournia Avenue. Its first meeting came on the 15th of December 1930, although information regarding how operated remains limited.
Gatherings would last for more than a quarter of century, before eventually closing during the early 1950's. The site of the track is now covered by council flats on Borrowfield Close, a road accessed by Granville and St Malo Avenue, just North of Tottenham Park Cemetery which lies along the side Montague Road.
A programme, photograph or even memorabilia for this track is required for this page, if you can help please contact me.