White City Stadium, Chainbridge Road, Blaydon, Newcastle- upon-Tyne, Tyne & Wear.
POSTCODE———————————-NE21 5SS
LOCATED————————————Four miles west of Newcastle City centre, and south of the River Tyne, just off the A695 opposite Scotswood Bridge.
ORIGINAL SITE—————————–Built on unused land next to the LNER Redheugh Branch Railway Line.
DATE CONSTRUCTED——————–1936-37
DATE VENUE OPENED——————-1937
Meaning other sports may have taken place prior to the arrival of Greyhound Racing.
FIRST MEETING—————————–October 7th 1937.
Greyhound Racing only.
LICENSED OR INDEPENDENT———-NGRC.
All venues covered would have to be licensed with the government, licensed suggested in this section would refer to tracks operating under NGRC Rules.
INSIDE OR OUTSIDE HARE TYPE——Inside Sumner.
Please note that the Electric Hare suggested is only a guidance and would have been in operation for a certain amount of time at this venue. Although it is not necessarily guaranteed that it was operational all the time, as other types of lure may have been used and updated as time progressed.
DISTANCES———————————–325, 525, 550 and 700 yards.
Please note that most racing venues distances had become varied throughout the years, the ones given above were at once point set and offers only a guidance to the track size.
CIRCUMFERENCE—————————Don't know.
Please note that alterations at most racing venues throughout its existence would see that the circumference of the track would vary, the one shown above offers only a guidance to the track size.
BIG RACE NAMES—————————Nothing found.
STADIUM SHARED WITH——————Athletics, Rugby Union and Women's International Football.
LAST MEETING——————————-May 26th 1951.
Greyhound Racing only.
STADIUM CLOSURE DATE—————-1952
Meaning other sports may have taken place after Greyhound Racing had ceased.
STADIUM DEMOLITION——————-Early 1950's.
BUILT ON SITE——————————-Tata Steel Stockists Building.
In some cases, structure's that originally covered the venue after the stadium had been demolished, may have been themselves demolished too, so the one described is more likely to be the one which now presently covers the site.
EVIDENCE LEFT TODAY——————-Nothing known of.
FURTHER COMMENTS——————–None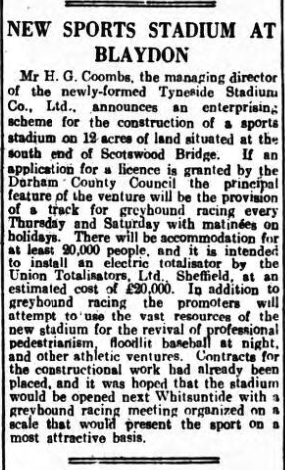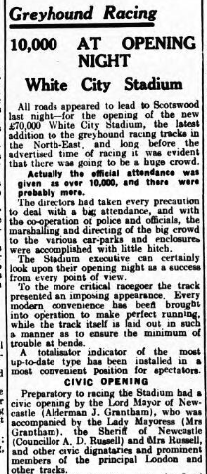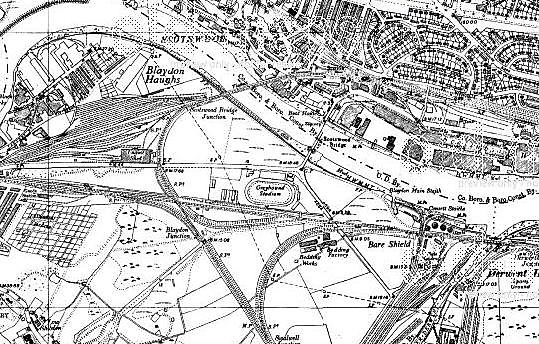 When looking back to the 1930's, Newcastle's greyhound fraternity had lived through a decade were they had as many as five NGRC greyhound tracks to choose from. Venues such as Brough Park, Gosforth Park, South Shields and Redheugh Park at Gateshead, offered a busy schedule of meetings for its racegoers, yet a fifth track would be added to the list by the latter end of the 1930's, that of the White City Stadium, Newcastle.
It was located four miles south west of Newcastle city centre, just across the River Tyne in the district known as Blaydon, not for from one of the rivers busiest crossing points, Scotswood Bridge. It was constructed during 1937 on a section of land hemmed in between Scotswood Road and a busy railway line, next door to a decaying ex amateur football ground called Towneley Park, who had previously hosted greyhound racing at an independent level.
The new venue had been designed and constructed to host others sports also, such as Rugby Union and Athletics, even hosting international women's football during 1938. A derelict kennel block which had been previously used by the adjacent Towneley Park venue was revamped and extended to accommodate the required amount of greyhounds needed for each meeting. Distances were calculated at 325, 525, 550 and 700 yards, which would see six greyhounds contesting behind an inside Sumner type hare. At a cost of £70,000 to construct, The White City Stadium, Newcastle staged its first meeting on the 7th of October 1937 with a hound called Norah Criena winning the first event in front of an estimated 10,000 crowd.
It wasn't long before the track could boast itself as a successful business venture, as tote takings exceeded the one million pound mark virtually every year right up until 1947, even through the tough restrictions observed during the Second World War. But new gambling legislation set during the post war years, became the main factor to the stadiums decline. With tote figure's rapidly declining, the government's set a new tax rate of 62% on all takings, which brought with it close scrutiny of all greyhound tracks. The new laws were enough for the promoters to quit the sport, seeing White City, Newcastle staging their final race meeting on the 26th of May 1951, less than 14 years after it had opened.
The greyhound track was dug up and was replaced by an Athletics track with Blaydon Harriers making it their home. But Athletics failed to get the recognition expected from the public, which in turn contributed to the total closure of the venue in 1952.
Today the site is covered by a company called British Steel Stockists, and is found set back just off Chain Bridge Road, and sadly leaves no evidence at all of the stadium's existence. The site of the old kennel block is thought to be pinpointed by M & S Beautician Supplies located along Toll Bridge Road.
A photograph or memorabilia for this track is required for this page, if you can help please contact me.