Knowle Road, Brixton, South London.
POSTCODE———————————-SW9 0TQ
LOCATED————————————West of Brixton Road, opposite Max Roach Park.
ORIGINAL SITE—————————–Built on unoccupied land next door to a church.
DATE CONSTRUCTED——————–1932
DATE VENUE OPENED——————-September 1932.
Meaning other sports may have taken place prior to the arrival of Greyhound Racing.
FIRST MEETING—————————–September 10th 1932.
Greyhound Racing only.
LICENSED OR INDEPENDENT———-Independent
All venues covered would have to be licensed with the government, licensed suggested in this section would refer to tracks operating under NGRC Rules.
INSIDE OR OUTSIDE HARE TYPE——Outside
Please note that the Electric Hare suggested is only a guidance, and would have been in operation for a certain amount of time at this venue. Although it is not necessarily guaranteed that it was operational all the time, as other types of lure may have been used and updated as time progressed.
DISTANCES———————————–400 yards.
Please note that most racing venues distances had become varied throughout the years, the ones given above were at once point set and offers only a guidance to the track size.
CIRCUMFERENCE—————————Dont know.
Please note that alterations at most racing venues throughout its existence would see that the circumference of the track would vary, the one shown above offers only a guidance to the track size.
BIG RACE NAMES—————————Nothing known of.
STADIUM SHARED WITH——————Boxing bouts arew known to have been staged.
LAST MEETING——————————-Not known, but awarded a 1935 Betting & Lotteries License
Greyhound Racing only.
STADIUM CLOSURE DATE—————-Maybe 1939
Meaning other sports may have taken place after Greyhound Racing had ceased.
STADIUM DEMOLITION——————-Around 1939.
BUILT ON SITE——————————-St Helens Roman Catholic School.
In some cases, structure's that originally covered the venue after the stadium had been demolished, may have been themselves demolished too, so the one described is more likely to be the one which now presently covers the site.
EVIDENCE LEFT TODAY——————-Nothing known of.
FURTHER COMMENTS——————–One of the smallest purpose built Greyhound Staduims in the UK.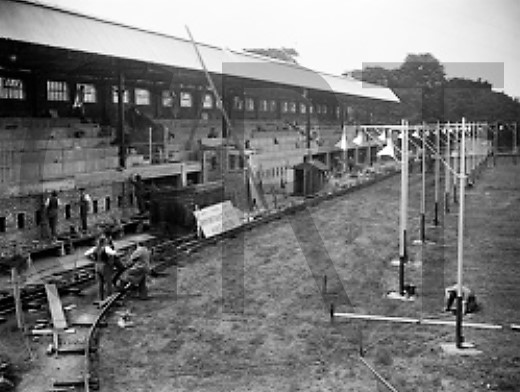 Another of London's flapping tracks was the one located in the densely populated area of Brixton, a district situated roughly four miles south of London's city centre. The venue was found on the west side of Brixton along the side of Knowle Road, opposite a popular recreational area known as Max Roach Park. It was to be built on land next door to a church, and despite a four thousand signed petition being forwarded to the council against the idea, the construction of the track went ahead.
Foundation work began in July 1932, and yet amazingly within three months the stadium was up and ready to stage its opening meeting. The Brixton track became probably the quickest of all-purpose built greyhound stadiums ever to be built, and yet due to its restricted space available became one of the smallest. It had a main stand that had standing viewing for up to three thousand racegoers, and also track side lighting, yet it did not have any kennelling area on the premises, as the greyhounds were ferried from kennels stationed twenty miles away in Kent. The grass circuit was short indeed, having just enough circumference to create a 400-yard four bend race with the electric hare bogie running on rails along the outside of the track.
Brixton staged its opening meeting on the 10th of September 1932, when over four thousand patrons packed the stadium, along with another two thousand being locked outside after the stadium could not take any more, forcing the turnstiles to be locked by 8 o'clock. A greyhound called Ballinadrimna won the first ever race over the 400-yard trip, on an evening that would see another six events. Although purposely built for greyhound racing, boxing bouts also featured, with the first being arranged for September 1933.
Although a Betting License had been granted for 1935, no newspaper reports of any Greyhound Racing took place at the venue after February 1933, therefore it is still remains unclear when the sport ceased. Eventually the stadium was demolished soon after, seeing it replaced by a transport depot.
Today, the transport depot too has long gone, with the site now being partially covered by the St Helens Roman Catholic School, and the Bedwell House Flats situated along side Brixton Road. Knowle Road is no longer visible on present day maps, now better identified by Knowle Close at the rear of the school.
A programme, photograph or even memorabilia for this track is required for this page, if you can help please contact me.