The ex home of St Mirren Football Club, Love Street, Paisley, Nr Glasgow, Scotland.
POSTCODE———————————-PA3 2EA
LOCATED————————————The town of Paisley lies just two miles south of Glasgow Airport, with the venue found half a mile north of Paisley town centre.
ORIGINAL SITE—————————–Grazing land that developed into a football pitch around the mid 1890's.
DATE CONSTRUCTED——————–Early 1900's as a Football Stadium.
DATE VENUE OPENED——————-1905
Meaning other sports may have taken place prior to the arrival of Greyhound Racing.
FIRST MEETING—————————–October 14th 1932.
Greyhound Racing only.
LICENSED OR INDEPENDENT———-Independent
All venues covered would have to be licensed with the government, licensed suggested in this section would refer to tracks operating under NGRC Rules.
INSIDE OR OUTSIDE HARE TYPE——Don't know.
Please note that the Electric Hare suggested is only a guidance and would have been in operation for a certain amount of time at this venue. Although it is not necessarily guaranteed that it was operational all the time, as other types of lure may have been used and updated as time progressed.
DISTANCES———————————–Don't know.
Please note that most racing venues distances had become varied throughout the years, the ones given above were at once point set and offers only a guidance to the track size.
CIRCUMFERENCE—————————Don't know.
Please note that alterations at most racing venues throughout its existence would see that the circumference of the track would vary, the one shown above offers only a guidance to the track size.
BIG RACE NAMES—————————Nothing known of.
STADIUM SHARED WITH——————St Mirren Football Club and Speedway.
LAST MEETING——————————-November 1932.
Greyhound Racing only.
STADIUM CLOSURE DATE—————-January 3rd 2009, a fixture between St Mirren and Motherwell.
Meaning other sports may have taken place after Greyhound Racing had ceased.
STADIUM DEMOLITION——————-Began during 2009.
BUILT ON SITE——————————-Tesco Extra Supermarket.
In some cases, structure's that originally covered the venue after the stadium had been demolished, may have been themselves demolished too, so the one described is more likely to be the one which now presently covers the site.
EVIDENCE LEFT TODAY——————-Nothing known of.
FURTHER COMMENTS——————–None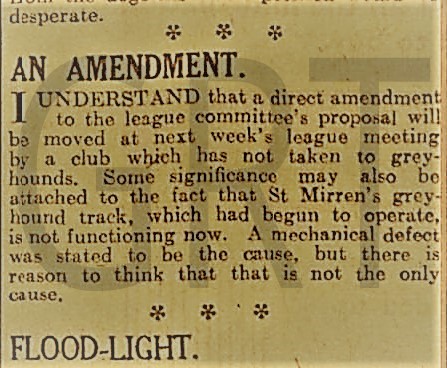 Another of the Scottish Football League grounds to feature Greyhound Racing was the one at Love Street in the town of Paisley, a stadium which had been the home venue of St Mirren Football Club for more than 100 years. The large town of Paisley is located on the southwestern fringes of Glasgow and lies just two miles south of Glasgow Airport and also the busy M8 motorway.
The first evidence of St Mirren playing football there was in 1894, when they rented a field along the side Love Street, which became their fifth home venue since forming 17 years previous. It was during 1905 that the directors of St Mirren purchased the site and began to develop it as a more recognised football stadium, and by 1921 the venue was large enough to accommodate 70,000 spectators. By the 1930's St Mirren had established themselves as a respectable Scottish League club, but the depression years had brought on financial hardship on most league clubs including St Mirren. Clubs were looking for other means to bring in extra finance, with a handful of them allowing Greyhound Racing to operate at their venues as the answer, even though it meant over riding threats issued by the Scottish FA, of losing their league status.
By 1932, the majority of the St Mirren shareholders had been persuaded by a Greyhound Racing Company to construct a greyhound track around its football pitch, with the hope of bringing in that much needed extra revenue. The idea at the time seemed attractive with Love Street's first meeting coming on the 14th of October 1932, with a greyhound called surprisingly, St Mirren winning the first ever event. But things were not going to plan as faulty equipment forced abandonments and postponements, and the lack of interest by the public also created concern. Within three weeks of operations, the new sport had no doubt failed, as the football club began to lose money almost immediately, and with the added pressure from the Scottish FA to ban Greyhound Racing at league grounds forced the sport to cease by the end of November.
Surprisingly, the ban set by the Scottish Football Association was lifted later, and again the St Mirren directors were approached to stage Greyhound Racing once more, but the approach was immediately declined, having seen what had happened the first time around.
Love Street continued to host St Mirren's home fixtures, with its ground capacity of 70,000 never tested, although over 47,000 people once attended a league fixture against Celtic in 1949. Greyhound Racing never returned to Love Street, yet Speedway was given a chance in 1975, lasting for just two seasons only before closing.
In 2007 the Love Street ground was sold to the Tesco Group, and by January 2009 its final football match had been played against Motherwell. The stadium lay idle for a couple of years, before it became demolished, to make way for a new Tesco Extra superstore which now covers the site. St Mirren now play at St Mirren Park, their new home venue since 2009.
A programme, photograph or even memorabilia for this track is required for this page, if you can help please contact me.