Crayford & Bexleyheath Stadium, Crayford Road, Crayford, Kent.
POSTCODE———————————-DA1 4HW
LOCATED————————————About half a mile south west of Crayford town centre.
ORIGINAL SITE—————————–Crayford Farfields Greyhound track.
DATE CONSTRUCTED——————–Early 1937.
DATE VENUE OPENED——————-July 1937.
Meaning other sports may have taken place prior to the arrival of Greyhound Racing.
FIRST MEETING—————————–July 10th 1937.
Greyhound Racing only.
LICENSED OR INDEPENDENT———-NGRC.
All venues covered would have to be licensed with the government, licensed suggested in this section would refer to tracks operating under NGRC Rules.
INSIDE OR OUTSIDE HARE TYPE——Outside Sumner.
Please note that the Electric Hare suggested is only a guidance, and would have been in operation for a certain amount of time at this venue. Although it is not necessarily guaranteed that it was operational all the time, as other types of lure may have been used and updated as time progressed.
DISTANCES———————————–462 and 647 metres.
Please note that most racing venues distances had become varied throughout the years, the ones given above were at once point set and offers only a guidance to the track size.
CIRCUMFERENCE—————————Dont know.
Please note that alterations at most racing venues throughout its existence would see that the circumference of the track would vary, the one shown above offers only a guidance to the track size.
BIG RACE NAMES—————————Crayford Vase, The Ike Morris Puppy Cup.
STADIUM SHARED WITH——————Speedway and Stock Car Racing.
LAST MEETING——————————-May 18th 1985.
Greyhound Racing only.
STADIUM CLOSURE DATE—————-May 1985.
Meaning other sports may have taken place after Greyhound Racing had ceased.
STADIUM DEMOLITION——————-Began November 1985.
BUILT ON SITE——————————-A Sainsbury's Supermarket.
In some cases, structure's that originally covered the venue after the stadium had been demolished, may have been themselves demolished too, so the one described is more likely to be the one which now presently covers the site.
EVIDENCE LEFT TODAY——————-Nothing known of.
FURTHER COMMENTS——————–This venue was the second of three recognised Greyhound Racing venues in Crayford.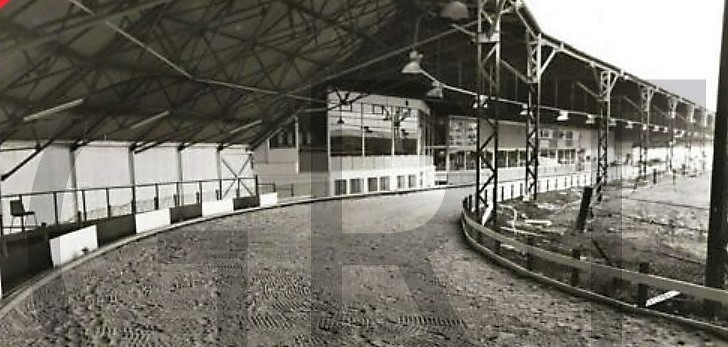 It was due to the closure of the original greyhound track in Crayford in late 1936 that a company calling themselves The Crayford And Bexleyheath Greyhound Racing Company invested in the construction of a brand new stadium on the original site. By the summer of 1937 the new venue was virtually complete after £50,000 had been spent, a figure more recognised as a whopping 2.8 million pounds in today's money.
The stadium had been designed and built almost identical to Newcastle's Gosforth Track that began operation in 1932. The stadium consisted of two glass fronted grandstands, both housing restaurants, bars and viewing areas, with the greyhound track itself totally covered by a cantilevered roof which was intended to help shelter it from adverse weather. Crayford's first meeting came on the 10th of July 1937 with events being run under NGRC rules.
The new greyhound company would eventually go on to manage two other tracks in England, both in the North East situated at Gosforth and Gateshead, the latter of which would open in November later that year. Its earlier years had seen races run over distances of 490 yards, but later reverted to the metric distances of 462 and 647 metres. Its big race attractions were The Ike Morris Puppy Cup and The Crayford Vase run over the 462-metre trip.
Speedway had played a part in the original Crayford Stadium, but it did not feature at the second venue until June 1968, lasting for no more than just two seasons. Speedway did return once again in April 1975, it's stay this time lasting longer before coming to a close during October 1983. Another motor sport that featured was that of Stock Car Racing, arriving in 1968 and continued to promote meetings throughout the early 1970's.
By the end of 1983, it was announced that the stadium had been purchased by The Sainsbury's Food Group, whose plans were to construct a new shopping superstore on the site, with a further agreement that a purpose-built greyhound stadium would be constructed nearby. Greyhound Racing was staged at the Crayford and Bexleyheath venue for the very last time on the 18th of May 1985, with demolition of the twenty-acre site beginning almost instantly. Today sees no remnants of the old venue, as the Sainsbury customers continues to do their shopping unaware that a greyhound stadium once occupied the site.
A photograph or memorabilia for this track is required for this page, if you can help please contact me.