Holiday Park, Frankland Lane, Fromwellgate Waterside, City of Durham, County Durham.
POSTCODE———————————DH1 5TA
LOCATED————————————Less than a mile north of Durham City centre on the west banks of the River Wear.
ORIGINAL SITE—————————–An old athletics field along side Frankland Drive, next door to a huge Gasometer.
DATE CONSTRUCTED——————–1923
DATE VENUE OPENED——————-1923 for football.
Meaning other sports may have taken place prior to the arrival of Greyhound Racing.
FIRST MEETING—————————-October 23rd 1937.
Greyhound Racing only.
LICENSED OR INDEPENDENT———-Independent
All venues covered would have to be licensed with the government, licensed suggested in this section would refer to tracks operating under NGRC Rules.
INSIDE OR OUTSIDE HARE TYPE——Inside
Please note that the Electric Hare suggested is only a guidance and would have been in operation for a certain amount of time at this venue. Although it is not necessarily guaranteed that it was operational all the time, as other types of lure may have been used and updated as time progressed.
DISTANCES———————————–202, 390 and 540 yards.
Please note that most racing venues distances had become varied throughout the years, the ones given above were at once point set and offers only a guidance to the track size.
CIRCUMFERENCE—————————Don't know
Please note that alterations at most racing venues throughout its existence would see that the circumference of the track would vary, the one shown above offers only a guidance to the track size.
BIG RACE NAMES—————————Don't know
STADIUM SHARED WITH——————Durham City Football Club up until 1950.
LAST MEETING——————————-September 4th 1961.
Greyhound Racing only.
STADIUM CLOSURE DATE—————-September 1961.
Meaning other sports may have taken place after Greyhound Racing had ceased.
STADIUM DEMOLITION——————–Not known.
BUILT ON SITE——————————–The Raddison Blu Hotel, which a huge 207 Room 4 Star Hotel located on Frankland Drive in Durham.
In some cases, structure's that originally covered the venue after the stadium had been demolished, may have been themselves demolished too, so the one described is more likely to be the one which now presently covers the site.
EVIDENCE LEFT TODAY———————Nothing known of.
FURTHER COMMENTS———————-Holiday Park was named after Alderman T.W .Holiday, the mayor of Durham at the time of construction.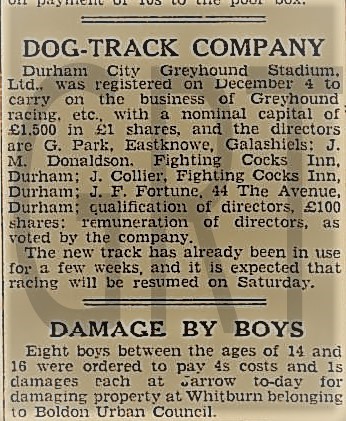 The City of Durham's greyhound stadium was known as Holiday Park, a venue located in the district of Fromwellgate Waterside, an area north of the city, situated on the west bank of the River Wear. The venue originated from an old athletics track, developed around the turn of the 20th century beneath the shadows of a large gasometer, with Franklands Drive separating the site from the river.
A change in circumstances happened in 1923, when local football league club Durham City moved in to make Holiday Park their new home after leaving their old Kepier Haughs ground. Although closer to the city centre, the new ground seemed primitive, with the only spectator viewing point being the old wooden seated stand which had been transported from their previous ground. The first season at Holiday Park began on a cheerful note, when a record crowd of 7,182 attended an FA cup tie against West Stanley in September 1923. The 1920's created new chapters in the football club's history, firstly becoming founder members of the old Third Division North in 1921, a spell which would last seven seasons in the football league, before being voted out in 1928. By 1929 more bad news was to follow, after the club had folded due to financial reasons. Football returned to Holiday Park within a year, when a new Durham club surfaced, playing amateur football in the Northern League. 1932 brought more changes to the venue, after the old dilapidated wooden stand became demolished, seeing it replaced by a new 2,000 all seated grandstand, and increased spectator viewing areas.
The most interesting change for greyhound racing followers happened during 1937, when sections of the terracing behind each goalmouth became removed, seeing also the narrowing of the pitch, which would create enough space to accommodate a new greyhound track. Holiday Parks first meeting came on the 23rd of October 1937, opening up as an independent flapping track. Racing events consisted of five greyhounds chasing an inside hare over distances of 202, 390 and 540 yards.
In 1938 more turmoil surfaced at Holiday Park, seeing the football club disbanding, leaving greyhound racing as the stadiums only income. The football club did eventually reform in 1950, playing home matches at Ferens Park, a new ground built on the eastern side of the city. Greyhound racing continued during the early war years but with Saturday afternoon meetings only, but by the end of 1941 racing had totally ceased. Once hostilities had ceased, restrictions became lifted, with racing returning during April 1947, with meetings being staged on Monday's Evenings and Saturday Afternoon's. Further meetings were staged during the 1950's and early 1960's, but it was during June 1961 that plans had been submitted to build the engineering headquarters for the North Eastern Electricity Board.
Sadly, Holiday Park staged its final meeting on the 4th of September 1961 with a hound called Tall Timber winning the final event. Once the greyhound's had gone, the site became a storage yard for the electricity company, but in time that too became swallowed up by the foundations of a massive 207 room four star hotel called Raddison Blu, which now overlooks the River Wear along Frankland Drive.
A photograph or even memorabilia for this track is required for this page, if you can help please contact me.