Hellaby Greyhound Stadium, Cumwell Lane, Hellaby, Nr Rotherham, South Yorkshire.
POSTCODE———————————S66 8PU
LOCATED————————————Two miles east of Maltby town centre, lying east of junction 1 of the M18. The site lies at the bottom of Clifford Road east of the dog leg on Cumwell Lane.
ORIGINAL SITE—————————–Developed on farm grazing land known as Cumwell Fields.
DATE CONSTRUCTED——————-1927-28.
DATE VENUE OPENED——————April 1928
Meaning other sports may have taken place prior to the arrival of Greyhound Racing.
FIRST MEETING—————————-April 7th 1928 with a hound called Mad Madam winning the first event.
Greyhound Racing only.
LICENSED OR INDEPENDENT———-Independent
All venues covered would have to be licensed with the government, licensed suggested in this section would refer to tracks operating under NGRC Rules.
INSIDE OR OUTSIDE HARE TYPE——Don't know
Please note that the Electric Hare suggested is only a guidance, and would have been in operation for a certain amount of time at this venue. Although it is not necessarily guaranteed that it was operational all the time, as other types of lure may have been used and updated as time progressed.
DISTANCES———————————–525 yards.
Please note that most racing venues distances had become varied throughout the years, the ones given above were at once point set and offers only a guidance to the track size.
CIRCUMFERENCE—————————Don't know
Please note that alterations at most racing venues throughout its existence would see that the circumference of the track would vary, the one shown above offers only a guidance to the track size.
BIG RACE NAMES—————————Nothing known of.
STADIUM SHARED WITH——————Speedway 1928-29.
LAST MEETING——————————-July 23rd 1928.
Greyhound Racing only.
STADIUM CLOSURE DATE—————-1930
Meaning other sports may have taken place after Greyhound Racing had ceased.
STADIUM DEMOLITION——————–Early 1930's.
BUILT ON SITE——————————–Nothing although the old site still exists.
In some cases, structure's that originally covered the venue after the stadium had been demolished, may have been themselves demolished too, so the one described is more likely to be the one which now presently covers the site.
EVIDENCE LEFT TODAY——————–Site overwhelmed with time with trees and shrubbery yet outline of venue still visible on google earth.
FURTHER COMMENTS———————The main stand was dismantled in November 1928 and transferred to Denaby United's Football ground.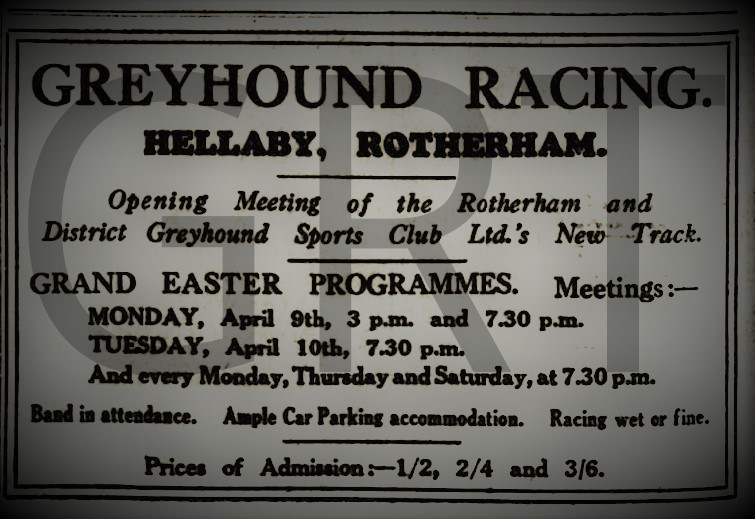 The short lived Hellaby Greyhound Stadium was located two miles west of the South Yorkshire town of Maltby. It was during October 1927 that a syndicate calling themselves, The Rotherham and District Sports Club, purchased a section of grazing land known locally as Cumwell Fields.
The site became transformed in to a greyhound track, with a 1400 seater grandstand erected, along with enough standing room to accommodate 20,000 people. It also consisted of a hare control tower which would act as a timekeepers box, and enough kennel space to house up to 126 greyhounds. Although only 50 of the greyhound were owned by the syndicate, it was made clear that privately owned greyhounds would be welcome to race there also.
Hellaby's opening meeting came on the 7th of April 1928, with a greyhound called Mad Madam winning the first event over the 525 yard trip. But events were short lived as it was announced that the company had gone into voluntary liquidation with its final meeting being staged on July 23rd 1928. Some newspaper reports had suggested that the greyhound company owed almost £500 to one Nottinghamshire based engineering company alone. During October 1928 some of the debts were reclaimed after the stadium and its facilities were sold by auction, with the stadium itself being purchased by a group of Dirt Track Motorcycling enthusiasts.
The stadium became known as The Bramley Motor Cycling Track, with events firstly staged in May 1929, yet after only 35 motorcycling meetings, the sport came to a conclusion in June 1930. The stadium became idle for a short period of time, before the main stand was purchased and transported to Denaby United Football Club, seven miles away. After other small outbuildings had been removed, the rest of the land lay abandoned and as time past disappeared beneath uncontrollable shrubbery.
Although it is almost ninety years since Hellaby witnessed any sporting action, its location today is still evident when looking down from satellite views. But these views which possibly does outline the speedway track, are evident only because the old cinder track that was used as a public footpath over the following years. The site of the old Hellaby track is situated just east of Cumwell Lane and at the southern end of Clifford Road, roughly half a mile south east of junction one of the M18.