Nicholas Lane, Goldthorpe, South Yorkshire.
POSTCODE————————————S63 9AT
LOCATED————————————–The town of Goldthorpe lies four and a half miles west of junction 37 off the A1M. The stadium is clearly visible from the A635 Goldthorpe bypass between Barnsley and Doncaster about half a mile west of Goldthorpe town centre.
ORIGINAL SITE——————————-Farm grazing land hemmed in between two railway lines.
DATE CONSTRUCTED———————-Not known but Highgate's name appears on the list of Licensed Greyhound Tracks of 1947.
DATE VENUE OPENED———————1934.
Meaning other sports may have taken place prior to the arrival of Greyhound Racing.
FIRST MEETING——————————March 26th 1934 as whippet track, greyhounds 1936.
Greyhound Racing only.
LICENSED OR INDEPENDENT————Independent
All venues covered would have to be licensed with the government, licensed suggested in this section would refer to tracks operating under NGRC Rules.
INSIDE OR OUTSIDE HARE TYPE——–Was inside Sumner now outside Swaffham.
Please note that the Electric Hare suggested is only a guidance, and would have been in operation for a certain amount of time at this venue. Although it is not necessarily guaranteed that it was operational all the time, as other types of lure may have been used and updated as time progressed.
DISTANCES————————————215, 414 and 590 metres.
Please note that most racing venues distances had become varied throughout the years, the ones given above were at once point set and offers only a guidance to the track size.
CIRCUMFERENCE—————————Not known.
Please note that alterations at most racing venues throughout its existence would see that the circumference of the track would vary, the one shown above offers only a guidance to the track size.
BIG RACE NAMES—————————The Highgate Derby.
STADIUM SHARED WITH——————Whippet Racing.
LAST MEETING——————————-March 3rd 2019.
Greyhound Racing only.
STADIUM CLOSURE DATE—————-Still operational for Lurcher and Whippet Racing.
Meaning other sports may have taken place after Greyhound Racing had ceased.
STADIUM DEMOLITION——————–N/A
BUILT ON SITE——————————–N/A
In some cases, structure's that originally covered the venue after the stadium had been demolished, may have been themselves demolished too, so the one described is more likely to be the one which now presently covers the site.
EVIDENCE LEFT TODAY——————–N/A
FURTHER COMMENTS———————During the 1980's the infield of the circuit was host to two bowling greens.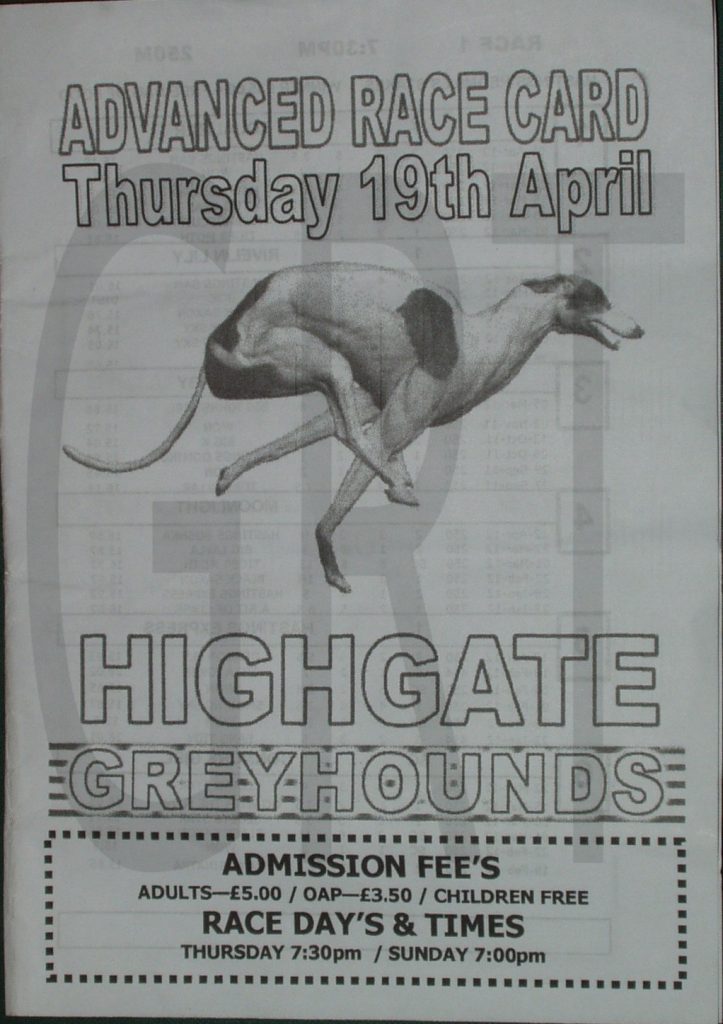 Highgate Greyhound Stadium is post coded for the South Yorkshire town of Goldthorpe, with Highgate itself being a smaller separate district north of it, with the track located on Nicholas lane, a venue clearly visible from the A635 Barnsley –Doncaster Expressway.
It is presumed that it was constructed during 1934 on farm grazing land, a section of land hemmed in by two curved railway lines and bordered by Nicholas Lane which created a remote triangular section of land. Throughout its existence, Highgate had always operated as an independent track, normally promoting six dog racing over distances of 215 metres, and a standard 414 metre trip.
Originally the greyhounds chased an inside Sumner type hare, but switched so the hounds could focus on a modern day outside Swaffham type. Highgate's biggest attraction was the Highgate Derby, contested during May over the 414 metre trip, although open events wear advertised regularly throughout the year. Up until the turn of the Millennium, something unique about the track was that it housed two bowling greens within the infield of the track, yet today no evidence of those greens remain.
Sadly greyhound racing recently ended at the venue having staged its final meeting on March 3rd 2019. Its reason for not staging any more meetings has been down to the gradual decline of owner trainers around, its only reason for its continuation is that the Whippet and Lurcher Racing fraternity continues to support the venue, with regular gatherings arranged for Sunday afternoons.
The stadium is not an easy venue to access, although quite easily visible from the Expressway, you will find yourself having to worm your way through the town of Goldthorpe to get there. The venue is located north of the town, with a motor vehicle scrap yard at its rear, whose clutter of rust dissects the track from the shrub infested disused railway lines behind, that now overlook the track.
Today, these embankments acts as nothing more than public footpaths and bridal paths for the occasional horse rider.