Parkside Greyhound Stadium, Hunslet Carr, Leeds, west Yorkshire
POSTCODE———————————LS10 2AA
LOCATED———————————–About two and a half miles south of Leeds city centre at the rear of the old Engine public house at the junction of Old Run Road and Moor Road in the district of Hunslet Carr.
ORIGINAL SITE—————————–Large recreational area.
DATE CONSTRUCTED——————-1932
DATE VENUE OPENED——————December 1932
Meaning other sports may have taken place prior to the arrival of Greyhound Racing.
FIRST MEETING—————————-Monday December 12th 1932
Greyhound Racing only.
LICENSED OR INDEPENDENT———-Independent
All venues covered would have to be licensed with the government, licensed suggested in this section would refer to tracks operating under NGRC Rules.
INSIDE OR OUTSIDE HARE TYPE——Inside Sumner
Please note that the Electric Hare suggested is only a guidance, and would have been in operation for a certain amount of time at this venue. Although it is not necessarily guaranteed that it was operational all the time, as other types of lure may have been used and updated as time progresssed.
DISTANCES———————————–280, 490 yards
Please note that most racing venues distances had become varied throughout the years, the ones given above were at once point set and offers only a guidance to the track size.
CIRCUMFERENCE—————————Not known
Please note that alterations at most racing venues throughout its existence would see that the circumference of the track would vary, the one shown above offers only a guidance to the track size.
BIG RACE NAMES—————————None to mention as yet.
STADIUM SHARED WITH——————Pony Racing and Boxing Bouts.
LAST MEETING——————————-October 12th 1963
Greyhound Racing only.
STADIUM CLOSURE DATE—————-October 1963
Meaning other sports may have taken place after Greyhound Racing had ceased.
STADIUM DEMOLITION——————–Dont know
BUILT ON SITE——————————–Blackburn's Printers situated just off Old Run Road and also site partially covered by the M621.
In some cases, structure's that originally covered the venue after the stadium had been demolished, may have been themselves demolished too, so the one described is more likely to be the one which now presently covers the site.
EVIDENCE LEFT TODAY——————–Nothing known
FURTHER COMMENTS———————None to add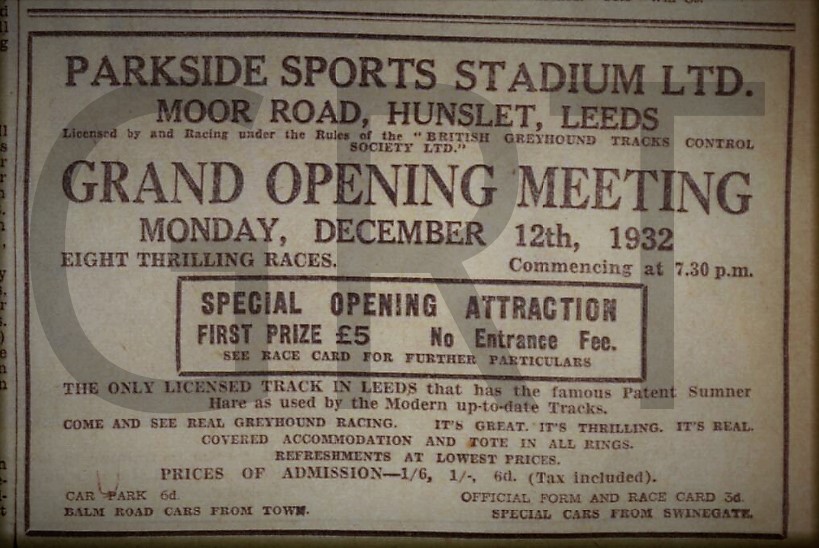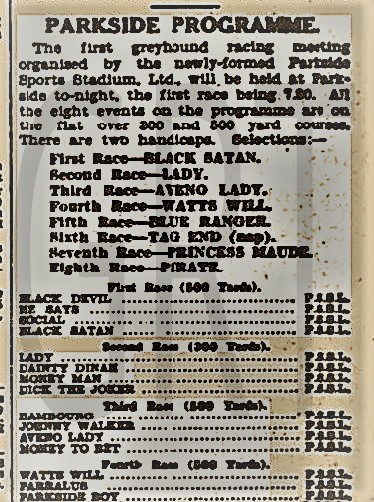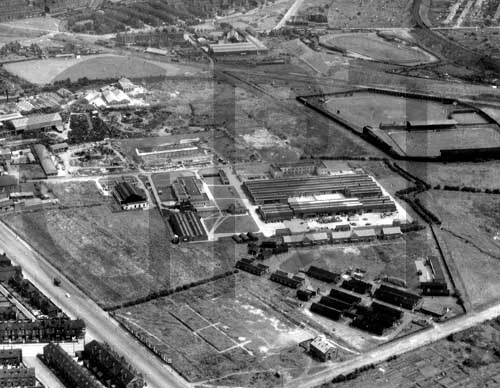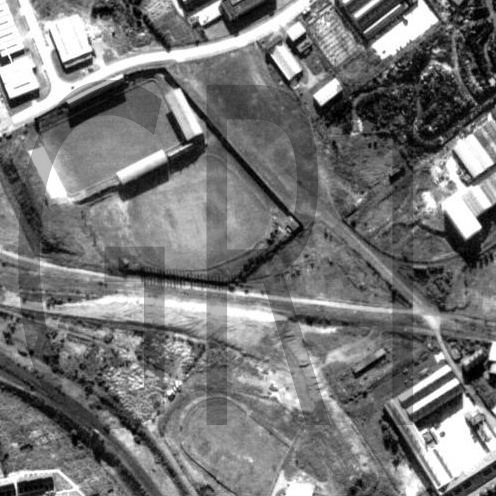 The Parkside Greyhound Stadium was found in the district of Hunslet Carr, two and a half miles south east of Leeds City Centre. It was located on a large recreational area known as Parkside, which in itself was the home to a number of different sporting venues, one of which was Hunslet Rugby League Club's home ground, and also a cricket pitch, both in operation well before Greyhound Racing arrived. This recreational area had originally been nothing more than farm grazing land, yet it was during the early 1880's that the first signs of sporting pastimes arrived.
The original site of the greyhound track had been an athletics and cycling track, and had become one of the first sporting venues to begin operations there. This six and a half acre venue was huge, with enough standing room to accommodate nearly ten thousand people. But it wasn't until 1932 that the original cycling track was dug up and replaced by a Pony Racing track, with a greyhound track newly laid inside of the infield.
Opening up as a flapping track, The first meeting was staged on the 12th of December 1932, and featured an eight four dog race event, which would see the hounds contest over distances of 300 and 500 yards. These distances would later change to 280 and 490 yards, and also six dog race events, with the hounds chasing an inside Sumner type hare. Although Pony Racing faded out prior to the Second World War, Boxing bouts were regular staged also.
Greyhound Racing would continue at Parkside right up until the early 1960's, but the introduction of legalised betting shops in 1961, contributed to its closure. The Parkside Greyhound Stadium staged its final meeting on the 12th of October 1963, but little is known of the stadium's demise after that.
The site of the old Greyhound Stadium is now is covered partly by the M621, with the rest pinpointed by the Blackburn Printing Company, which is situated on Old Run Road, at the rear of a public house known as The Engine.