SKEWEN GREYHOUND STADIUM SUMMARY
ADDRESS———————————–
Charles Street or Winnifred Road
Skewen
Nr Neath
South Wales.
POSTCODE———————————-SA10 6SJ
LOCATED————————————-The town of Skewen lies 6 miles north east of Swansea, with the venue situated half a mile west of Skewen town centre, and one and a half miles east of junction 44 of the M4.
ORIGINAL SITE——————————Farm Grazing land.
DATE CONSTRUCTED———————Early 1930's.
DATE VENUE OPENED——————–1931.
Meaning other sports may have taken place prior to the arrival of Greyhound Racing.
FIRST MEETING—————————–1931.
Greyhound Racing only.
LICENSED OR INDEPENDENT———–Independent
All venues covered would have to be licensed with the government, licensed suggested in this section would refer to tracks operating under NGRC Rules.
INSIDE OR OUTSIDE HARE TYPE——-Inside Sumner.
Please note that the Electric Hare suggested is only a guidance, and would have been in operation for a certain amount of time at this venue. Although it is not necessarily guaranteed that it was operational all the time, as other types of lure may have been used and updated as time progressed.
DISTANCES———————————–312, 525 and 760 yards.
Please note that most racing venues distances had become varied throughout the years, the ones given above were at once point set and offers only a guidance to the track size.
CIRCUMFERENCE—————————Not Known.
Please note that alterations at most racing venues throughout its existence would see that the circumference of the track would vary, the one shown above offers only a guidance to the track size.
BIG RACE NAMES—————————The Welsh Flapping Derby and the Autumn Cup.
STADIUM SHARED WITH——————Skewen Athletic FC from 1967-1969.
LAST MEETING——————————February 25th 1994.
Greyhound Racing only.
STADIUM CLOSURE DATE—————-As above.
Meaning other sports may have taken place after Greyhound Racing had ceased.
STADIUM DEMOLITION——————–Not known.
BUILT ON SITE——————————–Houses on "The Meadows" now cover the site.
In some cases, structure's that originally covered the venue after the stadium had been demolished, may have been themselves demolished too, so the one described is more likely to be the one which now presently covers the site.
-EVIDENCE LEFT TODAY——————-Nothing known of.
FURTHER COMMENTS———————None as yet.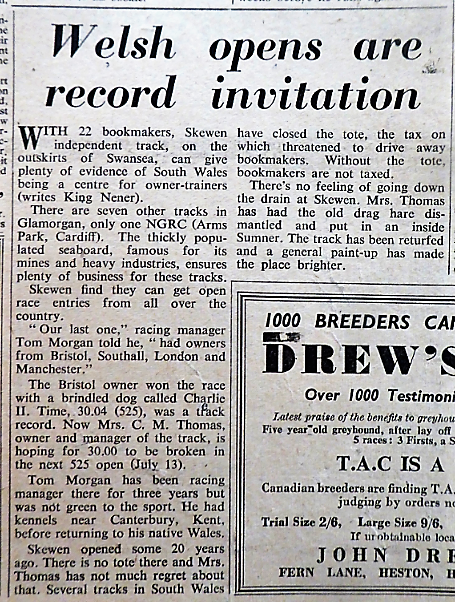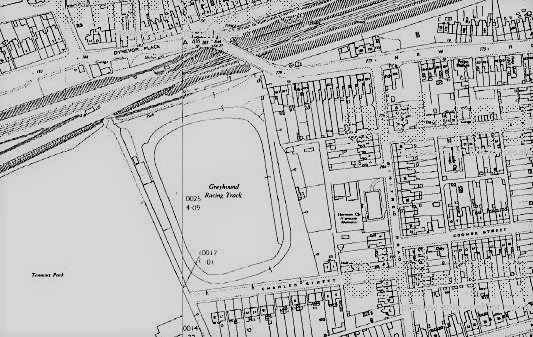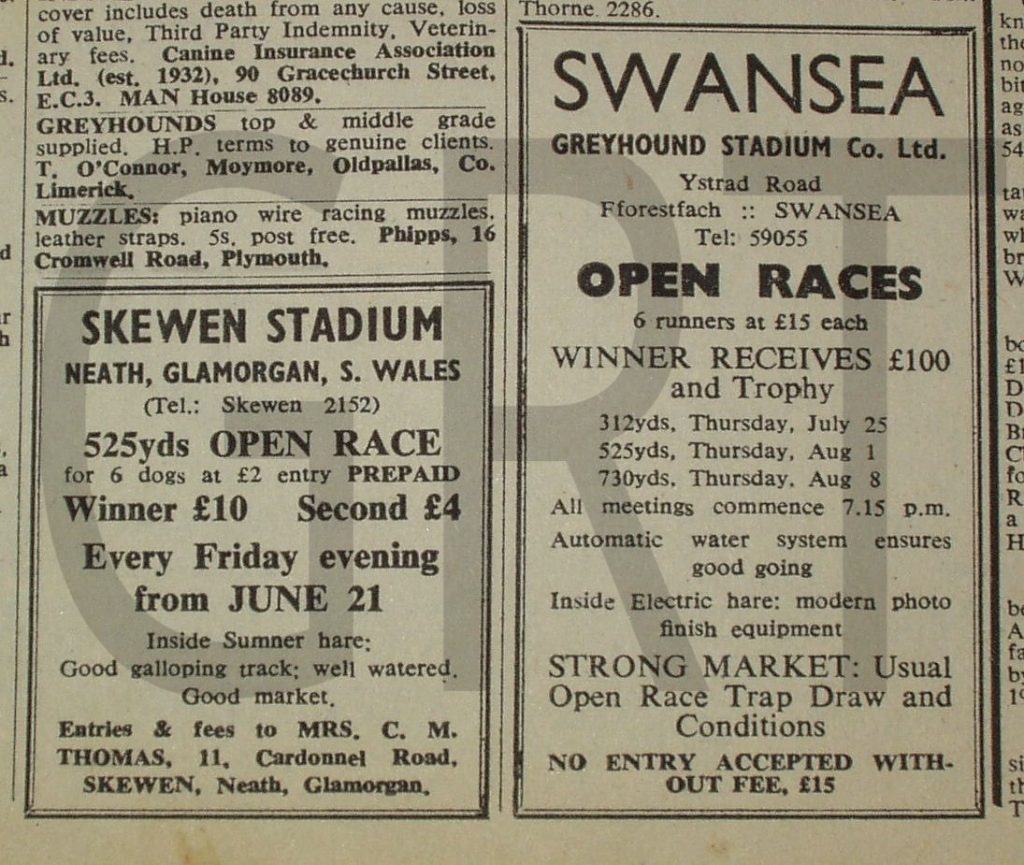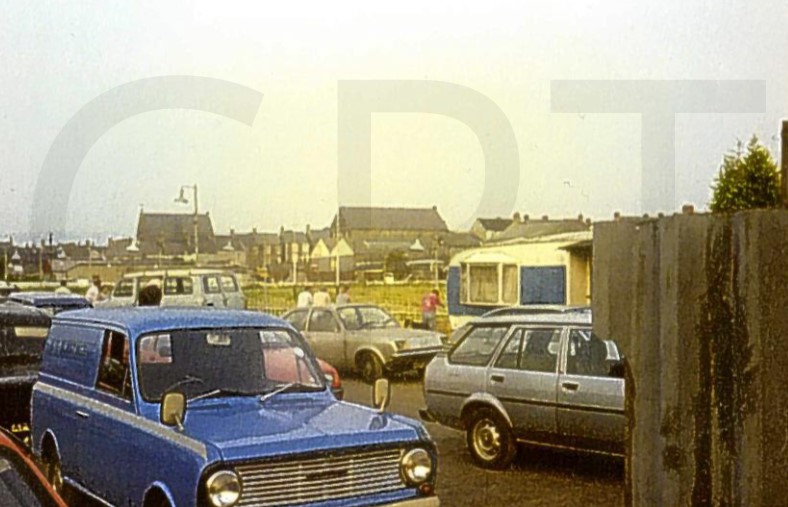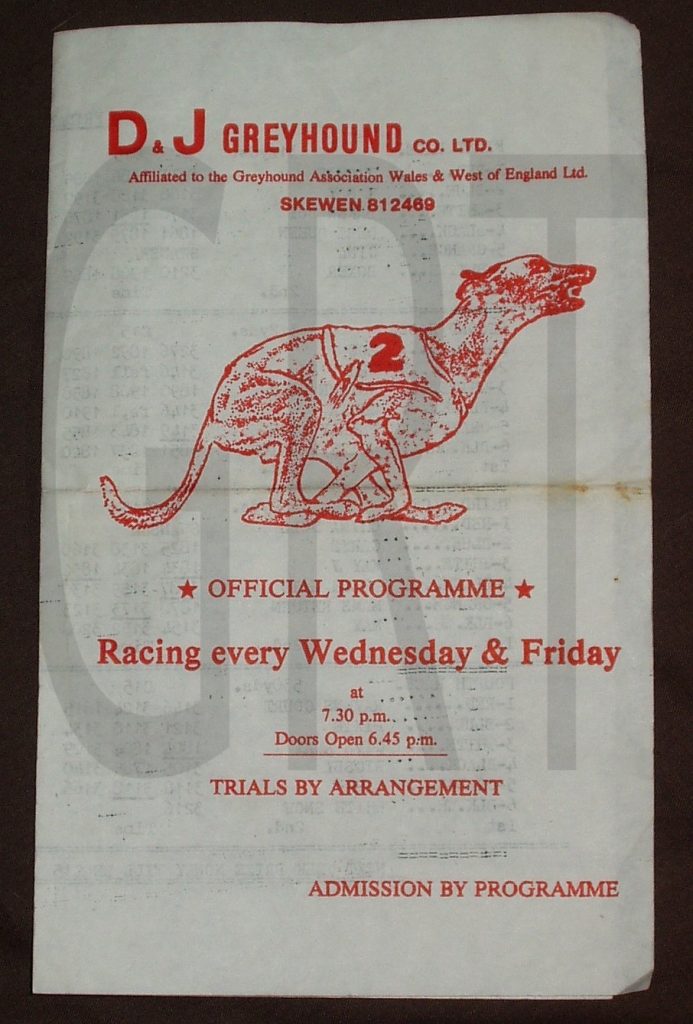 Six miles north East of Swansea, but situated more nearer the town of Neath, lies the village of Skewen. The Skewen Greyhound Stadium was found one and a half miles east of junction 44 of the M4, with access to the track down Winifred Road. The track lay adjacent to a busy railway line, and had been constructed on farm land during the 1930's, before opening up as an independent flapping track during 1931. Earlier years had seen small structures built at the venue, but a more permanent 150 feet long covered stand was erected during 1966. The greyhound track was rectangular in shape with four tight bends, this due to it surrounding an amateur football pitch. Right up until its closure the greyhounds ran on a turf covered track, with sanded bends being added later in its life. It had a circumference of 442 yards, with an inside Sumner type hare installed, after it had a spell of an outside one during the early 1960's. Events consisted of six greyhounds challenging over distances of 312, 530 and 760 yards. with its annual attractions being The Welsh Flapping Derby, and The Autumn Cup, both run over the 525 yard trip. In 1967 amateur football club Skewen Athletic moved in as tenants, but this lasted for just for a two year period only. Skewen's final meeting was staged on February 25th 1994 after the stadium had been sold for redevelopment. Nothing remains of the stadium today, with the site covered by a modern housing estate called The Meadows, yet this housing estate still offers a rectangular shape of the old venue, when looking down on satellite views.