Baghill Lane, Pontefract, South Yorkshire.
POSTCODE————————————-WF8 2HB
LOCATED—————————————Directly behind the post office on Baghill Lane, which is opposite Willow Park Estate's Middle Road, and a quarter of a mile east of Pontefract Railway Station.
ORIGINAL SITE——————————–May have been an enclosed football ground.
DATE CONSTRUCTED———————–1930's
DATE VENUE OPENED———————-October 1933
Meaning other sports may have taken place prior to the arrival of Greyhound Racing.
FIRST MEETING——————————-October 1933 – whippet racing and some greyhounds
Greyhound Racing only.
LICENSED OR INDEPENDENT————-Independent
All venues covered would have to be be licensed with the government, licensed suggested in this section would refere to tracks operating under NGRC Rules.
INSIDE OR OUTSIDE HARE TYPE———Inside Sumner
Please note that the Electric Hare suggested is only a guidance, and would have been in operation for a certain amount of time at this venue. Although it is not necessarily guaranteed that it was operational all the time, as other types of lure may have been used and updated as time progresssed.
DISTANCES————————————285, 330 and 440 yards..
Please note that most racing venues distances had become varied throughout the years, the ones given above were at once point set and offers only a guidence to the track size.
CIRCUMFERENCE—————————Dont know
Please note that alterations at most racing venues throughout its existence would see that the circumference of the track would vary, the one shown above offers only a guidance to the track size.
BIG RACE NAMES—————————Dont know
STADIUM SHARED WITH——————Dont know
LAST MEETING——————————-June 28th 1969.
Greyhound Racing only.
STADIUM CLOSURE DATE—————-1969
Meaning other sports may have taken place after Greyhound Racing had ceased.
STADIUM DEMOLITION——————-1970
BUILT ON SITE——————————–A Shopping Arcade and housing on Baghill Court now covers the site.
In some cases, structure's that originally covered the venue after the stadium had been demolished, may have been themselves demolished too, so the one described is more likely to be the one which now presently covers the site.
EVIDENCE LEFT TODAY——————–Nothing known of.
FURTHER COMMENTS———————None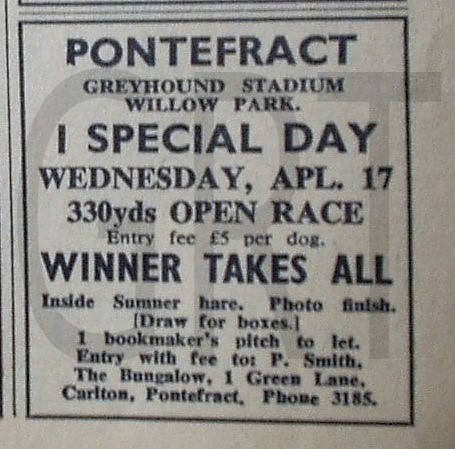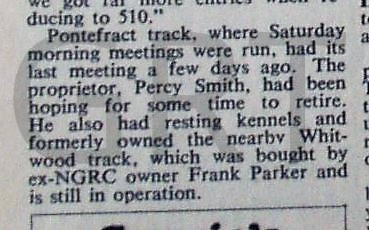 The area surrounding Pontefract in South Yorkshire could be classed as a hot bed when locating greyhound tracks from the past, yet it is this chapter in which we discover Pontefract's own Greyhound Racing venue. It was known as The Willow Park Greyhound Stadium, and was located half a mile east of Pontefract's town centre, hidden behind a post office and a few local shops on Baghill Lane.
It had developed throughout the early months of 1933 on the site of an old football pitch, and would be seen to continue to operate the rest of its life as a flapping track. It had also become a sister track to another venue five miles away, known as the Wheatsheaf Greyhound Track, or the Whitwood Greyhound Stadium as it was known in its later life, both of which would be run by the same management team. But its early days had seen troubled times, as the outbreak of the Second World War had seen a closure of the venue, only to see it left abandoned for more than two years before re-opening once again during 1942.
Its events consisted of six greyhounds chasing an inside Sumner type hare over a distance of 330 yards and further. Another worrying spell during the mid 1960's had also seen the stadiums future in doubt, after an advert printed in a Greyhound Owner newspaper of 1965, suggesting that the Willow Park Greyhound Stadium was up for sale. The late 1960's had seen just one meeting per week on offer, that of a Saturday morning, which in itself proved its popularity was failing. Those failing times had seen the sale of the venue to developers, and it came as no surprise when Willow Park staged its final meeting on the 28th of June 1969.
The venue was eventually bulldozed the following year, only to see its foundations being levelled ready for the construction of new housing. A section of land at the rear of a row of shops in a Baghill Lane, remained undeveloped for a good number of years, and it is only in recent times has that this section has been swallowed up by more new houses.
Today, sees the dwellings on Baghill Court acting as a pinpoint to were the track once lay, which are presently found behind a cluster of shops opposite the Willow Park Housing Estate.