WAKEFIELD GREYHOUND STADIUM SUMMARY
ADDRESS————————————-
Denby Dale Road
Wakefield
Burnham-on-Sea
Somerset.
POSTCODE———————————-WF2 8EF
LOCATED————————————Half a mile south of Wakefield town centre, hemmed in by a triangulation of Railway lines.
ORIGINAL SITE—————————–Cricket Ground
DATE CONSTRUCTED——————–Dont know
DATE VENUE OPENED——————-January 1933
Meaning other sports may have taken place prior to the arrival of Greyhound Racing.
FIRST MEETING—————————-January 4th 1933
Greyhound Racing only.
LICENSED OR INDEPENDENT———Independent but switched to NGRC in 1967.
All venues covered would have to be licensed with the government, licensed suggested in this section would refer to tracks operating under NGRC Rules.
INSIDE OR OUTSIDE HARE TYPE——Dont know.
Please note that the Electric Hare suggested is only a guidance, and would have been in operation for a certain amount of time at this venue. Although it is not necessarily guaranteed that it was operational all the time, as other types of lure may have been used and updated as time progressed.
DISTANCES———————————-310 and 510 yards.
Please note that most racing venues distances had become varied throughout the years, the ones given above were at once point set and offers only a guidance to the track size.
CIRCUMFERENCE————————–Dont know
Please note that alterations at most racing venues throughout its existence would see that the circumference of the track would vary, the one shown above offers only a guidance to the track size.
BIG RACE NAMES————————–Nothing found.
STADIUM SHARED WITH—————-Nothing found as yet.
LAST MEETING——————————November 14th 1973
Greyhound Racing only.
STADIUM CLOSURE DATE—————November 1973
Meaning other sports may have taken place after Greyhound Racing had ceased.
STADIUM DEMOLITION——————-1974
BUILT ON SITE——————————-Turner Way Trinity Business Park.
In some cases, structure's that originally covered the venue after the stadium had been demolished, may have been themselves demolished too, so the one described is more likely to be the one which now presently covers the site.
EVIDENCE LEFT TODAY——————-Just the railway arches through which you access the stadium.
FURTHER COMMENTS——————–An unusual triangular shaped track, with its access road just off the A636 Denby Dale Road, with the tracks car park just beyond the railway arches on Waldorf Way.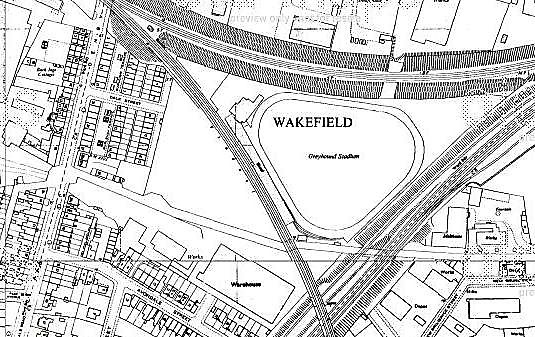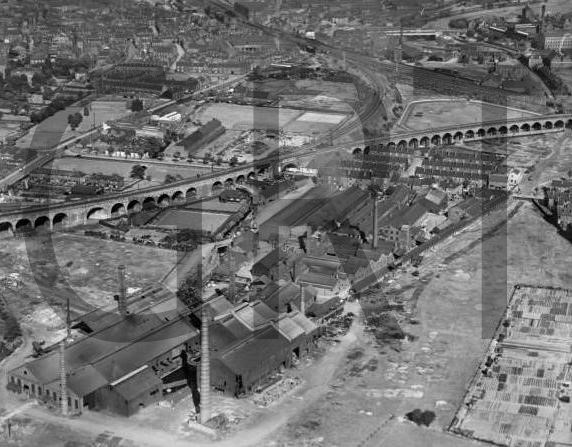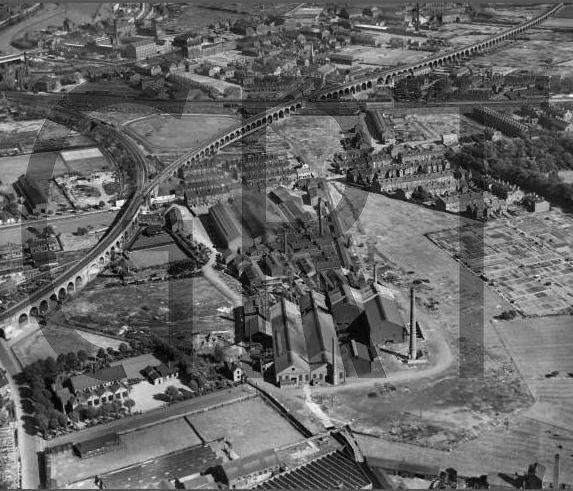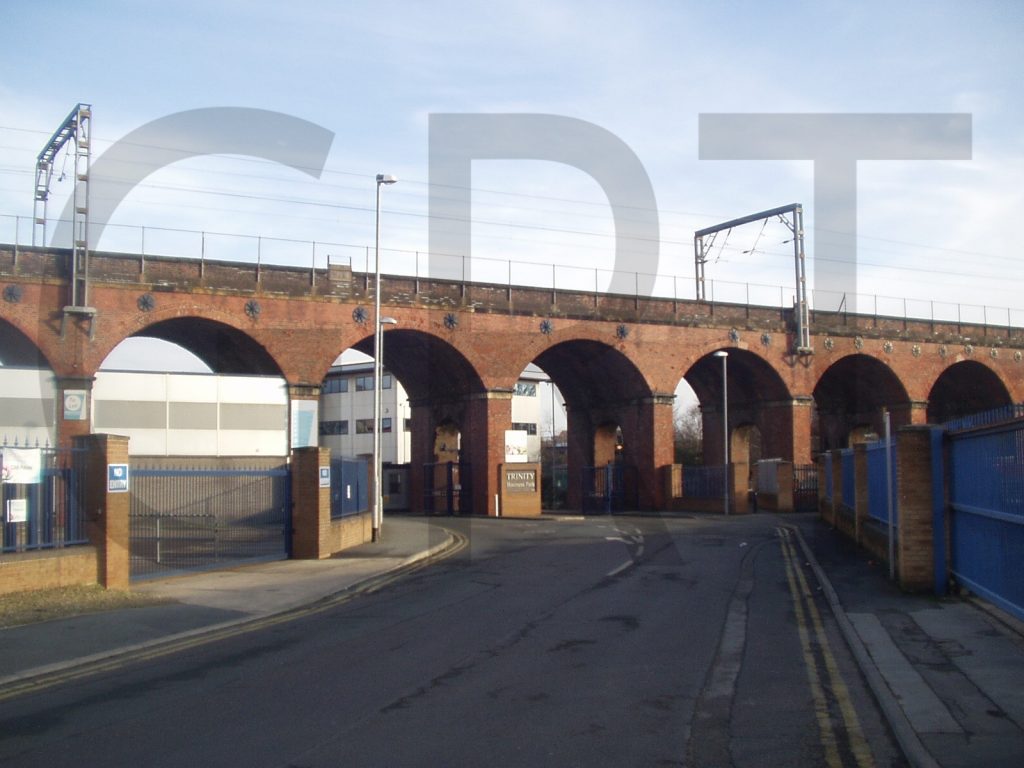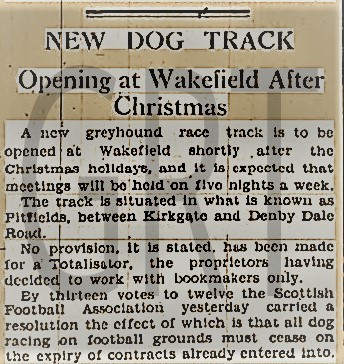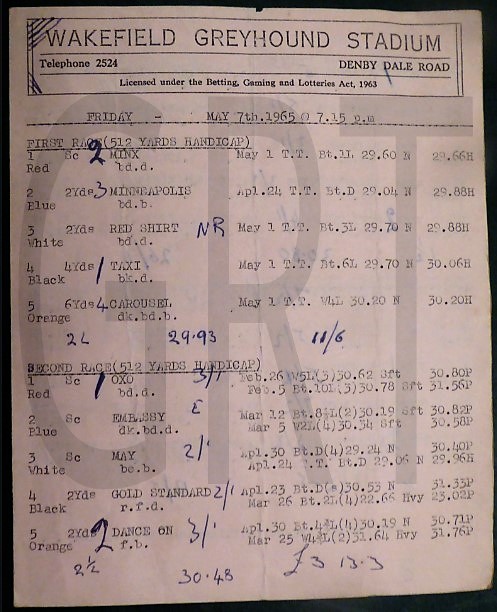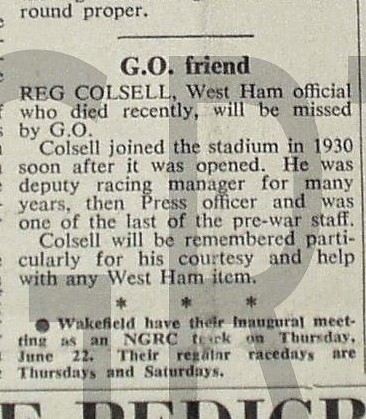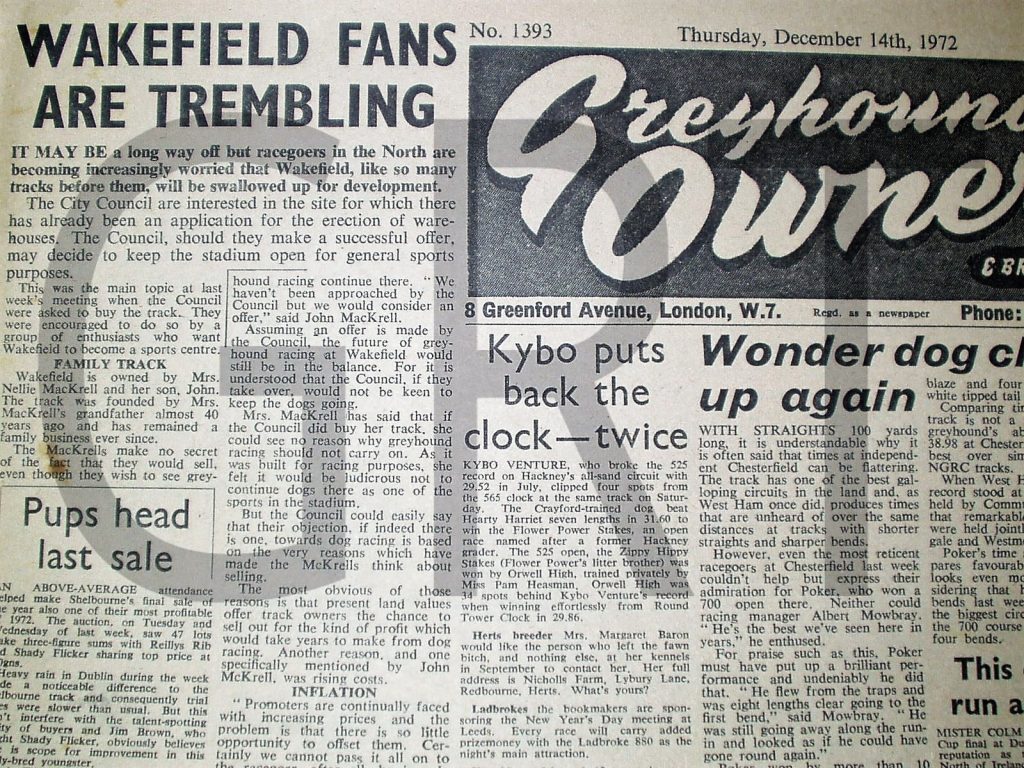 Wakefield Greyhound Stadium was located within half a mile south of Wakefield town centre, set back just off the A636 Denby Dale Road. The original site had been a cricket pitch, encircled by a triangular section of railway lines, but its abandonment left the opportunity for the construction of a greyhound track during 1932, which became available for its inaugural meeting on the 4th of January 1933. Access to the track was through an arch way, one of many that contributed to a railway viaduct that overlooked the track and separated the track from its car parking area. The greyhound track itself was something unique, as there could be no other circuit in the UK that would compare with it, its shape being best described as a distorted pentagon, a five sided affair influenced due to the three railway lines that surrounded it. Throughout its existence it operated as an independent flapping track, but switched to operating under NGRC rules in June 1967. In 1972 a license was granted for speedway racing, with a shale circuit planned to be laid out within the infield of the greyhound track, but the sale of the stadium in 1973 shattered all hopes of it ever staging its first meeting. Wakefield Greyhound Stadium staged its final meeting on the 14th of November 1973, with the site becoming bulldozed months later. The demolished site lay idle and overgrown for a good number of years following, before the site eventually became redeveloped during the 1990's as an industrial park. Access to this area is down Waldorf Way, which enters Turner Way Trinity Business Park, which presently houses a cluster of car sales showrooms. Although nothing remains of the track today, the railway arches do remain intact, acting as a landmark to were the stadium once lay. The three railway lines that surrounded the site are still operational, and assist pinpointing its location when looking down from satellite views.