Pennylands Road, Dallshalloch, Auchinleck, Ayrshire.
POSTCODE————————————KA18 2BJ
LOCATED—————————————Auchinleck is about 16 miles east of Ayr, with the venue about half a mile east of Auchinleck town centre, next to a main railway line embankment.
ORIGINAL SITE——————————–A wooded area known as Merlin's Loch.
DATE CONSTRUCTED———————-1956
DATE VENUE OPENED———————1956
FIRST MEETING——————————Official opening took place during May 1959, although whippet racing was staged on the site prior to this date.
Greyhound Racing only.
LICENSED OR INDEPENDENT————Independent
All venues covered would have to be licensed with the government, licensed suggested in this section would refer to tracks operating under NGRC Rules.
INSIDE OR OUTSIDE HARE TYPE——–Inside Sumner.
Please note that the Electric Hare suggested is only a guidance and would have been in operation for a certain amount of time at this venue. Although it is not necessarily guaranteed that it was operational all the time, as other types of lure may have been used and updated as time progressed.
DISTANCES————————————264, 410 and 610 yards.
Please note that most racing venues distances had become varied throughout the years, the ones given above were at once point set and offers only a guidance to the track size.
CIRCUMFERENCE—————————Not known.
Please note that alterations at most racing venues throughout its existence would see that the circumference of the track would vary, the one shown above offers only a guidance to the track size.
BIG RACE NAMES—————————Auchinleck Derby.
STADIUM SHARED WITH—————–Used for Greyhound Racing only.
LAST MEETING——————————15th October 2000.
Greyhound Racing only.
STADIUM CLOSURE DATE—————October 2000.
Meaning other sports may have taken place after Greyhound Racing had ceased.
STADIUM DEMOLITION——————-Not known.
BUILT ON SITE——————————–My last visit to the site was in 2017, although the land is overgrown with shrubbery and trees, there is still some evidence of the stadium being there. It was known that the land was still up for sale for redevelopment.
In some cases, structure's that originally covered the venue after the stadium had been demolished, may have been themselves demolished too, so the one described is more likely to be the one which now presently covers the site.
EVIDENCE LEFT TODAY——————My last visit to the site in March 2017 showed that the site was well overgrown with trees and shrubbery, yet collapsed walls and building debris are still clearly evident.
FURTHER COMMENTS——————-The track had undersoil heating and the green tower in the middle of the circuit was the judges box for the timer and hare driver.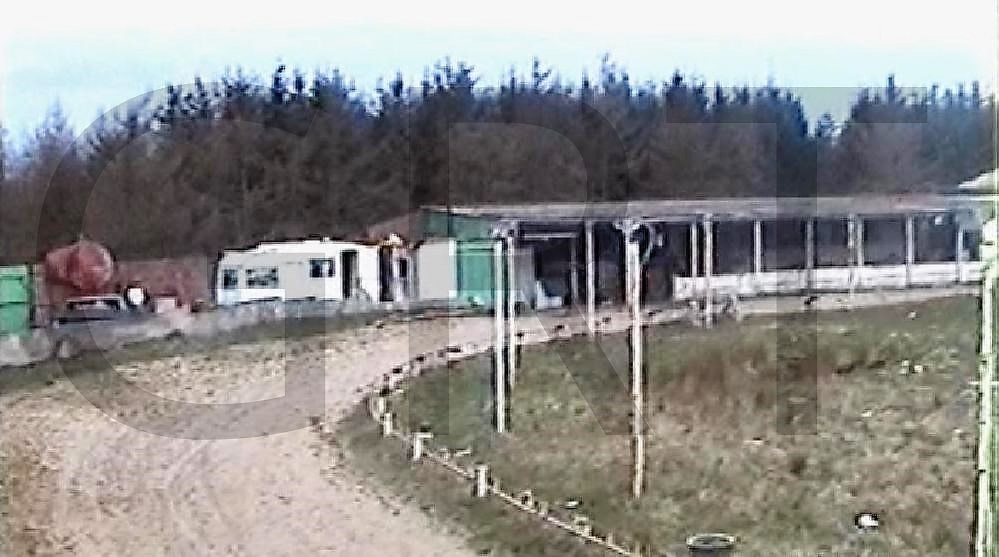 Another one of Ayrshire's cluster of greyhound tracks was the one at Auchinleck, an ex-mining town situated inland some sixteen miles east of Ayr. Although whippet racing had been popular amongst its mining community for decades, it wasn't until 1956 that greyhound racing first featured in the town.
The basic track was constructed on a meadow just off Pennylands Road in the district of Dalshalloch, just half a mile west of Auchinleck town centre. Its size had been restricted by a railway line embankment that overlooked its southern bend, and the wooded area known as Merlin's Loch that lined its west and northern fringes. It began to develop more as a stadium during the latter end of the 1950's before staging its official opening meeting during May 1959.
It opened up as an independent track and soon became very popular with the locals, with some old tales saying that a greyhound owner was found in virtually every street in the town. But again like most tracks it was never short of controversy, as the track closed temporarily during the early 1960's, after a walk out by the tracks bookmakers, claiming that too many favourites were winning races. Its early days had seen the greyhounds chase a Drag Hare, but in 1967 the more regular inside Sumner hare system was installed. The same year also saw more improvements with an electric type blanket covering the track, this being an attempt to stave off Scotland's severe wintry conditions after too many meetings had been called off previously. This idea was later updated with the installation of a more regular undersoil heating system.
One unusual feature at Auchinleck was that similar to the Swansea track, were a hare control tower was constructed within the infield of the greyhound track, giving the controller and timer, a panoramic view of the track. Although earlier years had seen the greyhounds run on a grassed circuit, an all sanded track was laid later in its life, which created distances of 264, 410 and 610 yards. But Auchinleck's demise began around 1992 after the closure of the local mining industry, it became a dark period that contributed to the reduced numbers of patrons and greyhounds entrants attending the track.
The tracks last six years had seen it stage just one meeting per week, and by the end there were just around forty paying customers, not enough to cover the tracks weekly wages. With just thirty greyhounds available, meetings consisted of six five dog races only, and with the dark evenings of winter ahead, a decision was made to close the track. Sadly, Auchinleck staged its final meeting on the 15th of October 2000.
Today, what evidence remains of Auchinleck Greyhound Stadium is minimal, even though its site has been up for sale for a good number of years, it still remains undeveloped. It is now almost twenty years since its closure, there are no outbuildings to be found, yet the barren land left behind offers scars of were the track once lay when looking down from Google Earth. Fortunately, what does remain are some sections of red bricked walls which lies crumbling next to a section of land now overwhelmed with weeds and shrubbery.
A programme, photograph or even memorabilia for this track is required for this page, if you can help please contact me.