Hallhouse Farm, Denny, Nr Falkirk, Stirlingshire.
POSTCODE————————————FK6 5HN is nearest.
LOCATED————————————–The small town of Denny is situated seven miles north west of Falkirk. The venue today would lie underneath the M80 motorway just south of Castlerankine Road were it passes underneath it.
ORIGINAL SITE——————————-Grazing land belonging to Hallhouse Farm.
DATE CONSTRUCTED———————-Developed throughout the 1930's.
DATE VENUE OPENED———————1938
Meaning other sports may have taken place prior to the arrival of Greyhound Racing.
FIRST MEETING——————————July 9th 1938.
Greyhound Racing only.
LICENSED OR INDEPENDENT———–Independent
All venues covered would have to be licensed with the government, licensed suggested in this section would refer to tracks operating under NGRC Rules.
INSIDE OR OUTSIDE HARE TYPE——-Sumner
Please note that the Electric Hare suggested is only a guidance and would have been in operation for a certain amount of time at this venue. Although it is not necessarily guaranteed that it was operational all the time, as other types of lure may have been used and updated as time progressed.
DISTANCES————————————320 and 525 yards.
Please note that most racing venues distances had become varied throughout the years, the ones given above were at once point set and offers only a guidance to the track size.
CIRCUMFERENCE—————————Not known.
Please note that alterations at most racing venues throughout its existence would see that the circumference of the track would vary, the one shown above offers only a guidance to the track size.
BIG RACE NAMES—————————None found.
STADIUM SHARED WITH——————Nothing else known of.
LAST MEETING——————————-April 29th 1961.
Greyhound Racing only.
STADIUM CLOSURE DATE—————-April 1961.
Meaning other sports may have taken place after Greyhound Racing had ceased.
STADIUM DEMOLITION——————–Not known.
BUILT ON SITE——————————–M80 motorway and its embankment, constructed in 1974.
In some cases, structure's that originally covered the venue after the stadium had been demolished, may have been themselves demolished too, so the one described is more likely to be the one which now presently covers the site.
EVIDENCE LEFT TODAY——————–None known of.
FURTHER COMMENTS———————None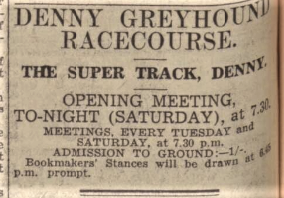 The small Stirlingshire town of Denny lies roughly six miles west of Falkirk on the eastern fringes of the M80 motorway. The greyhound track at Denny was constructed during the early 1930's on farmland that belonged to Hallhouse Farm, although unofficial meetings had taken place throughout the mid 1930's it wasn't until 1938 before it obtained its official license.
Opening up as an independent track Denny staged its inaugural meeting on the 9th of July 1938 with the greyhounds contesting over distances of 320 and 520 yards. Originally the lure was the ball hare type system, but that was replaced by the more regular Sumner type electric hare during the late 1950's.
Greyhound racing ceased during April 1961, its closure possibly down to new betting regulations set in place during that year. The track and the surrounding farmland made way for a new road which would bypass the town of Denny. But even today that road too has gone, as the M80 motorway and its embankment which was constructed in 1974, now covers the site.
The nearest possible location is were Castlerankine Road goes under the M80, with a cadet hut indicating its most northerly point and at the other side of the motorway in a south westerly direction lies Hallhouse Farm were it all began many years ago.
A programme, photograph or even memorabilia for this track is required for this page, if you can help please contact me.