Gretna Football Club, Raydale Park, Dominian Road, Gretna, Dumfrieshire.
POSTCODE———————————-DG16 5AP
LOCATED————————————-Roughly half a mile south east of Gretna town centre, and half a mile west of the now defunct Halcrow Stadium.
ORIGINAL SITE——————————Football Ground.
DATE CONSTRUCTED———————Not known.
DATE VENUE OPENED———————Not known.
Meaning other sports may have taken place prior to the arrival of Greyhound Racing.
FIRST MEETING——————————09 June 1933.
Greyhound Racing only.
LICENSED OR INDEPENDENT————Independent
All venues covered would have to be licensed with the government, licensed suggested in this section would refer to tracks operating under NGRC Rules.
INSIDE OR OUTSIDE HARE TYPE——–Outside Sumner.
Please note that the Electric Hare suggested is only a guidance and would have been in operation for a certain amount of time at this venue. Although it is not necessarily guaranteed that it was operational all the time, as other types of lure may have been used and updated as time progressed.
DISTANCES————————————290, 485 and 675 yards.
Please note that most racing venues distances had become varied throughout the years, the ones given above were at once point set and offers only a guidance to the track size.
CIRCUMFERENCE—————————-Not known.
Please note that alterations at most racing venues throughout its existence would see that the circumference of the track would vary, the one shown above offers only a guidance to the track size.
BIG RACE NAMES—————————-None found.
STADIUM SHARED WITH——————-Gretna Football Club.
LAST MEETING——————————–Mid 1985
Greyhound Racing only.
STADIUM CLOSURE DATE—————–Still operating as a football stadium.
Meaning other sports may have taken place after Greyhound Racing had ceased.
STADIUM DEMOLITION——————–N/A
BUILT ON SITE——————————–Race circuit removed shortly removed after Greyhound Racing ceased.
In some cases, structure's that originally covered the venue after the stadium had been demolished, may have been themselves demolished too, so the one described is more likely to be the one which now presently covers the site.
EVIDENCE LEFT TODAY——————–The football ground remains active, but anything left to support greyhound racing is not known.
FURTHER COMMENTS———————Racing resumed at Halcrow Stadium in Gretna the following year.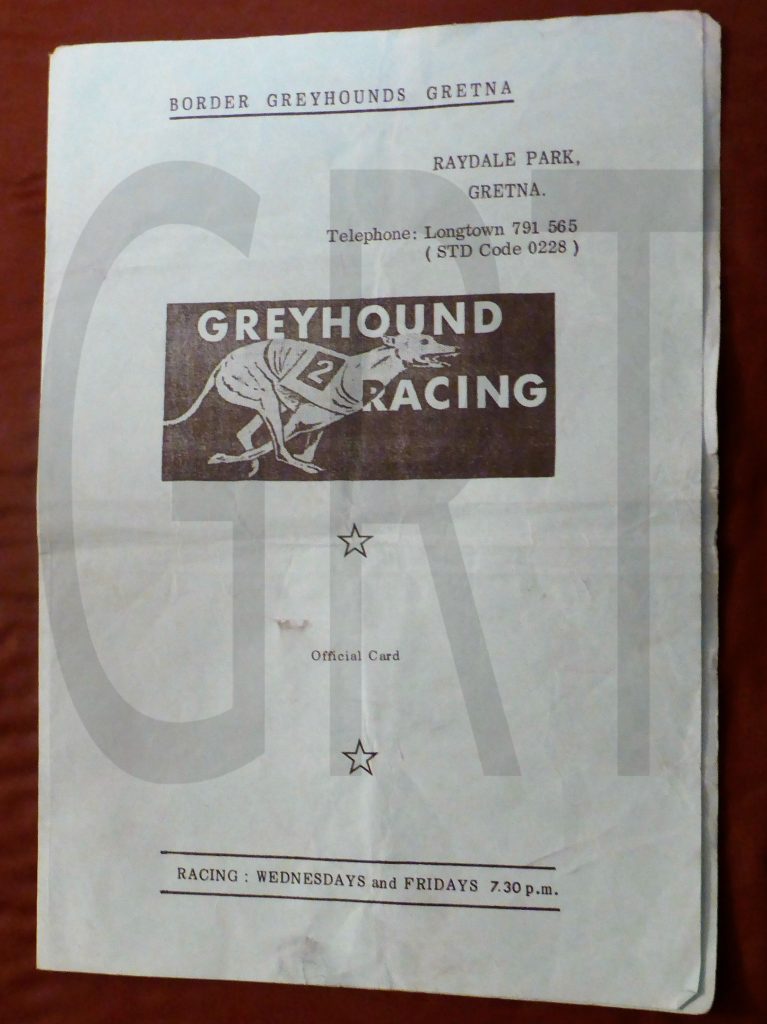 When discussing the history of greyhound racing in the border town of Gretna, certainly the Halcrow Stadium that closed in early 2017 automatically comes to mind. Yet many enthusiasts are unaware of is that Halcrow replaced an earlier track that once operated close by. It is now more than thirty years since the sport last featured at Raydale Park, the home of the towns football club, with the track laid around the perimeter of the football pitch.
Raydale Park is situated on Dominion Road, about half a mile north of Gretna town centre, and roughly half mile south of the present Halcrow Greyhound Stadium. The football ground had developed throughout the 1960's, but greyhound racing did not arrive until around 1970. Operating as a flapping track, it offered five dog racing over distances of 300 and 440 yards with the hounds chasing an outside Sumner type hare. But the success and growth of the football club upset the relationship between man and the dogs, as the football pitch needed to be wider, meaning the track space suffered, which in turn meant a total redesigning of the track.
In May 1982 Greyhound Racing came to a close, although it would be only temporarily, as alterations and improvements had to be done for the sport to continue. The hounds returned once again and by 1983 with new distances were set at 290, 480 and 680 yards, on a grass surface that now had sanded bends. But in 1985 further football ground regulations had found the playing area was still to narrow, and if the football club was going to progress, it would mean that the greyhound track would have to go.
Sadly, greyhound racing lost out and staged its final meeting during 1985, leaving Gretna football club to spiral to new dizzy heights, including a spell in the Scottish Football League, but now those days have gone seeing football in Gretna now performing at an amateur level.
A programme, photograph or even memorabilia for this track is required for this page, if you can help please contact me.