Halifax Cricket Ground, Spring Hall Lane, Thrum Hall, Halifax, West Yorkshire.
POSTCODE———————————HX1 4PG
LOCATED———————————–One mile west of Halifax town centre in the district of Thrum Hall.
ORIGINAL SITE—————————-Thrum Hall Farm, then a cricket ground.
DATE CONSTRUCTED——————-1885 as a cricket ground.
DATE VENUE OPENED——————May 1886 for cricket.
Meaning other sports may have taken place prior to the arrival of Greyhound Racing.
FIRST MEETING—————————-November 5th 1931.
Greyhound Racing only.
LICENSED OR INDEPENDENT———Majority of its existence was independent, although it did have a period of NGRC.
All venues covered would have to be licensed with the government, licensed suggested in this section would refer to tracks operating under NGRC Rules.
INSIDE OR OUTSIDE HARE TYPE——Inside Sumner then switched to outside in April 1978.
Please note that the Electric Hare suggested is only a guidance and would have been in operation for a certain amount of time at this venue. Although it is not necessarily guaranteed that it was operational all the time, as other types of lure may have been used and updated as time progressed.
DISTANCES———————————–345 and 452 metres.
Please note that most racing venues distances had become varied throughout the years, the ones given above were at once point set and offers only a guidance to the track size.
CIRCUMFERENCE—————————Dont know.
Please note that alterations at most racing venues throughout its existence would see that the circumference of the track would vary, the one shown above offers only a guidance to the track size.
BIG RACE NAMES—————————None known of.
STADIUM SHARED WITH——————Cricket and Speedway from 1928-1930.
LAST MEETING——————————-December 1978
Greyhound Racing only.
STADIUM CLOSURE DATE—————-Cricket ceased in 2000.
Meaning other sports may have taken place after Greyhound Racing had ceased.
STADIUM DEMOLITION——————–2002
BUILT ON SITE——————————–ASDA Superstore.
In some cases, structure's that originally covered the venue after the stadium had been demolished, may have been themselves demolished too, so the one described is more likely to be the one which now presently covers the site.
EVIDENCE LEFT TODAY——————–Evidence of the cricket ground remains, with whitewashed stone walls that separate ASDA from the terrace houses.
FURTHER COMMENTS———————None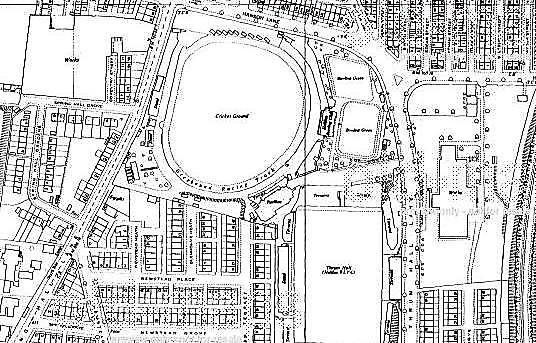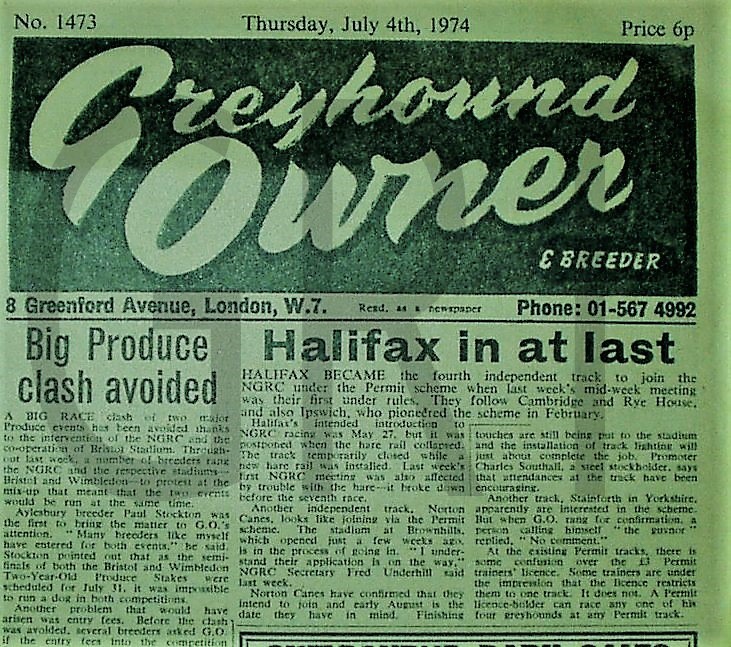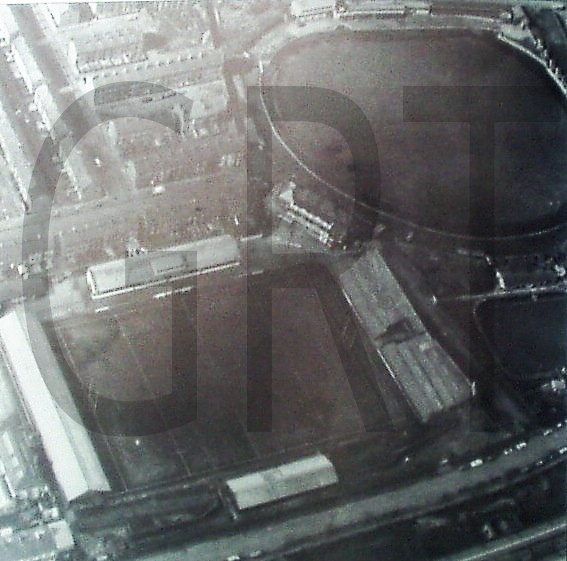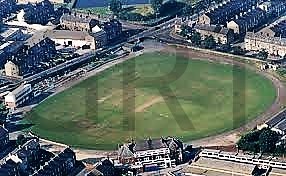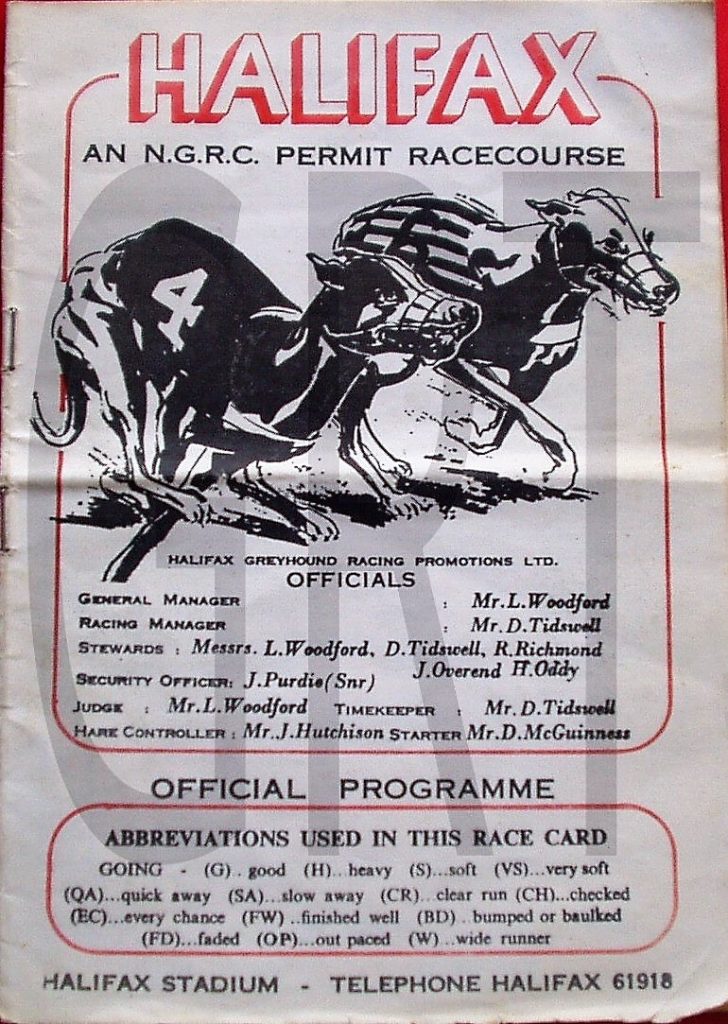 Halifax Greyhound Stadium was situated on Spring Hall Lane in the district of Thrum Hall, one mile west of Halifax town centre. Although Thrum Hall was more recognised as the home of Halifax Rugby League Club, it was at the Cricket Ground next door, that greyhound racing was staged.
The original site was purchased in 1885 for the use of cricket and was ready for its opening match in May 1886. In 1928 it caught the imagination of Grass Track Speedway enthusiasts, and staged meetings for two seasons up until 1930. Poor crowds had contributed to the sports down fall, which gave the opportunity for another of the UK's promising sport, that of greyhound racing to take its place.
The new greyhound track took shape on top of were the earlier grass speedway track lay, which ran around the perimeter of the cricket field. It became the first of only a few tracks that encircled cricket grounds, with only known ones developing later at Oldham and at Taunton. Halifax began as an independent track, with all racing greyhounds provided by the management. Halifax's inaugural meeting came on the 5th of November 1931, with almost 3,000 patrons witnessing a greyhound called Unconscious winning the first ever race.
Food shortages during the Second World War left the Halifax promoters with no other option than to invite privately owned greyhounds to race there. Halifax staged six dog races over distances of 300, 480 and 500 yards, then later switching to metric trips of 345 and 452 metres, with the greyhounds chasing an inside Sumner type hare. The late sixties and early seventies had seen crowds dwindle, sometimes as little as 30 and 40 patrons passing through the turnstiles at some meetings and failing also by not having enough greyhounds to fill the card. But a move which would have hoped to stabilize the future of greyhound racing at Thrum Hall came in June 1974, after the Halifax track was accepted by the NGRC, to race under rules, with the majority of trainers being offered a permit scheme license.
This new scheme would hopefully attract new trainers and better-quality greyhounds, and possibly the disgruntled ones from the nearby Leeds Stadium, seventeen miles away. Racing under rules continued for another four years, but again poor attendances and low volumes of greyhounds available again contributed to the tracks down fall.
April 1978 had seen new owners investing in new photo finish and ray timing equipment, and also the introduction of a new outside hare system. Extra prize money was added to attract better class of greyhounds, but again the response from patrons was only slightly improved. Another switch to independent racing came in November 1978, but within a month of flapping, Halifax staged its final meeting in December 1978.
The Thrum Hall venue soldiered on solely just hosting cricket matches, before that too was sold for redevelopment in 2000. By 2002 the site had been flattened ready for the construction of a new ASDA Superstore along with its car park. Today, the site leaves no reminder of greyhound racing ever having taken place there, but memories of cricket does remains evident, as a cluster of whitewashed stone walls, which separates ASDA from some nearby terraced house's, leaves a glimpse of what used to be there.