Bonnyton Park, Balmoral Road, Kilmarnock, Ayrshire.
POSTCODE———————————–KA3 1HL
LOCATED————————————-Half a mile north west of Kilmarnock town centre.
ORIGINAL SITE——————————Built upon land adjacent to Bonnyton Colliery number 8 pit.
DATE CONSTRUCTED———————Early 1930's.
DATE VENUE OPENED——————–May 1934.
Meaning other sports may have taken place prior to the arrival of Greyhound Racing.
FIRST MEETING—————————–May 18th 1934.
Greyhound Racing only.
LICENSED OR INDEPENDENT———-NGRC and Independent spells.
All venues covered would have to be licensed with the government, licensed suggested in this section would refer to tracks operating under NGRC Rules.
INSIDE OR OUTSIDE HARE TYPE——Outside McGhee
Please note that the Electric Hare suggested is only a guidance and would have been in operation for a certain amount of time at this venue. Although it is not necessarily guaranteed that it was operational all the time, as other types of lure may have been used and updated as time progressed.
DISTANCES———————————–275 and 485 yards.
Please note that most racing venues distances had become varied throughout the years, the ones given above were at once point set and offers only a guidence to the track size.
CIRCUMFERENCE—————————Don't know.
Please note that alterations at most racing venues throughout its existence would see that the circumference of the track would vary, the one shown above offers only a guidance to the track size.
BIG RACE NAMES—————————Ayrshire Derby.
STADIUM SHARED WITH——————An experimental spell of Cheetah racing, but the idea failed miserably.
LAST MEETING——————————-1971 or 1972
Greyhound Racing only.
STADIUM CLOSURE DATE—————-1971 or 1972
Meaning other sports may have taken place after Greyhound Racing had ceased.
STADIUM DEMOLITION——————–Don't know.
BUILT ON SITE——————————–The site became used as a rugby pitch, now used as a stoneyard.
In some cases, structure's that originally covered the venue after the stadium had been demolished, may have been themselves demolished too, so the one described is more likely to be the one which now presently covers the site.
EVIDENCE LEFT TODAY——————–The foundations of the old stands later became used as a car park for rugby spectators, although todays google earth still exposes an oval shape of a cluster of trees.
FURTHER COMMENTS———————During its early years it became the only track in the UK to mix NGRC and flapping, with four races each per meeting. Their idea was to attract more custom and dogs.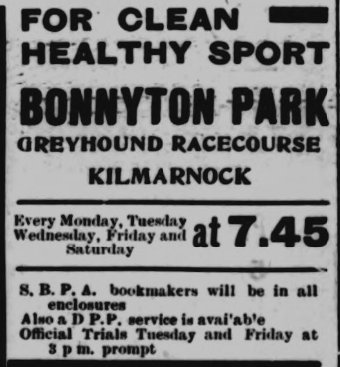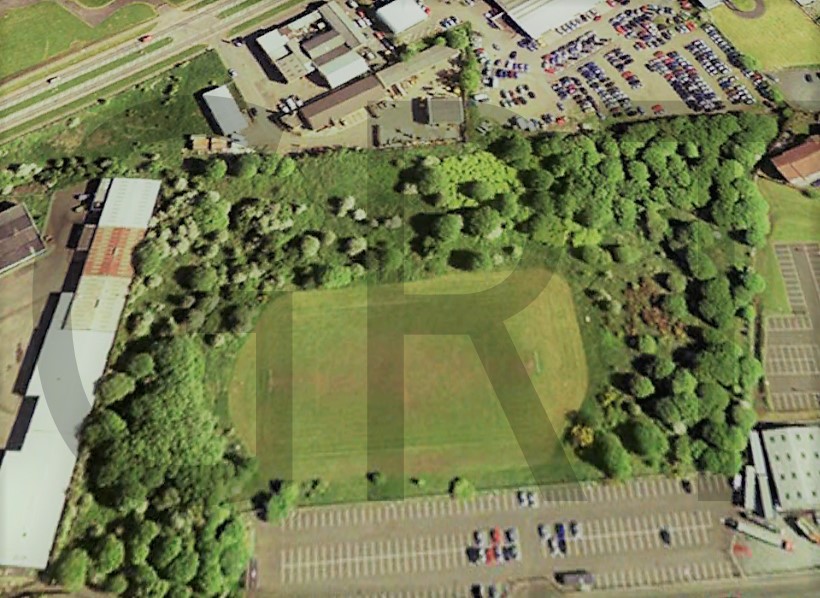 Another one of Ayrshire's more established greyhound tracks was the one at Kilmarnock. It was known as the Bonnyton Greyhound Stadium and was situated just off Balmoral Road, half a mile west of Kilmarnock's town centre.
It was constructed during the early 1930's on land adjacent to Bonnyton Colliery Number 8 pit, when Balmoral Road was originally called Bonnyton Road. Its opening meeting came on the 18th of May 1934, but not as a flapper or an NGRC track, but actually as both. But what really happened at Kilmarnock was something different and has never been seen at any other greyhound track in the UK since. To attract more custom the management put on meetings that would feature four races which would be staged under NGRC rules, these races being made up of track owned dogs only. Yet the other four races on the card was compiled of greyhounds entered by independent owners or other words would be run as a flapping track.
Another experiment at the time was a first for Scotland, was the introduction of cheetah racing, but just like the two London tracks who had tried it, again the idea failed miserably. Greyhound Racing continued by staging handicapped races over distances of 275 and 485 yards, yet the idea of a mixed card dwindled away, and Kilmarnock eventually switched to an all-out NGRC track by 1936. During its heights it was known that some 28 track side bookmakers would attend each meeting.
It is known that operations continued until the early 1970's, but a true final meeting date is yet to be determined. During the 1970's the site became derelict, although an amateur rugby club did prepare a pitch within the grounds over the following decades. That too has now gone as today, the site is covered by mounds of rubble and stone.
Google earth still shows a cluster of trees exposing a section of land were the track used to lay, and also exposes the foundations of were the main stand once lay. Further images show old concrete fence posts, which triggers my imagination thinking that these once acted as the stadium's boundary.
A programme, photograph or even memorabilia for this track is required for this page, if you can help please contact me.