Mains Park Greyhound Stadium, Bathgate Road, Linlithgow Bridge, West Lothian.
POSTCODE———————————-EH49 6QA
LOCATED————————————Linlithgow lies south of the M8 about 19 miles west of Edinburgh. The tracks site is about one mile west of Linlithgow town centre, along the A706 Mains Road at Linlithgow Bridge, opposite The Maltings. The old site was squeezed in by a railway line and lies east of a modern housing estate known as Avontown Park with the present footpath once acting as the venue's access road.
ORIGINAL SITE—————————–Built on a meadow known as Linlithgow Mains.
DATE CONSTRUCTED——————–1939-40.
DATE VENUE OPENED——————-April 1940.
Meaning other sports may have taken place prior to the arrival of Greyhound Racing.
FIRST MEETING—————————-April 1st 1940.
Greyhound Racing only.
LICENSED OR INDEPENDENT———-Independent
All venues covered would have to be be licensed with the government, licensed suggested in this section would refere to tracks operating under NGRC Rules.
INSIDE OR OUTSIDE HARE TYPE——Outside McKee.
Please note that the Electric Hare suggested is only a guidance and would have been in operation for a certain amount of time at this venue. Although it is not necessarily guaranteed that it was operational all the time, as other types of lure may have been used and updated as time progressed.
DISTANCES———————————–280 and 475 yards.
Please note that most racing venues distances had become varied throughout the years, the ones given above were at once point set and offers only a guidence to the track size.
CIRCUMFERENCE—————————Not known.
Please note that alterations at most racing venues throughout its existence would see that the circumference of the track would vary, the one shown above offers only a guidance to the track size.
BIG RACE NAMES—————————None known.
STADIUM SHARED WITH——————Nothing Found.
LAST MEETING——————————-1968
Greyhound Racing only.
STADIUM CLOSURE DATE—————-Used later for Rugby
Meaning other sports may have taken place after Greyhound Racing had ceased.
STADIUM DEMOLITION——————–Not known.
BUILT ON SITE——————————–A floodlit training pitch belonging to Linlithgow Rugby Club.
In some cases, structure's that originally covered the venue after the stadium had been demolished, may have been themselves demolished too, so the one described is more likely to be the one which now presently covers the site.
EVIDENCE LEFT TODAY——————–Possibly the access road to the stadium is now a footpath on its western edge.
FURTHER COMMENTS———————None as yet.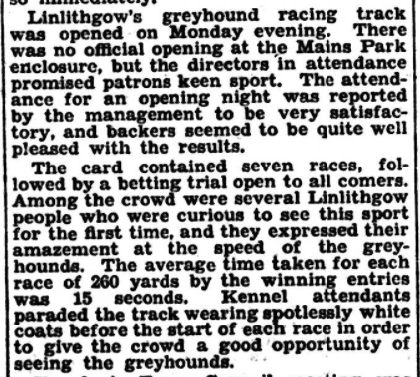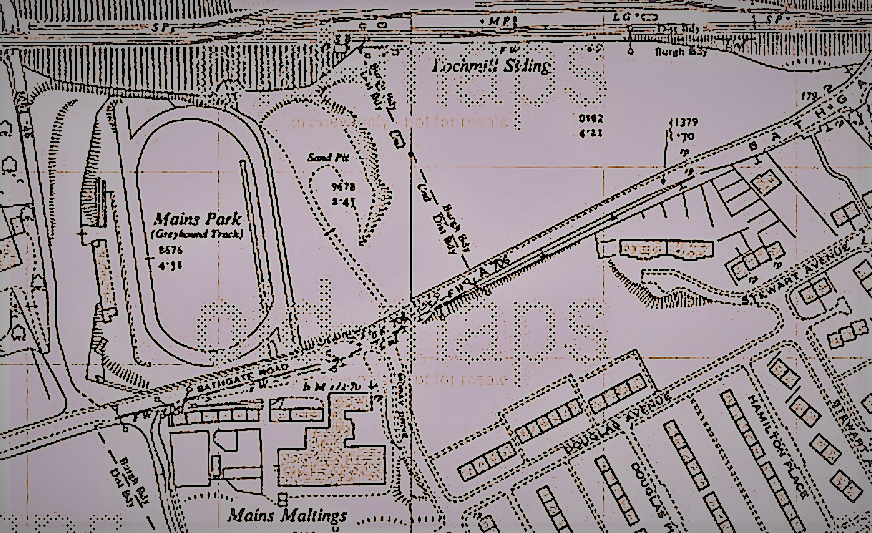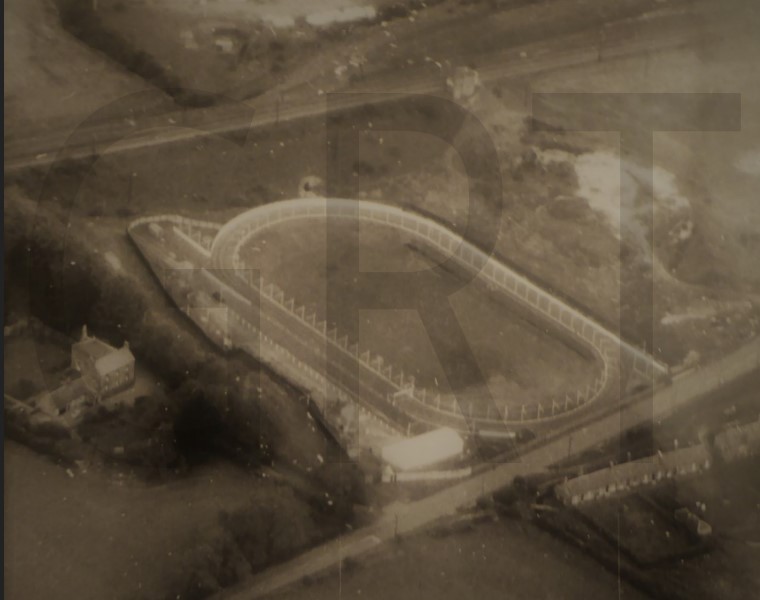 Nineteen miles west of Edinburgh and just south of the M9, lies the West Lothian town of Linlithgow. One mile west of its town centre, sandwiched between a railway embankment and the A706 Bathgate Road lies the site of were a greyhound track once operated. It was known to locals as Mains Park, and had developed on grazing land known as Linlithgow mains around the months leading up to the declaration of the Second World War.
It opened up as an independent track with its first meeting being staged on the 1st of April 1940. It ran six dog events over distances of 280 and 475 yards with the hounds chasing an outside McKee type hare. It operated up until the mid 1960's before it closed, it is not known the reason why.
The site is now covered by a floodlit rugby pitch which is a training pitch for Linlithgow Rugby Union Club and is found opposite the Maltings on Bathgate Road. A footpath which leads underneath the railway embankment and separates the new Avontown housing estate from the rugby pitch, now covers the access road that once led the way to the track.
A programme, photograph or even memorabilia for this track is required for this page, if you can help please contact me.