BEDWELLTY PARK GREYHOUND STADIUM SUMMARY
ADDRESS————————————-
Bedwellty Road
Blackwood
Gwent
South Wales.
POSTCODE———————————–NP12 0BD
LOCATED————————————-The site of this venue is situated just half a mile south of the village of Markham, set back behind the New Inn Public House car park.
ORIGINAL SITE——————————Just grazing land, sometimes used for Whippet Racing.
DATE CONSTRUCTED———————Dont know.
DATE VENUE OPENED——————--July 1933.
Meaning other sports may have taken place prior to the arrival of Greyhound Racing.
FIRST MEETING——————————July 15th 1933.
Greyhound Racing only.
LICENSED OR INDEPENDENT———–Independent
All venues covered would have to be licensed with the government, licensed suggested in this section would refer to tracks operating under NGRC Rules.
INSIDE OR OUTSIDE HARE TYPE——-Inside Sumner.
Please note that the Electric Hare suggested is only a guidance, and would have been in operation for a certain amount of time at this venue. Although it is not necessarily guaranteed that it was operational all the time, as other types of lure may have been used and updated as time progressed.
DISTANCES———————————–310, 510 and 700 yards.
Please note that most racing venues distances had become varied throughout the years, the ones given above were at once point set and offers only a guidence to the track size.
CIRCUMFERENCE—————————Not known.
Please note that alterations at most racing venues throughout its existence would see that the circumference of the track would vary, the one shown above offers only a guidance to the track size.
BIG RACE NAMES—————————None submitted.
STADIUM SHARED WITH——————Nothing found.
LAST MEETING——————————-March 19th 2007.
Greyhound Racing only.
STADIUM CLOSURE DATE—————-March 2007.
Meaning other sports may have taken place after Greyhound Racing had ceased.
STADIUM DEMOLITION——————–Dont know.
BUILT ON SITE——————————–Nothing really seems to have reverted back to grazing land but the perimeter wall still survives.
In some cases, structure's that originally covered the venue after the stadium had been demolished, may have been themselves demolished too, so the one described is more likely to be the one which now presently covers the site.
EVIDENCE LEFT TODAY——————-The perimeter wall remains although found crumbling in some areas, and disturbed earth also acts as evidence to were the track once lay. The farm cottage that overlooked the track is still there.
FURTHER COMMENTS———————Any body who would have visited the venue would surely comment on the circuit. Amazingly the back straight ran at a higher level than the home straight, which in turn created an uphill climb from the first to the second bend and a downhill run from the 3rd to the 4th bend.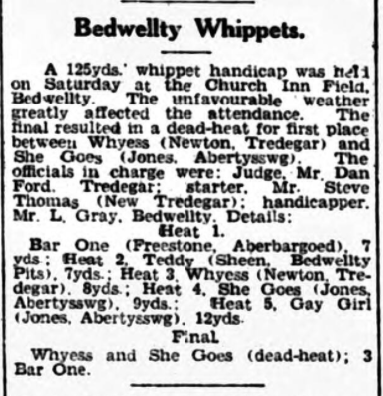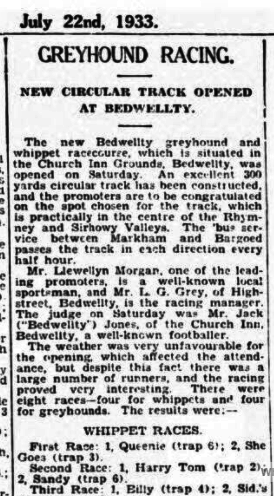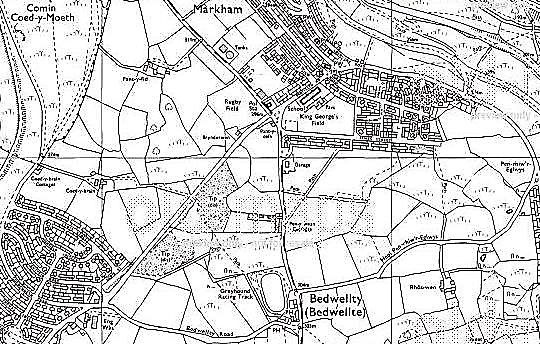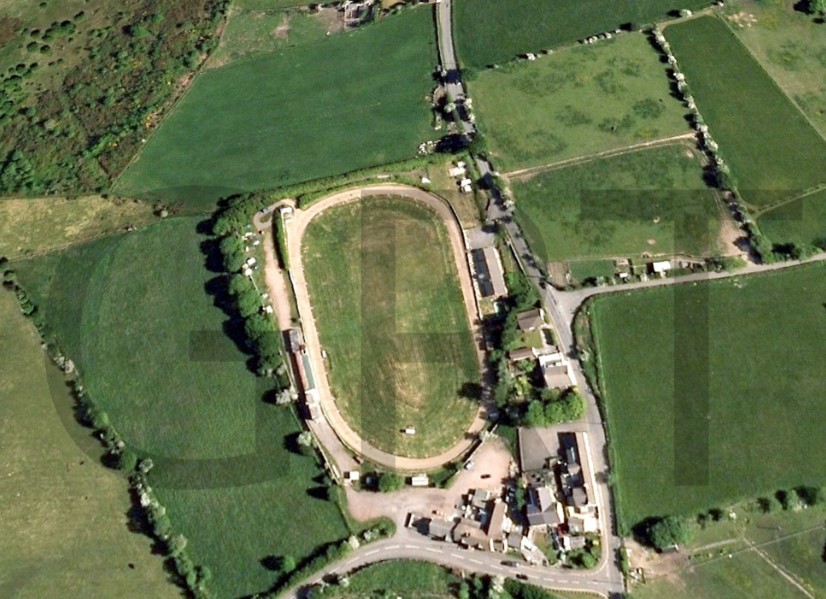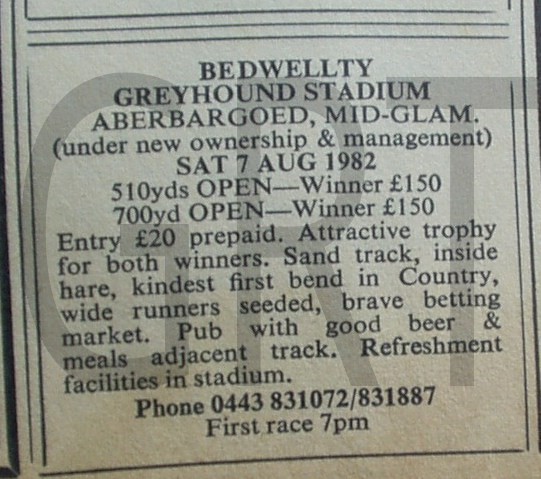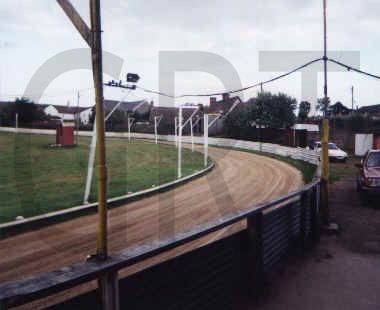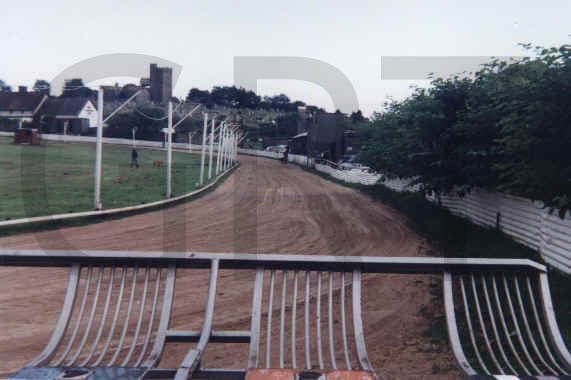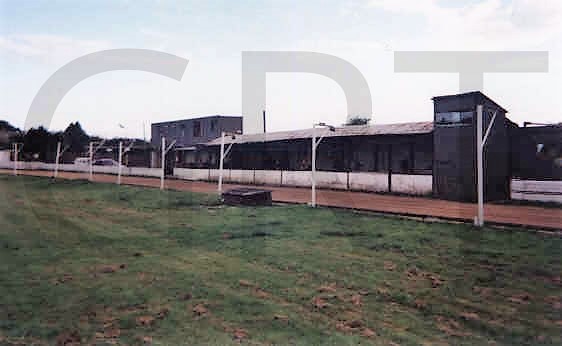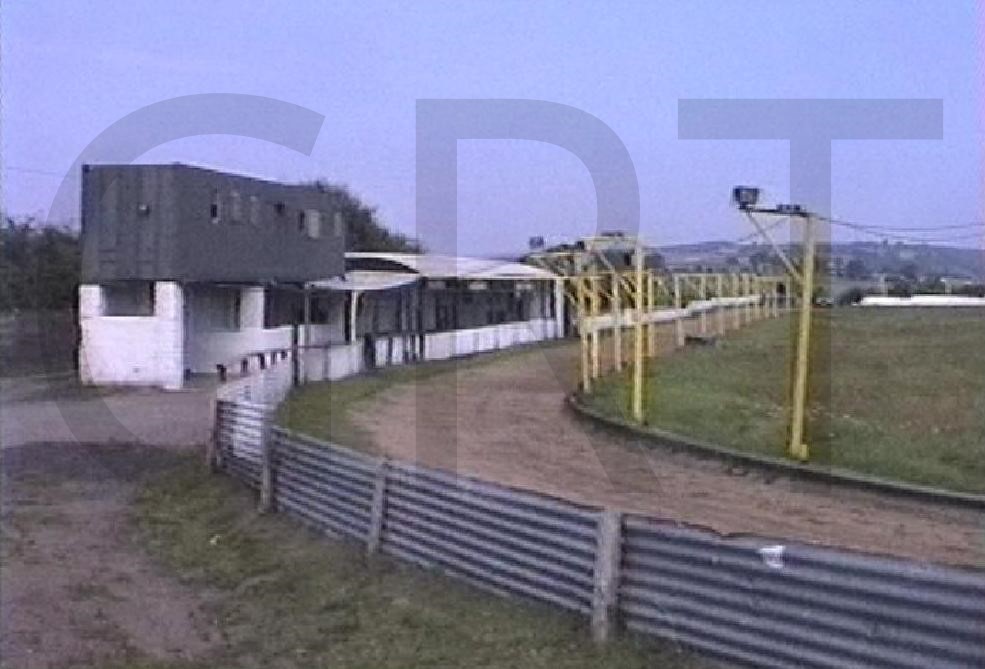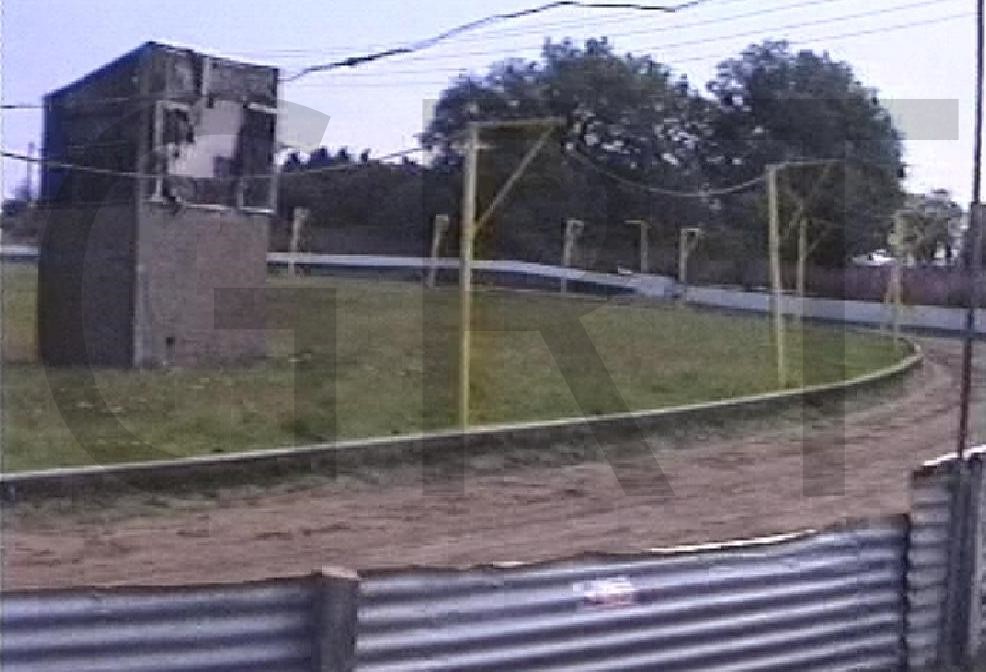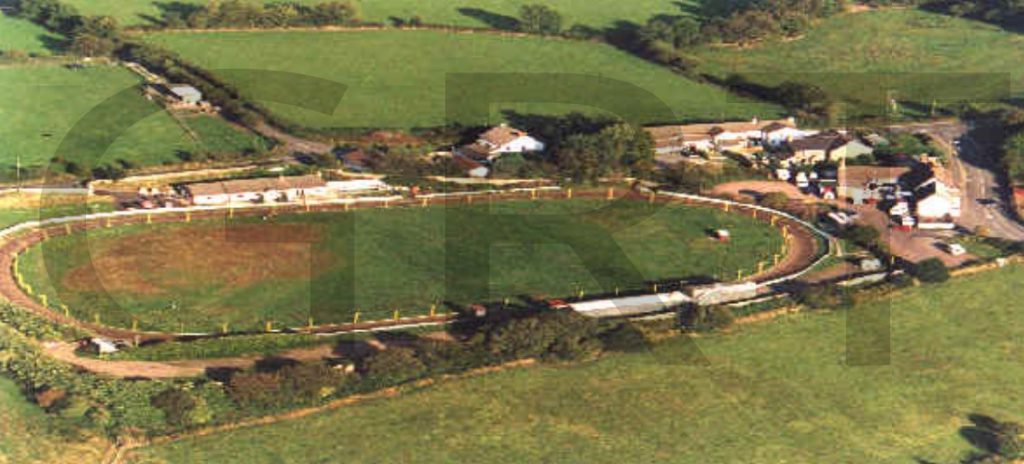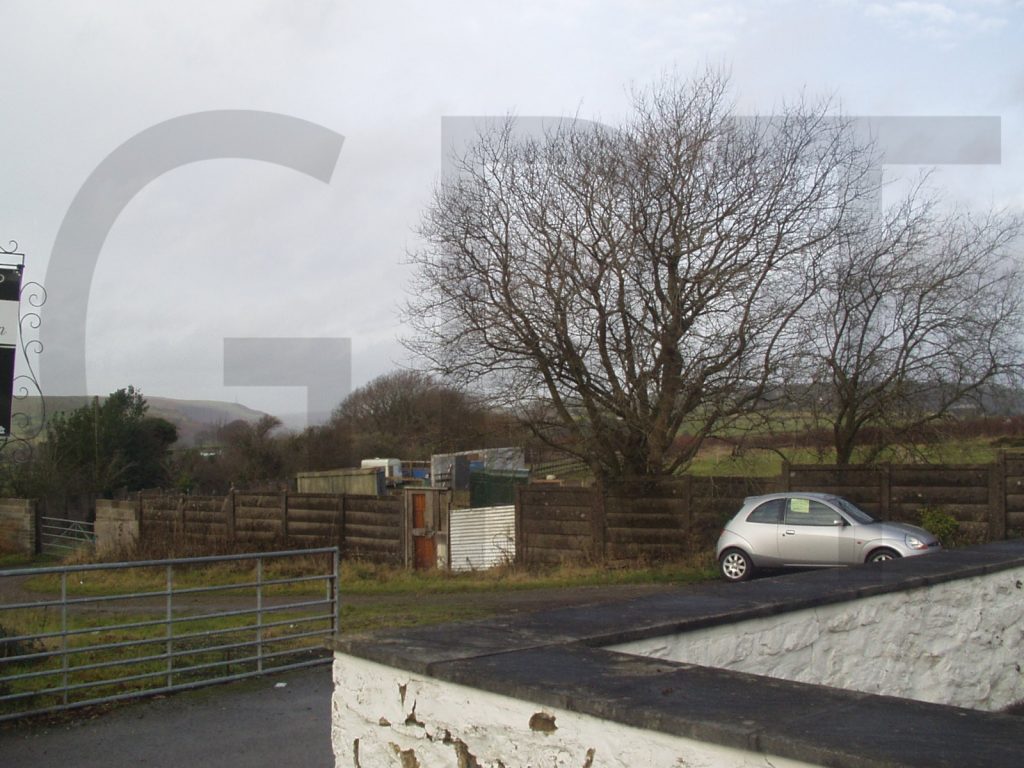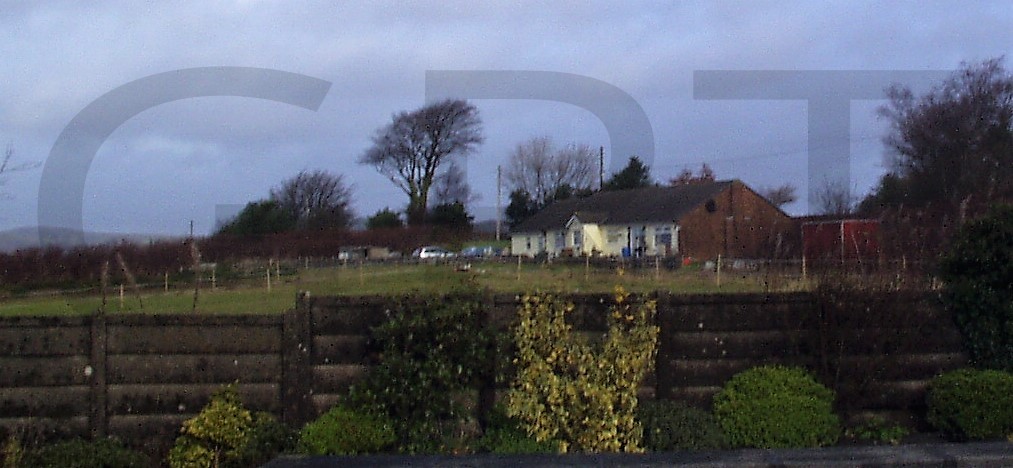 The greyhound stadium known as Bedwellty Park was located near the mining village of Aberbargoed, eighteen miles north of Cardiff in South Wales. Its location being unique compared to many other tracks, as this one was so exposed to the weather, constructed on a meadow way above the Welsh Valleys. Having staged Whippet racing on a field at the rear of the Church Inn since the late 1920's, a more permanent track was laid during the Summer of 1933. Its first meeting was staged on the 15th of July 1933, setting out its stall as an independent flapping track, which it continued to do so throughout its existence. Built on a sloping meadow, Bedwellty made itself very unique regarding the type of greyhound track it was. No other track could be described the same, its start and finish straight beginning with a hundred yards gallop, before turning left up the hill around the first and second bend, then along the back straight before heading down the gradient of the third and fourth bends, before completing the course. It ran six dog races over distances of 100, 300, 510 and 700 yards, with the greyhounds chasing an inside Sumner type hare. Sadly, the Millennium had brought with it the downward trend in Greyhound Racing throughout South Wales, hitting Bedwellty rather hard, as it struggled to make a full meeting out of the greyhounds that were available. Without a doubt this occurrence created financial losses, contributing to the inevitable closure, with the track running its final meeting on the 19th of November 2007. Efforts were made to reopen the track by a group of enthusiasts, but sadly all hopes faded away after finding that most of the fixtures and fittings had been sold. Today, the site of the track is still very evident, but if you have never been before, finding this place is an absolute nightmare. It is located just half a mile south of the village of Markham, set back behind the present day Church Inn Public House car park. The concrete slabbed type boundary wall of the track has certainly witnessed neglect, but is clearly evident, although patched up here and there. Peering over this wall offers nothing more than an overgrown meadow, but there is some use of it, as a cluster of fences remain erected for local show jumpers. Dilapidated outbuildings, and an odd caravan, gives us the impression a certain few horse lovers make use of the grounds. Anything to do with Greyhound Racing does not come to mind anymore, as all track side lights have gone along with all the outbuildings. Maybe earth settlement is its only proof that a greyhound track did exist there once over. What's left of Bedwellty Park rapidly deteriorates every year, being so well exposed to unpredictable weather, positioned on top of the Welsh moors. It is very unlikely that anything could be built on the site, but as for greyhound track sites go, this could be classed as a one off.