Dunfermline Athletic Football Club, East End Park, Halbeath Road, Dunfermline, Fifeshire.
POSTCODE———————————-KY12 7RB
LOCATED————————————Half a mile east of Dunfermline town centre.
ORIGINAL SITE—————————–Land owned by the North British Railway Company.
DATE CONSTRUCTED——————–1920
DATE VENUE OPENED——————-1920 for football.
Meaning other sports may have taken place prior to the arrival of Greyhound Racing.
FIRST MEETING—————————-June 5th 1931 with a greyhound called Sure Away winning the first race. 1,000 racegoers attended.
Greyhound Racing only.
LICENSED OR INDEPENDENT———Independent
All venues covered would have to be licensed with the government, licensed suggested in this section would refer to tracks operating under NGRC Rules.
INSIDE OR OUTSIDE HARE TYPE—–Originally a trackless lure.
Please note that the Electric Hare suggested is only a guidance and would have been in operation for a certain amount of time at this venue. Although it is not necessarily guaranteed that it was operational all the time, as other types of lure may have been used and updated as time progressed.
DISTANCES———————————260 and 455 yards.
Please note that most racing venues distances had become varied throughout the years, the ones given above were at once point set and offers only a guidance to the track size.
CIRCUMFERENCE————————-Not known.
Please note that alterations at most racing venues throughout its existence would see that the circumference of the track would vary, the one shown above offers only a guidance to the track size.
BIG RACE NAMES————————-Don't know.
STADIUM SHARED WITH—————-Dunfermline Athletic Football Club.
LAST MEETING—————————–Possibly November 1951.
Greyhound Racing only.
STADIUM CLOSURE DATE—————N/A
Meaning other sports may have taken place after Greyhound Racing had ceased.
STADIUM DEMOLITION——————N/A
BUILT ON SITE——————————N/A
In some cases, structure's that originally covered the venue after the stadium had been demolished, may have been themselves demolished too, so the one described is more likely to be the one which now presently covers the site.
EVIDENCE LEFT TODAY——————None known of.
FURTHER COMMENTS——————–It was the introduction of Greyhound Racing at East End Park that saved Dunfermline Athletic from bankruptcy during the early 1930's.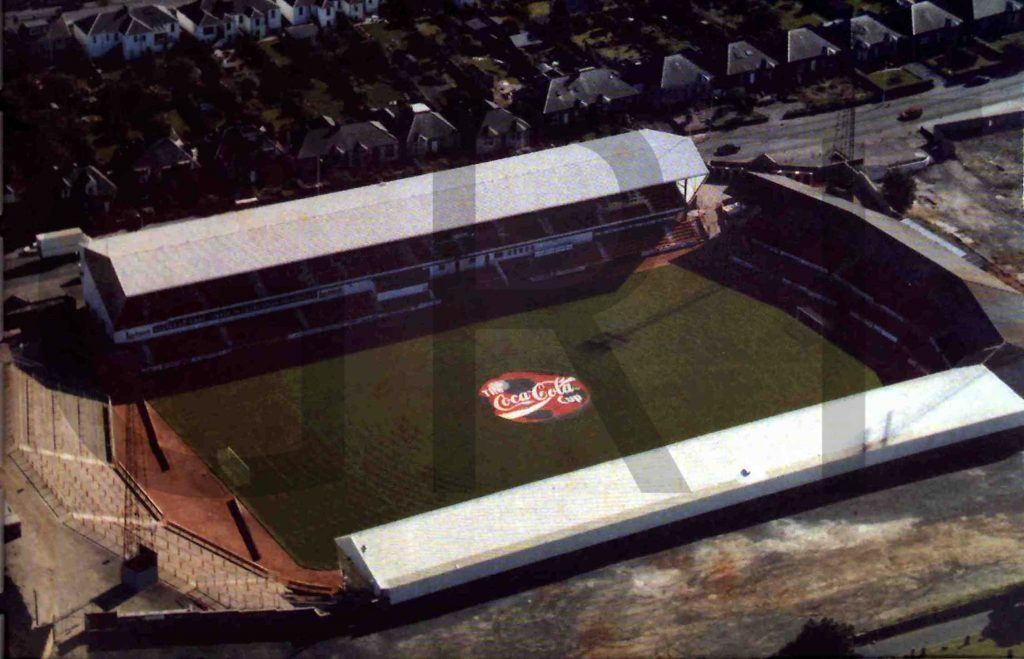 On the north banks of the Forth Estuary lies the Fifeshire town of Dunfermline and is the home to the established Scottish League football club Dunfermline Athletic, who's home ground is East End Park. What may surprise many is that it once hosted greyhound racing having been introduced during the early 1930's to ease the financial burden that so many football clubs were endearing during that period.
East End Park had developed from the days of the early 1920's with a three-acre section of land having been purchased from The North British Railway Company for a sum of £3,500 in 1920. A large wooden stand was built, and terracing was added all around giving it a crowd capacity of 16,000 by 1926. After a successful spell during the mid 1920's, it came as a surprise that Dunfermline Athletic was close to bankruptcy by the end of the decade. It was at this point that the football club looked to other ways to increase its income, and like a few other Scottish clubs around that period, the introduction of greyhound racing was hoped to be the answer.
At the end of the 1930-31 season, a grass greyhound circuit was laid around the pitch, along with a trackless type hare system. Opening up as independent track, the first meeting came on the 5th of June 1931, with almost one thousand patrons witnessing a greyhound called Sure Away win the first 5 dog race event over the 480-yard trip. By September 1931 distances had changed to 260 and 455 yards, but also the introduction of track lighting proved that the sport had come to stay longer than a trial session. A totalisator system was installed and was in operation by November 1931. The year of 1931 had proved that greyhound racing had become a success at East End Park and left no doubt in directors minds that it had clearly saved the football club from bankruptcy.
By 1939 the track had been lengthened even more with the two-bend trip extended to 300 yards. But sadly, after twenty years of greyhound racing, the football club turned its back on a sport that saved them from bankruptcy, the reason being that too many complaints from the football club regarding the poor condition of the pitch around the corner flag areas were the greyhound track had encroached the pitch. More pressure from the Scottish football league whose policy being a total disapproval of greyhound racing at league grounds would see East End Park stage its final meeting during November 1951.
Today, East End Park continues to host Scottish League football, with its more modern rectangular shaped stadium, the new stands having removed any evidence of greyhound racing ever having been there.
A programme, photograph or even memorabilia for this track is required for this page, if you can help please contact me.