Slutcher's Lane, Latchford, Warrington, Cheshire.
POSTCODE———————————-WA1 1QN
LOCATED————————————-South of Arpley Junction railway line, half a mile southwest of Warrington town centre, just north of Northwest Development Organisation on Centre Park Square, Warrington.
ORIGINAL SITE——————————Grazing land originally owned by Railway Company.
DATE CONSTRUCTED———————Began in 1928.
DATE VENUE OPENED——————–March 28th 1929 for Speedway.
Meaning other sports may have taken place prior to the arrival of Greyhound Racing.
FIRST MEETING——————————May 23rd 1931.
Greyhound Racing only.
LICENSED OR INDEPENDENT———–NGRC.
All venues covered would have to be licensed with the government, licensed suggested in this section would refer to tracks operating under NGRC Rules.
INSIDE OR OUTSIDE HARE TYPE——-Don't know.
Please note that the Electric Hare suggested is only a guidance and would have been in operation for a certain amount of time at this venue. Although it is not necessarily guaranteed that it was operational all the time, as other types of lure may have been used and updated as time progressed.
DISTANCES————————————500 yard scratch races , 515 yards handicap.
Please note that most racing venues distances had become varied throughout the years, the ones given above were at once point set and offers only a guidence to the track size.
CIRCUMFERENCE—————————Don't know.
Please note that alterations at most racing venues throughout its existence would see that the circumference of the track would vary, the one shown above offers only a guidance to the track size.
BIG RACE NAMES—————————None found.
STADIUM SHARED WITH—————–Speedway and local league football.
LAST MEETING——————————May 21st 1956.
Greyhound Racing only.
STADIUM CLOSURE DATE—————May 1956.
Meaning other sports may have taken place after Greyhound Racing had ceased.
STADIUM DEMOLITION——————Dont know but a football pitch on the site was still being used during the 1980,s.
BUILT ON SITE—————————–Now covered by a vast car park for British Rail passengers.
In some cases structure's that originally covered the venue after the stadium had been demolished may have been themselves demolished too, so the one described is more likely to be the one which now presently covers the site.
EVIDENCE LEFT TODAY——————-Nothing known of today.
FURTHER COMMENTS——————–When it was used for motor sports it was called Arpley Motordrome.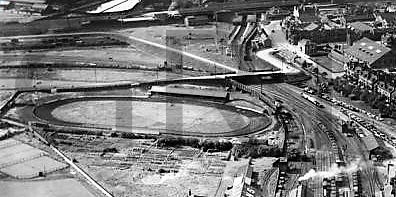 Half a mile southwest of Warrington town centre, once lay a gathering of railway lines known as Arpley Junction. This busy section of railway lines had developed due to the demand of the local industry which began to expand during the 19th and the early part of the 20th century. To the south of this junction lay nothing more than grazing meadows, but as the 19th century began to draw to a close, the area began to take shape as an active sporting area.
This sporting section of land became known as Arpley Meadows, situated in the district of Latchford, with the southwest section of Arpley Meadows becoming an enclosed cricket ground, while towards the northwest corner, which was closer to the railway junction itself, became a rugby pitch. By the early 1880's the rugby club had begun to flourish, but it was a period when the Rugby Union game was under threat from a breakaway group who wanted to play under Rugby League rules. Unfortunately, the unrest at the rugby club regarding switching of codes created serious issues, enough to see the rugby club disband, which in turn witnessed the birth of two new rugby clubs forming elsewhere, each of them playing under different codes.
The new rugby league club formed happened to be the present-day Warrington Wolves, who in time developed their own ground at Wilderspool into an impressive venue, although situated on the other side of town. After the rugby clubs had moved on, amateur football began to fill the gap left behind, but it wasn't until the late 1920's that this section of land began to develop as an enclosed sports venue. It was during this period that a new sport was rapidly becoming widespread across the UK, that of dirt track speedway. Arpley Meadows was soon to change, as money became available from a local paper mill, who supervised the construction of new stands, which overlooked the new speedway track and its trackside lighting. The venue became known as Arpley Autodrome, and opened with a speedway meeting on the 29th Of March 1929, when a crowd of 10,000 witnessed The Golden Helmut Trophy, a competition which attracted the top speedway riders from around Europe. But success was short lived, as by the end of 1930 the speedway promoters had gone into liquidation, leaving the venue unoccupied, which gave the opportunity of another thriving sport to take its place, that of greyhound racing.
Arpley Meadows was now under the management of the Warrington Greyhound Racing Association, a company who invested heavily, firstly by laying a grass circuit over the existing speedway track, then built a new kennel block, before constructing an impressive totalisator board situated at the cricket field end. The 60-foot-high construction became a landmark, and could be clearly seen from surrounding areas, which must have been beneficial to a good few who were to visit for the first time. Arpley Meadows changed its name once again, this time becoming known to locals as Slutcher's Lane, who's inaugural meeting came on the 23rd of May 1931, with all event's being run under NGRC rules, and five dog races being contested over the 500-yard trip.
The sport was certainly appealing to the Warrington public as crowds began to flock, with as many as 40 bookmakers standing to take a bet. But like so many other new tracks the sport had its objector's too, even a letter received by the stadium management from a local schoolteacher, who complained that schoolboys were in a weary state during class, due to them spending the previous evening at the dog track.
The outbreak of the Second World War brought with it restrictions, and requirements, and unfortunately the control of the stadium was handed over to the Army, who used it as a military storage base, which meant all sporting activities were forbidden. Once hostilities had ceased, the Slutcher's Lane venue was purchased by The Clapton Greyhound Racing Company, who immediately transformed the stadium back to its former duties. The stadium also saw the return of Speedway Racing, but the venture lasted for no more than a couple of seasons due to the speedway team folding during 1950.
Greyhound racing was to continue for the next six years uninterrupted, but a shock announcement during a meeting on the 21st of May 1956, made it clear that there would be no more further meetings taking place from then on. Without owners, trainers or patrons knowing, a deal of £7,000 had been agreed to purchase the stadium, between The Clapton Greyhound Company and The Thomas Board and Paper Company. From then on, the Slutcher's Lane hosted just amateur football, but revenue from this created little income, and the stadium slowly drifted into a derelict state. Eventually all outbuildings were demolished, leaving nothing at all of an once flourishing stadium except the foundations of the main stand and a football pitch, and that is how it stayed up until the mid 1980's.
With the encroachment of an ever-expanding industrial estate, the southern section of the site disappeared underneath a company's car park. Yet it is only recently that the weeds and rubble, that once occupied the last section of the Slutchers Lane site, were unearthed to make way for a new railway station car park which was put into service as recently as 2012.
A programme, photograph or even memorabilia for this track is required for this page, if you can help please contact me.