Barrmill Road, Galston Burgh, Nr Kilmarnock, Ayrshire
POSTCODE———————————KA4 8JN
LOCATED————————————Galston is located roughly 5 miles east of Kilmarnock. The venue is situated about 200 yards north west of Galston town centre on the southern banks of the River Irvine.
ORIGINAL SITE—————————–Just grazing meadows on the southern banks of the River Irvine.
DATE CONSTRUCTED——————-Early 1930's.
DATE VENUE OPENED——————1933
Meaning other sports may have taken place prior to the arrival of Greyhound Racing.
FIRST MEETING—————————-June 9th 1933.
Greyhound Racing only.
LICENSED OR INDEPENDENT———-Independent
All venues covered would have to be licensed with the government, licensed suggested in this section would refer to tracks operating under NGRC Rules.
INSIDE OR OUTSIDE HARE TYPE——Inside Ball Hare system driven by pulleys and a motor car engine.
Please note that the Electric Hare suggested is only a guidance and would have been in operation for a certain amount of time at this venue. Although it is not necessarily guaranteed that it was operational all the time, as other types of lure may have been used and updated as time progressed.
DISTANCES———————————–280 and 460 yards.
Please note that most racing venues distances had become varied throughout the years, the ones given above were at once point set and offers only a guidance to the track size.
CIRCUMFERENCE—————————350 yards.
Please note that alterations at most racing venues throughout its existence would see that the circumference of the track would vary, the one shown above offers only a guidance to the track size.
BIG RACE NAMES—————————None found.
STADIUM SHARED WITH——————Don't know.
LAST MEETING——————————-Late 1960's.
Greyhound Racing only.
STADIUM CLOSURE DATE—————-Late 1960's.
Meaning other sports may have taken place after Greyhound Racing had ceased.
STADIUM DEMOLITION——————–Don't know.
BUILT ON SITE——————————–Barrmill Stadium the home of Galston Football Club.
In some cases, structure's that originally covered the venue after the stadium had been demolished, may have been themselves demolished too, so the one described is more likely to be the one which now presently covers the site.
EVIDENCE LEFT TODAY———————Nothing known of.
FURTHER COMMENTS———————-None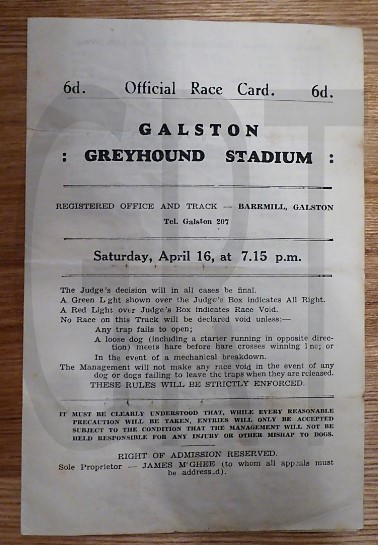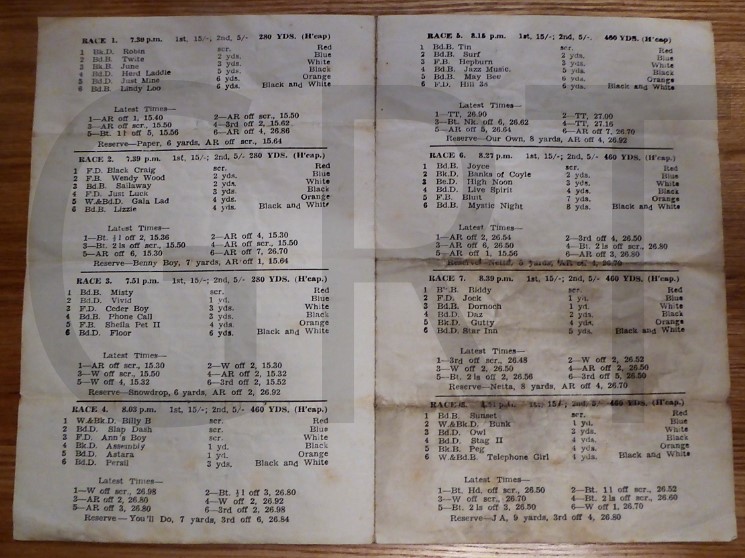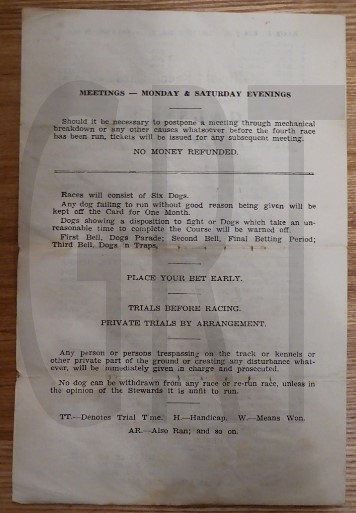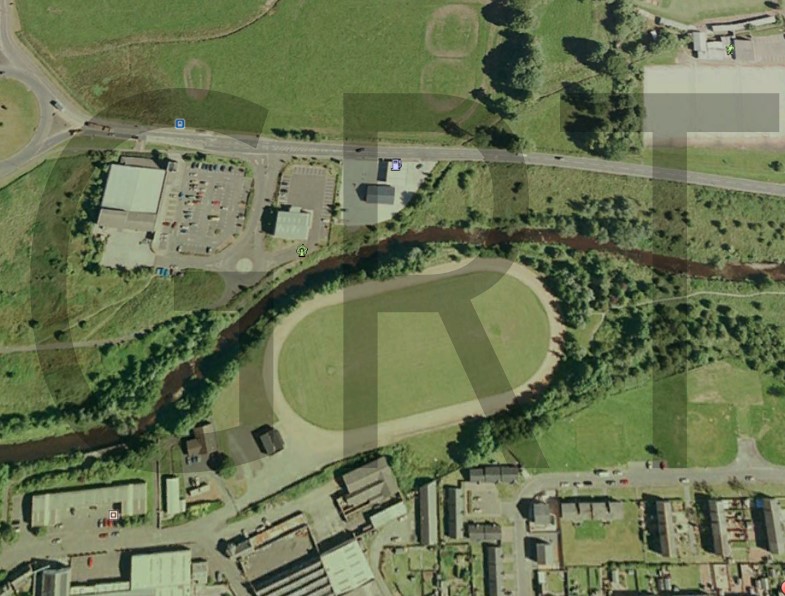 The long list of greyhound tracks in Ayrshire continues with the one at Galston, a small town situated five miles east of Kilmarnock just off the A71 trunk road. Galston's greyhound track was found roughly 200 yards north of Galston town centre, situated on the southern banks of the River Irvine.
It had been constructed on grazing land during 1933, opening up for operation as an independent track by staging its first meeting on the 9th of June 1933. It was a smallish track due to the availability of land it had been built on, an area which created long straights but the narrow width of the land made the bends very tight indeed. The grass surface track had a circumference of 350 yards, which created distances of 280 and 450 yards, and supported six dog racing. The lure was in the shape of a hare constructed with a rugby ball with a tail, linked to a rope pulled around a number of pulleys, driven by a motor car engine.
The venue continued to operate up until lack of interest forced its closure during 1967. Although the greyhound track has now gone, another sports venue occupies the site on were it once lay, and is known as The Barrmill Stadium.
Barrmill Stadium is a total transformation from the days of Greyhound Racing, and now hosts local junior football. At this moment it is difficult to say whether any evidence remains of the greyhound track, although a visit in the near future might show up some pleasant surprises.
A programme, photograph or even memorabilia for this track is required for this page, if you can help please contact me.