Oriel Road, Kirkcaldy, Fifeshire, Scotland.
POSTCODE———————————-KY2 5QR
LOCATED————————————Half a mile north west of Kirkaldy town centre.
ORIGINAL SITE—————————–Farm grazing land.
DATE CONSTRUCTED——————-1934
DATE VENUE OPENED——————December 1934.
Meaning other sports may have taken place prior to the arrival of Greyhound Racing.
FIRST MEETING—————————December 15th 1934.
Greyhound Racing only.
LICENSED OR INDEPENDENT———Independent
All venues covered would have to be licensed with the government, licensed suggested in this section would refer to tracks operating under NGRC Rules.
INSIDE OR OUTSIDE HARE TYPE—–Inside Sumner.
Please note that the Electric Hare suggested is only a guidance and would have been in operation for a certain amount of time at this venue. Although it is not necessarily guaranteed that it was operational all the time, as other types of lure may have been used and updated as time progressed.
DISTANCES———————————235 and 410 yards.
Please note that most racing venues distances had become varied throughout the years, the ones given above were at once point set and offers only a guidence to the track size.
CIRCUMFERENCE————————–365 yards.
Please note that alterations at most racing venues throughout its existence would see that the circumference of the track would vary, the one shown above offers only a guidance to the track size.
BIG RACE NAMES————————–None found.
STADIUM SHARED WITH—————-Amateur football featured during its latter days.
LAST MEETING——————————1973 or 1974
Greyhound Racing only.
STADIUM CLOSURE DATE—————1974
Meaning other sports may have taken place after Greyhound Racing had ceased.
STADIUM DEMOLITION——————-Mid 1970's.
BUILT ON SITE——————————–Housing on Kirkaldy Crescent.
In some cases, structure's that originally covered the venue after the stadium had been demolished, may have been themselves demolished too, so the one described is more likely to be the one which now presently covers the site.
EVIDENCE LEFT TODAY——————-Possibly a red bricked perimeter wall which would pinpoint its wast and southern edge.
FURTHER COMMENTS———————None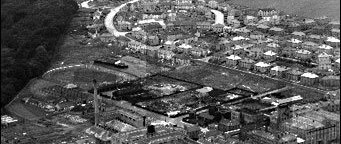 Greyhound Racing in the Fifeshire town of Kirkaldy certainly brings to mind the present greyhound track at Thornton, but for almost forty years Kirkaldy could claim it had its own greyhound track. It was known as Oriel Park, a track located within half a mile of Kirkaldy's town centre, which had developed on grazing land during 1933.
Its early days had seen unofficial meetings, but it would take more than twelve months before it was allowed to stage its inaugural meeting. That meeting came on a Saturday night of the 15th of December 1934, when a greyhound called High Level won the first event over 260 yards. But it wasn't long before Oriel Park had competition, as the track at Thornton, which lay just three miles away, opened up in May 1936. Kirkaldy could now boast that it was the home to two independent greyhound tracks. Once established Oriel Park ran six dog events over distances of 235 and 410 yards, with the hounds chasing an inside Sumner type hare.
The tracks promoter was a local publican, and meetings were set to finish at 8pm prompt so that the publican could return to his duties back at the local. Amateur football featured during its latter years with the pitch marked out within the infield of the track.
Its closure came during 1973 or 1974 after the site was sold to developers for the construction of housing. Houses on Oriel Crescent now occupies the site, yet there is some evidence of a red bricked perimeter wall that still exists, which pinpoints its southern and western boundaries.
A programme, photograph or even memorabilia for this track is required for this page, if you can help please contact me.