Meadow Court Stadium, Station Road, Stainforth, Nr Doncaster, South Yorkshire.
POSTCODE———————————-DN7 5HS
LOCATED————————————Half a mile south of Stainforth town centre. The small town of Stainforth is located roughly seven miles north west of Doncaster.
ORIGINAL SITE—————————–On the site of an abandoned Stainforth flapping track.
DATE CONSTRUCTED——————–1992-93
DATE VENUE OPENED——————-1993
Meaning other sports may have taken place prior to the arrival of Greyhound Racing.
FIRST MEETING—————————–April 8th 1993.
Greyhound Racing only.
LICENSED OR INDEPENDENT———-NGRC.
All venues covered would have to be licensed with the government, licensed suggested in this section would refer to tracks operating under NGRC Rules.
INSIDE OR OUTSIDE HARE TYPE——Outside Sumner.
Please note that the Electric Hare suggested is only a guidance and would have been in operation for a certain amount of time at this venue. Although it is not necessarily guaranteed that it was operational all the time, as other types of lure may have been used and updated as time progressed.
DISTANCES———————————–275, 450, 483 and 661 metres.
Please note that most racing venues distances had become varied throughout the years, the ones given above were at once point set and offers only a guidance to the track size.
CIRCUMFERENCE—————————386 metres.
Please note that alterations at most racing venues throughout its existence would see that the circumference of the track would vary, the one shown above offers only a guidance to the track size.
BIG RACE NAMES—————————Yorkshire St Leger run over the 661 metre trip.
STADIUM SHARED WITH——————Doncaster Dragons Rugby League Club once played home fixtures on the infield of the circuit.
LAST MEETING——————————–Still in operation.
Greyhound Racing only.
STADIUM CLOSURE DATE—————–N/A
Meaning other sports may have taken place after Greyhound Racing had ceased.
STADIUM DEMOLITION——————–N/A
BUILT ON SITE——————————–N/A
In some cases, structure's that originally covered the venue after the stadium had been demolished, may have been themselves demolished too, so the one described is more likely to be the one which now presently covers the site.
EVIDENCE LEFT TODAY——————–N/A
FURTHER COMMENTS———————None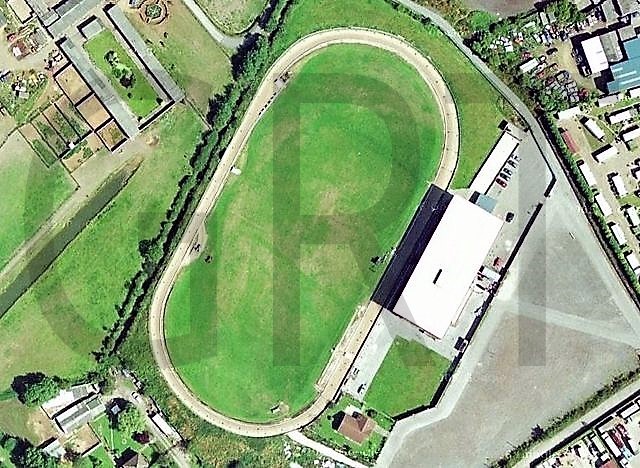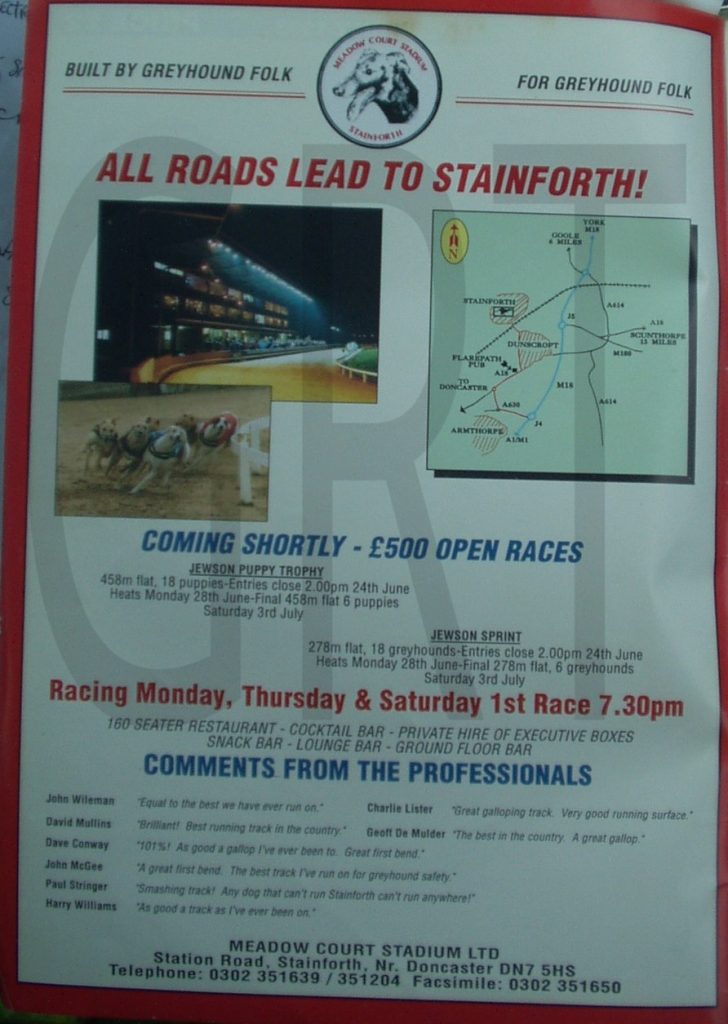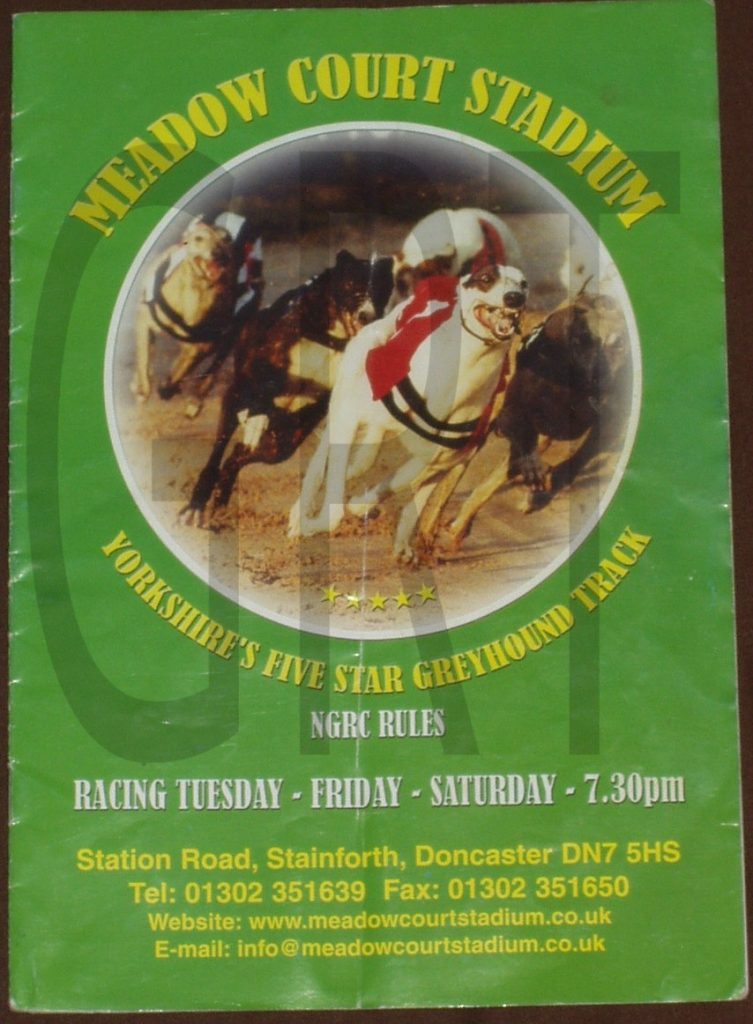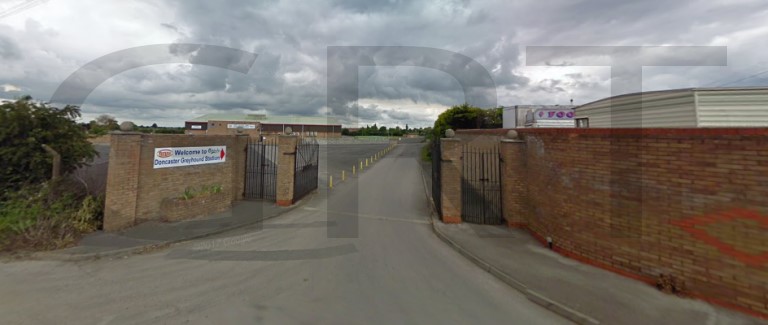 The next greyhound stadium I am about to describe has had a number of titles over the years, firstly as the new Stainforth greyhound track, Meadow Court Stadium and more recently Doncaster Greyhound Stadium. There is one thing I need to make clear before I start, is that The Doncaster Greyhound Stadium of today is nowhere near Doncaster itself, but more precisely seven miles northeast of the town. Yet more precisely is that the venue is actually located half a mile south of the ex-mining town of Stainforth.
The original site had been an old derelict independent greyhound track that finished operations in 1976, which had been left abandoned over the years and had drifted into nothing more than waste ground. Although various attempts had been made earlier for the go ahead to build a new track, it wasn't until the early 1990's that things began to develop. The green light had been given for a new NGRC licensed stadium, which would have a crowd capacity of 1500, and car parking space for 500.
Once complete the new venue had cost over £1.5 million to construct, before staging its inaugural meeting on the 8th of April 1993. Races consisted of six greyhounds contesting over the familiar distances of 483 and 661 metres, with the hounds chasing an outside Swaffham type hare. The infield also became part of another sporting scene when in 1995 Rugby League featured for the first time, with Doncaster Dragons hosting home fixtures for the following next three seasons.
Today, Doncaster Greyhound Stadium operates a successful business, offering around 160 patrons panoramic views of the track through its glass fronted restaurant and bar areas. At present Doncaster offers four meetings per week and has managed to sign up some of the top trainers in the North of England, with its main event being the Yorkshire St Leger, run over the 661-metre trip.