East Hull Sports Stadium, Craven Street, Hull, Humberside
POSTCODE———————————-HU9 2AY
LOCATED————————————-One mile north east of Hull city centre.
ORIGINAL SITE——————————An early rugby league ground belonging Hull Kingston Rovers Rugby League Club
DATE CONSTRUCTED———————Around the 1890's
DATE VENUE OPENED——————–1890's for Rugby League fixtures.
Meaning other sports may have taken place prior to the arrival of Greyhound Racing.
FIRST MEETING—————————–October 13th 1934
Greyhound Racing only.
LICENSED OR INDEPENDENT———–Independent
All venues covered would have to be licensed with the government, licensed suggested in this section would refer to tracks operating under NGRC Rules.
INSIDE OR OUTSIDE HARE TYPE——-Inside
Please note that the Electric Hare suggested is only a guidance, and would have been in operation for a certain amount of time at this venue. Although it is not necessarily guaranteed that it was operational all the time, as other types of lure may have been used and updated as time progressed.
DISTANCES————————————245, 396 and 550 yards.
Please note that most racing venues distances had become varied throughout the years, the ones given above were at once point set and offers only a guidance to the track size.
CIRCUMFERENCE—————————Dont know
Please note that alterations at most racing venues throughout its existence would see that the circumference of the track would vary, the one shown above offers only a guidance to the track size.
BIG RACE NAMES—————————None known of
STADIUM SHARED WITH——————Athletics, Boxing Bouts and Whippet Racing
LAST MEETING——————————-April 1937 (Evidence of racing on April 5th 1937)
Greyhound Racing only.
STADIUM CLOSURE DATE—————-1937
Meaning other sports may have taken place after Greyhound Racing had ceased.
STADIUM DEMOLITION——————–1939
BUILT ON SITE——————————–Balfour Lodge Residential Home built in 1988 located on Ellis Street and Part Harcourt Drive.
In some cases, structure's that originally covered the venue after the stadium had been demolished, may have been themselves demolished too, so the one described is more likely to be the one which now presently covers the site.
EVIDENCE LEFT TODAY——————–Nothing known of.
FURTHER COMMENTS———————None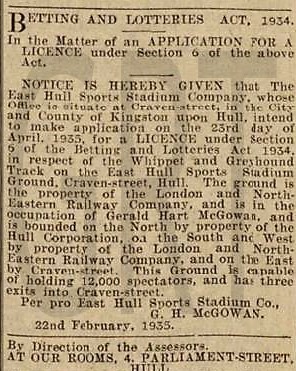 East Hull Sports Stadium was situated in a densely populated area close to the Hull Docklands, known as East Hull, a district found less than one mile north east of Hull's city centre. The venue was located on Craven Street and must not be mistaken with Craven Park, another venue that would stage greyhound racing and rugby league fixtures later.
It was during the 1880's that a section of land owned by the railway company, was levelled to make way for a football pitch to be used by amateur football teams. But it was during the late 1890's that the early signs of an enclosed venue became evident, when Hull Kingston Rovers Rugby League Club became tenants. Early years had seen two small stands erected, but further investment had seen a covered stand constructed the whole length of one side of the pitch, with additional wooden terracing built in other areas around the ground.
Hull KR began to attract good crowds, and by 1914 had set its record attendance of 18,000 at a match against Huddersfield. By 1920 Hull Kingston Rovers home match attendances were on the verge of capacity, with some matches forcing officials to close the gates due to a packed stadium. It was at this point that the rugby club realised it had to look elsewhere for a much larger stadium, and by October of that year had moved into the newly constructed Craven Park, a venue situated just a few hundred yards away.
The council took control of the redundant Craven Street Stadium, having paid £600 for all its assets. Once the rugby club had moved on, the stadium hosted mainly school sports events, but also held Whippet Racing gatherings along with Amateur Football and Athletics. But it wasn't until 1934 that a more recognised greyhound track was laid, which saw the Craven Street Stadium stage its first meeting on the 13th of October 1934.
Opening up as a flapping track, the venue staged six dog racing over distances of 245, 396 and 550 yards, with the hounds chasing an inside hare. By 1935 the stadium was staging more regular athletics and Boxing bouts, with Greyhound Racing meetings continuing up until April 1937. By the end of the 1930's, many of the wooden structures had become unsafe, this along with Hulls plans to clear slum areas, contributed to the stadium becoming demolished in 1939.
The site lay undeveloped throughout the following years, but in 1988 all evidence of its existence disappeared beneath the Balfour Lodge Residential Home which is now situated on Ellis Street.