Stainforth Stadium, Station Road, Stainforth, Nr Doncaster, South Yorkshire
POSTCODE———————————–DN7 5HS
LOCATED————————————-The small town of Stainforth is situated about seven miles north west of Doncaster. The venue is located about half a mile south east of Stainforth town centre.
ORIGINAL SITE——————————Built on marshland close to the now demolished Stainforth Democratic Club and Haggs Wood.
DATE CONSTRUCTED———————First signs of any activity began during 1929.
DATE VENUE OPENED——————–April 1930 as a speedway track for just four months only.
Meaning other sports may have taken place prior to the arrival of Greyhound Racing.
FIRST MEETING—————————–March 22nd 1941 both Greyhound and whippet racing was staged.
Greyhound Racing only.
LICENSED OR INDEPENDENT———-Independent
All venues covered would have to be licensed with the government, licensed suggested in this section would refer to tracks operating under NGRC Rules.
INSIDE OR OUTSIDE HARE TYPE——-Inside Sumner.
Please note that the Electric Hare suggested is only a guidance and would have been in operation for a certain amount of time at this venue. Although it is not necessarily guaranteed that it was operational all the time, as other types of lure may have been used and updated as time progressed.
DISTANCES———————————–350 and 600 yards.
Please note that most racing venues distances had become varied throughout the years, the ones given above were at once point set and offers only a guidance to the track size.
CIRCUMFERENCE—————————Don't know but recognised as one of the largest flapping circuits in the UK distance wise.
Please note that alterations at most racing venues throughout its existence would see that the circumference of the track would vary, the one shown above offers only a guidance to the track size.
BIG RACE NAMES—————————The Hull Brewery Handicap Trophy.
STADIUM SHARED WITH——————Speedway 1929, Athletics from 1933, cycling introduced during 1935, Amateur Boxing, Whippet Racing along with Harness Racing meetings staged during 1956.
LAST MEETING——————————-June 1976 with the view of refurbishment but never reopened after that.
Greyhound Racing only.
STADIUM CLOSURE DATE—————-June 1976
Meaning other sports may have taken place after Greyhound Racing had ceased.
STADIUM DEMOLITION——————–The stadium was demolished during the late 1970's with the site left abandoned for a good number of years after. Although during 1980 a new house was built on the site, but shockingly burnt down shortly afterwards, with no further attempts made to rebuild it.
BUILT ON SITE——————————–The present Meadow Court Greyhound Stadium built in 1993.
In some cases, structure's that originally covered the venue after the stadium had been demolished, may have been themselves demolished too, so the one described is more likely to be the one which now presently covers the site.
EVIDENCE LEFT TODAY——————–Nothing known of.
FURTHER COMMENTS———————None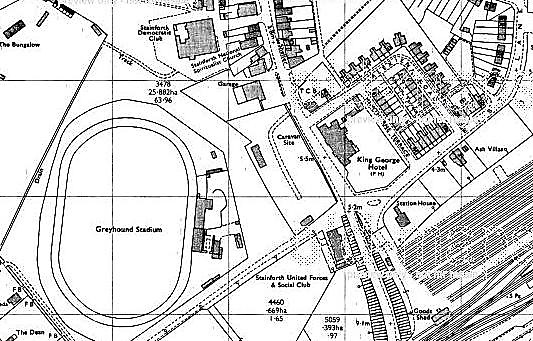 When discussing the greyhound track in Stainforth, one's mind becomes side tracked to the present Doncaster Greyhound Stadium. Today's venue is situated south west of the of the ex-mining town, which is located seven miles north of Doncaster, and operates as an NGRC track, and becomes one of three that operates in South Yorkshire. Yet the venue described in this chapter is totally different from the one that we know, when in its hey day could be best described as a one of the largest flapping circuits in the country, distance wise.
The site began to develop around the late 1920's, on a section of marsh land near to an area known to locals as Haggs Wood. It was during the early months of 1930, that a Speedway track was laid, ready for its opening in April of that year. Surprisingly, the Speedway became short lived, lasting for no more than four months, as promoters had found themselves in deep financial difficulties. The site remained idle for a while, but in 1933 the land became acquired by the Stainforth Amateur Athletics Club, and by 1935, a cycling track had also been added.
However, it wasn't until March 1941 that the sport of Greyhound Racing was witnessed for the first time. Whippet Racing events were also held, but the sport dwindled away, as the greyhounds became more of an attraction. Although building materials remained difficult to obtain during the war years, a small grandstand and a clubhouse was erected, along with a totalisator system, which became installed during 1945.
The stadium hosted other sports too, such as Boxing events, and also Harness Racing which first appeared during 1956. Racing distances were run over 350 and 600 yards, with its big race attraction being "The Hull Brewery Handicap Trophy", which had a habit of attracting top class greyhounds. During the mid 1970's the stadium was sold, with its new owner closing the stadium in June 1976 with plans of refurbishing the whole stadium. But surprisingly no refurbishment was ever started, before the venue was sold again in 1980.
A new house was constructed on the site, but by now the actual greyhound track had become overgrown. Shockingly enough, the newly erected house suffered severe fire damage, and came as a surprise that no attempts were made to refurbish it, yet the site still remained totally abandoned and overgrown. It took almost a decade before any further developments of the site took place, but fortunately enough a new greyhound stadium was eventually built on the site in 1993.
Today, the now known Doncaster Greyhound Stadium covers most of the site, with the actual greyhound track facing in a totally different direction to its predecessor.