JESMOND DENE GREYHOUND STADIUM SUMMARY
ADDRESS————————————-
Queen Victoria Street
Tredegar
South Wales.
POSTCODE———————————-–NP22 3QA
LOCATED————————————–Upon a higher plateau off Queen Victoria Street, less than half a mile west of Tredegar town centre
ORIGINAL SITE——————————Reclaimed land once owned by the Coalboard.
DATE CONSTRUCTED———————Early 1930's.
DATE VENUE OPENED——————–Evidence shows that racing took place during the 1930's.
Meaning other sports may have taken place prior to the arrival of Greyhound Racing.
FIRST MEETING—————————–During the 1930's.
Greyhound Racing only.
LICENSED OR INDEPENDENT———–Independent
All venues covered would have to be be licensed with the government, licensed suggested in this section would refere to tracks operating under NGRC Rules.
INSIDE OR OUTSIDE HARE TYPE——-Not known
Please note that the Electric Hare suggested is only a guidance, and would have been in operation for a certain amount of time at this venue. Although it is not necessarily guaranteed that it was operational all the time, as other types of lure may have been used and updated as time progressed.
DISTANCES————————————Not known
Please note that most racing venues distances had become varied throughout the years, the ones given above were at once point set and offers only a guidance to the track size.
CIRCUMFERENCE—————————Not known
Please note that alterations at most racing venues throughout its existence would see that the circumference of the track would vary, the one shown above offers only a guidance to the track size.
BIG RACE NAMES—————————None found
STADIUM SHARED WITH——————Local Amateur Rugby Union clubs.
LAST MEETING——————————–Early 1960's
Greyhound Racing only.
STADIUM CLOSURE DATE—————-Early 1960's
Meaning other sports may have taken place after Greyhound Racing had ceased.
STADIUM DEMOLITION——————–The land was levelled after closure to revert to a landing strip for a privately owned aircraft.
BUILT ON SITE——————————-The site is now acts as a motor salvage scrap yard, having previously been a storage base for buses.
In some cases, structure's that originally covered the venue after the stadium had been demolished, may have been themselves demolished too, so the one described is more likely to be the one which now presently covers the site.
EVIDENCE LEFT TODAY——————–A long low level building is clearly evident on the hillside which once acted as kennels and shelter for patrons. Its rusty tin corrugated roof is clearly evident on google earth maps.
FURTHER COMMENTS——————–None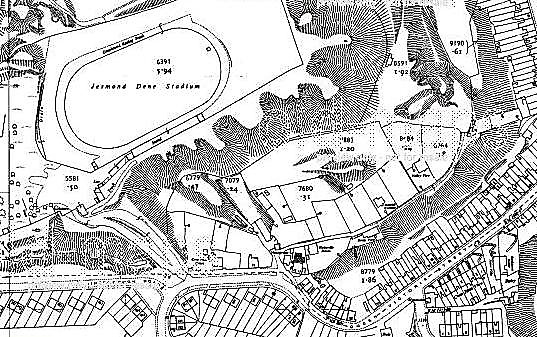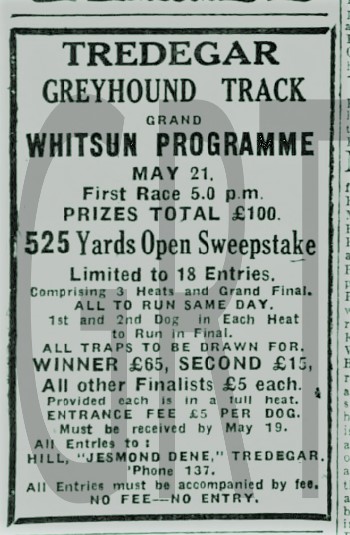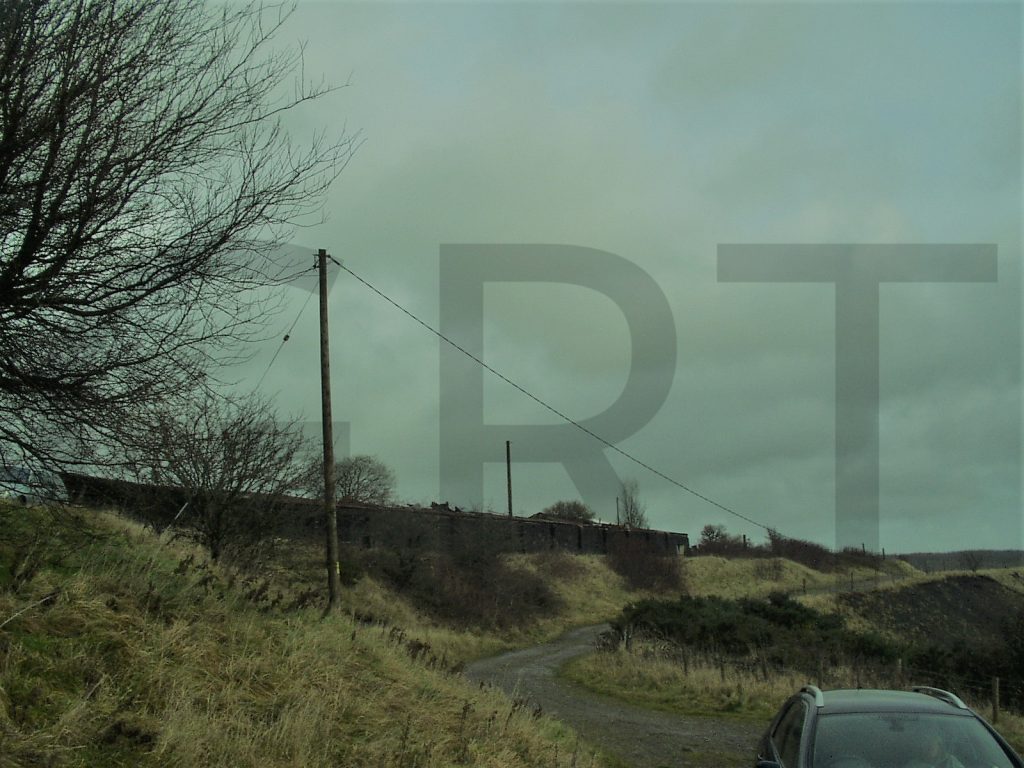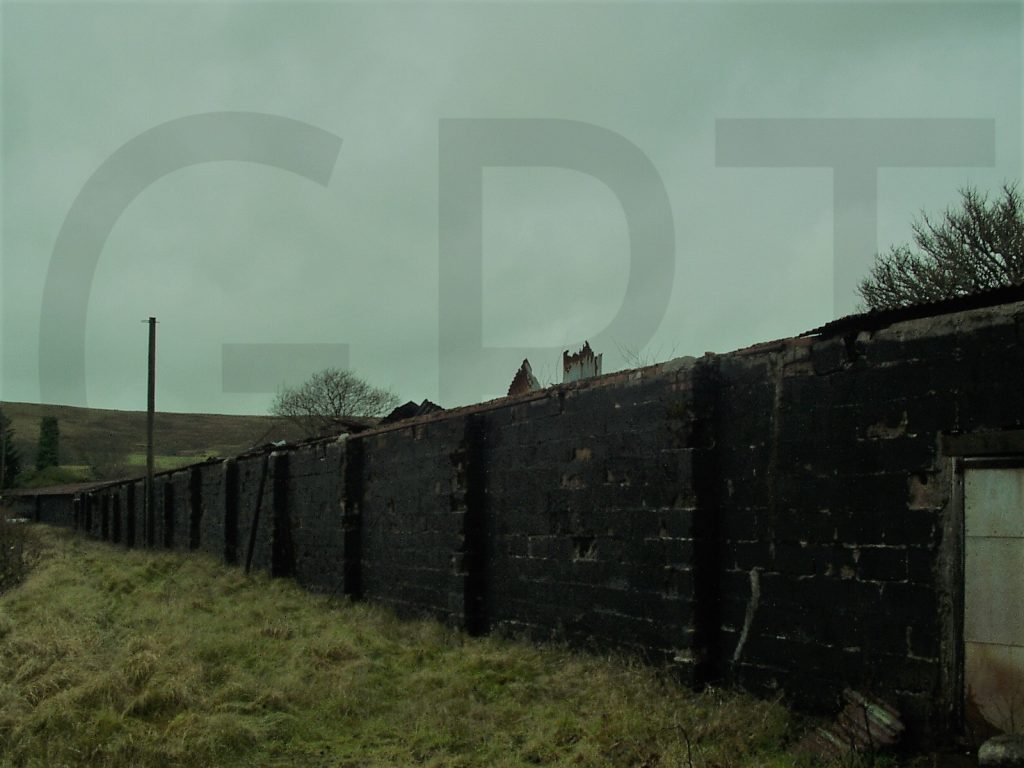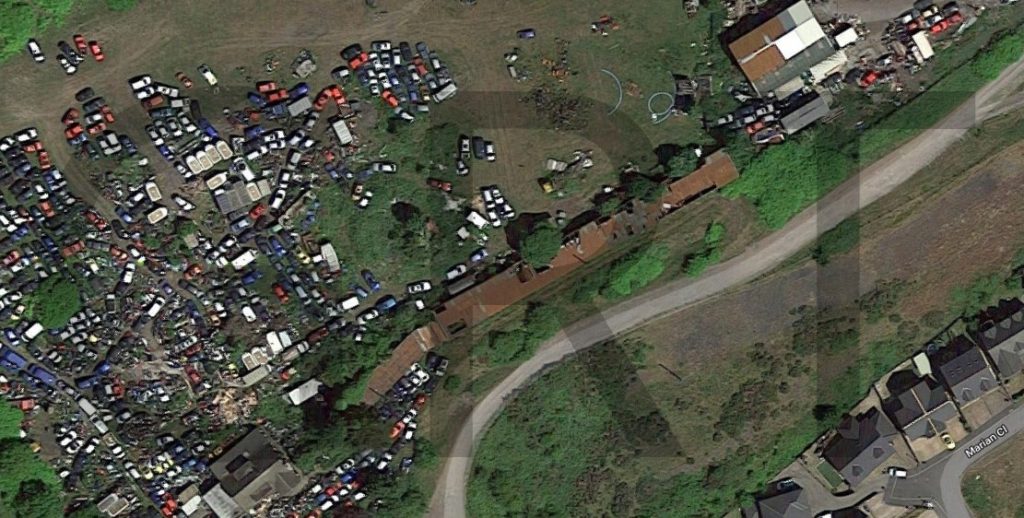 Another of the lesser known South Wales greyhound tracks, was the one that operated in the town of Tredegar, and became known as the Jesmond Dene Greyhound Stadium. Why Jesmond Dene you may ask, well this was due to the businessman's wife's love of some public gardens that existed in the North East of England. Tredegar had already experienced Dog Racing on the town's Recreation Ground during the late 1920's, but this privately owned venture did not begin operations until the mid 1930's. It had developed on reclaimed land that had once been occupied by the coal board, having been purchased by a local businessman man, who had visions of bringing the sport back to the town. At this moment nothing is known regarding its facilities, such as distances, hare type etc. but it is quite clear that it existed as a flapping track throughout its lifetime. Jesmond Dene's most successful period was during the 1950's, but eventually became another statistic on the list of small greyhound tracks that closed during the early 1960's, mainly due to lack of public support, created from the governments new legislation of allowing bookmakers shops to operate legally on the UK's high streets. Jesmond Dene also hosted Rugby Union matches, but once the greyhound track had been removed, a more unusual venture was to take its place. After extensive work had been done to level the land, it became official that it had become a landing strip for light aircraft. Apparently, the land owner was a qualified pilot, and that he had purchased his own aircraft and would use the airfield for his own convenience. But due to ill health the land owner lost his pilot's license, and the airfield became used to store buses. Jesmond Dene's final usage was when a car dismantling company purchased the site, who acquired the land to act as a scrap yard, and that is how it remains today. Although evidence of the greyhound track being there is a definite no, there is something that does remain, and that is the outbuilding that once housed the kennels and acted as a shelter for patrons, and ran the virtual full length of the start and finish straight. Today, this structure acts as a storage area for the scrap yard, with the rear of the building overlooking a dirt track road that meanders up the hillside and beyond. Even the rusty steel corrugated roofing is clearly evident when looking down from satellite views. Jesmond Dene's once location is found at the end of Queen Victoria Street, less than half a mile west of Tredegar's town centre, and if you are an anorak like me it is well worth a visit.