Wakefield Road, Kinsley, Nr Pontefract, South Yorkshire.
POSTCODE————————————WF9 5EH
LOCATED————————————–The town of Kinsley is situated seven miles south east of Wakefield, with the track clearly visible by the roadside of Wakefield Road.
ORIGINAL SITE——————————-Farm grazing fields.
DATE CONSTRUCTED———————-1938-39
DATE VENUE OPENED———————1939
Meaning other sports may have taken place prior to the arrival of Greyhound Racing.
FIRST MEETING——————————Possibly March 1939
Greyhound Racing only.
LICENSED OR INDEPENDENT———–NGRC Since January 2000.
All venues covered would have to be licensed with the government, licensed suggested in this section would refer to tracks operating under NGRC Rules.
INSIDE OR OUTSIDE HARE TYPE——-Outside Swaffham McGee.
Please note that the Electric Hare suggested is only a guidance, and would have been in operation for a certain amount of time at this venue. Although it is not necessarily guaranteed that it was operational all the time, as other types of lure may have been used and updated as time progressed.
DISTANCES————————————269, 462, 650 and 844 metres.
Please note that most racing venues distances had become varied throughout the years, the ones given above were at once point set and offers only a guidance to the track size.
CIRCUMFERENCE—————————Dont know
Please note that alterations at most racing venues throughout its existence would see that the circumference of the track would vary, the one shown above offers only a guidance to the track size.
BIG RACE NAMES—————————The Gymcrack normally staged around spring time over the 462 metre trip.
STADIUM SHARED WITH—————–Nothing known of.
LAST MEETING——————————-Still operating
Greyhound Racing only.
STADIUM CLOSURE DATE—————-N/A
Meaning other sports may have taken place after Greyhound Racing had ceased.
STADIUM DEMOLITION——————–N/A
BUILT ON SITE——————————–N/A
In some cases, structure's that originally covered the venue after the stadium had been demolished, may have been themselves demolished too, so the one described is more likely to be the one which now presently covers the site.
EVIDENCE LEFT TODAY———————N/A
FURTHER COMMENTS———————-None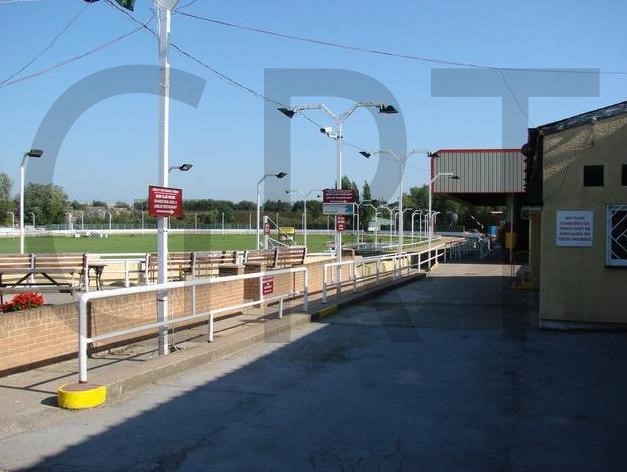 Kinsley is a rural ex mining village in West Yorkshire, situated seven miles south east of Wakefield, and six miles south of Pontefract. It is a small village indeed, but it does accommodate a greyhound track which seems to have played centre stage over the years, even graphically, as the village seems to have spread outwards around it.
It is reported it was during March 1939 when an independently run track began to develop on farm land close to the centre of the village. Those pioneering years had seen five dog racing events run over distances of 265, 345, 450 and 610 yards, with the hounds chasing an inside Sumner type hare. But these distances would differ over the years, as the track would chop and change before settling down to what we know of it today.
The early 1980's witnessed other improvements, with an all sanded track replacing the old turfed type running surface, and distances were switched to metric conversions. It was during 1990 that an advert appeared in the greyhound owner advertising the Kinsley Derby with an attractive purse of £20,000 to the winner, making it one of the best ever prizes ever offered at an independent track.
January 2000 witnessed a massive transformation at Kinsley, when after operating as a flapping track for more than 60 years, began staging meetings under NGRC rules. More significant changes were to follow, when in 2006 the track signed a contract to supply BAGS meetings, an excellent move which still sees the hounds competing in the afternoons today.
Probably one of its more prestigious events is The Gymcrack, an event run during Spring time, with the final once televised on Sky Sports. Nowadays, meetings consists of six dog races, run over distances of 269, 462 650 and 844 metres, with the greyhounds chasing an outside Swaffham McGee type hare. It has room to accommodate 3000 racegoers, including a restaurant to seat 130 people, with ample car parking space on the opposite side of the main road.
Today, the Kinsley track operates very professionally, and by any standards you can say that it has clearly established itself amongst the Greyhound Racing fraternity nationwide.