The Fossway, Byker, Newcastle, Tyneside.
POSTCODE———————————–NE6 2XJ
LOCATED————————————–Two miles east of Newcastle city centre, just off the A193 in the district of Byker.
ORIGINAL SITE——————————A Recreational ground surrounded by housing which held various sports including Horse Racing.
DATE CONSTRUCTED———————1928
DATE VENUE OPENED———————June 1928
Meaning other sports may have taken place prior to the arrival of Greyhound Racing.
FIRST MEETING——————————June 23rd 1928 with a hound called Mavin winning the first ever event.
Greyhound Racing only.
LICENSED OR INDEPENDENT———–NGRC.
All venues covered would have to be licensed with the government, licensed suggested in this section would refer to tracks operating under NGRC Rules.
INSIDE OR OUTSIDE HARE TYPE——-Outside Swaffham.
Please note that the Electric Hare suggested is only a guidance and would have been in operation for a certain amount of time at this venue. Although it is not necessarily guaranteed that it was operational all the time, as other types of lure may have been used and updated as time progressed.
DISTANCES————————————290, 480, 640, 825 and 895 metres.
Please note that most racing venues distances had become varied throughout the years, the ones given above were at once point set and offers only a guidance to the track size.
CIRCUMFERENCE—————————Don't know
Please note that alterations at most racing venues throughout its existence would see that the circumference of the track would vary, the one shown above offers only a guidance to the track size.
BIG RACE NAMES—————————All England Cup and the Angel of the North.
STADIUM SHARED WITH——————Newcastle Diamonds Speedway team.
LAST MEETING——————————-N/A
Greyhound Racing only.
STADIUM CLOSURE DATE—————-Still operational.
Meaning other sports may have taken place after Greyhound Racing had ceased.
STADIUM DEMOLITION——————–N/A
BUILT ON SITE——————————–N/A
In some cases, structure's that originally covered the venue after the stadium had been demolished, may have been themselves demolished too, so the one described is more likely to be the one which now presently covers the site.
EVIDENCE LEFT TODAY——————–N/A
FURTHER COMMENTS———————Stadium purchased by William Hill in 2003.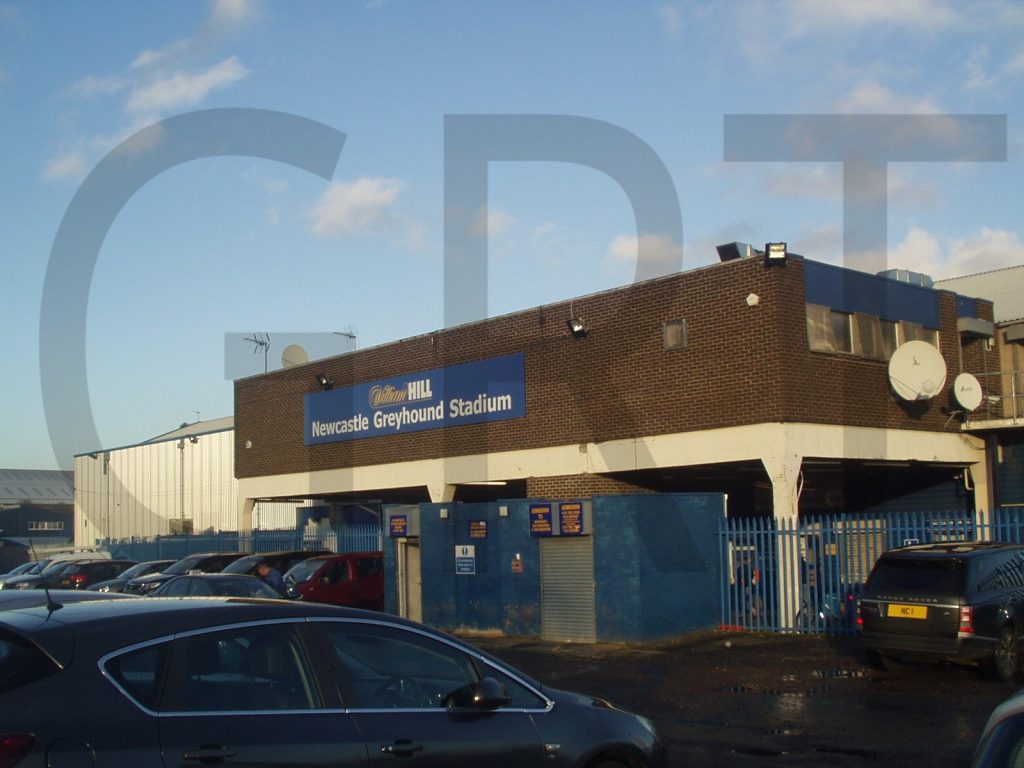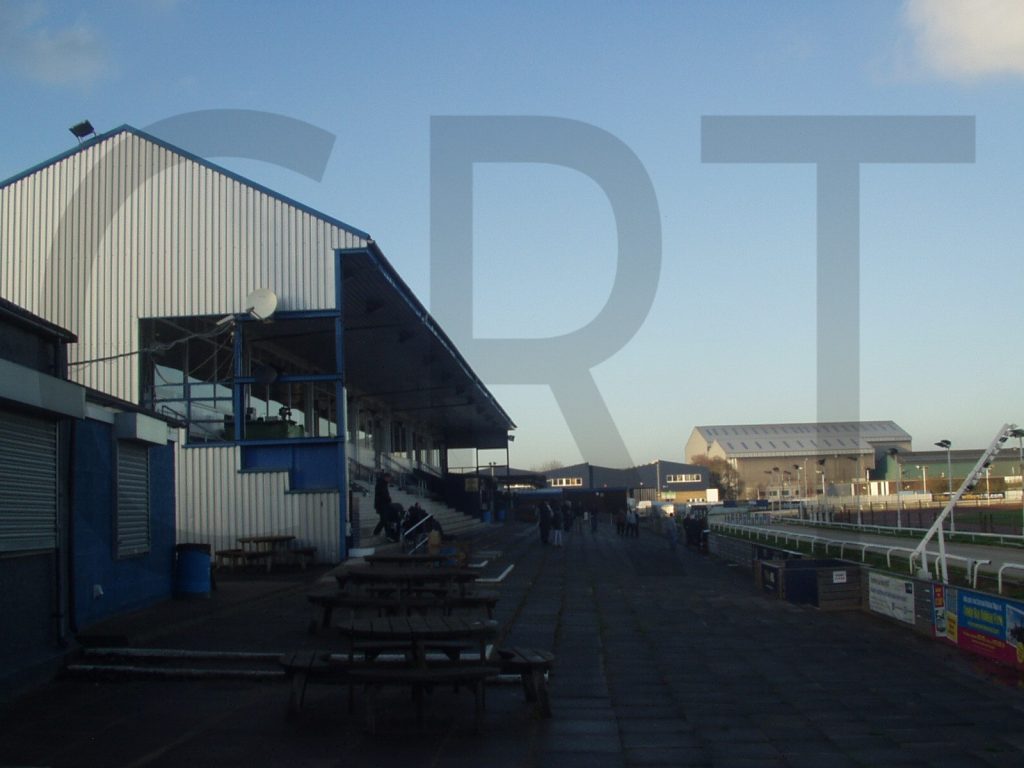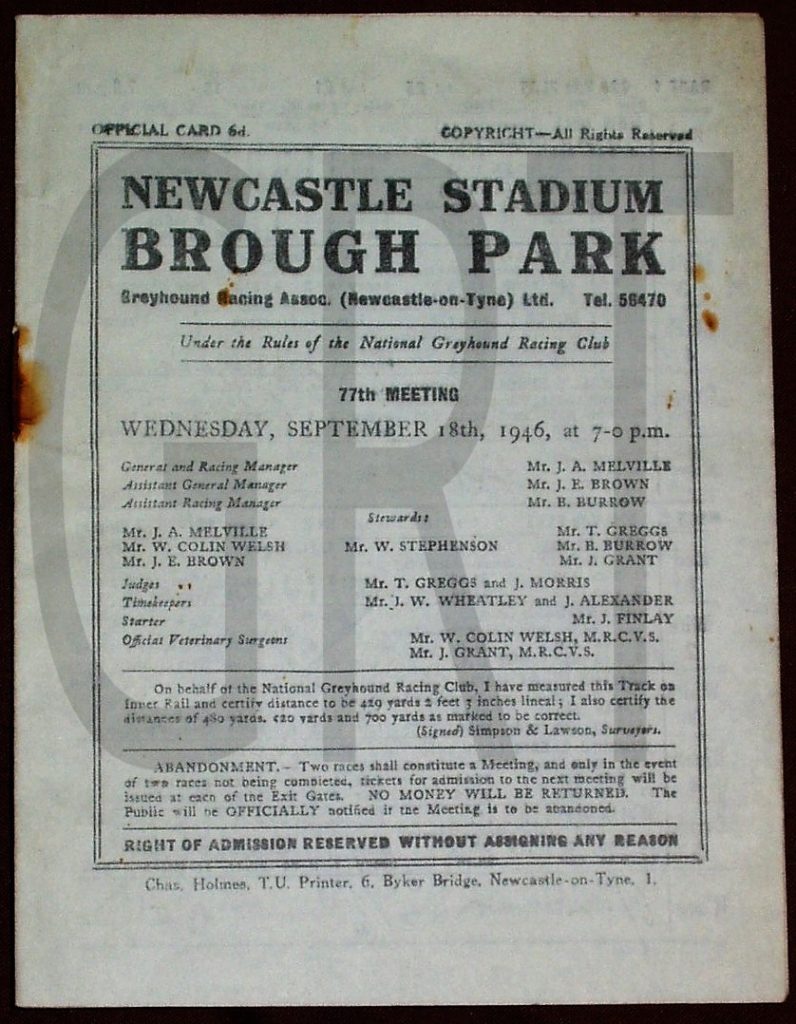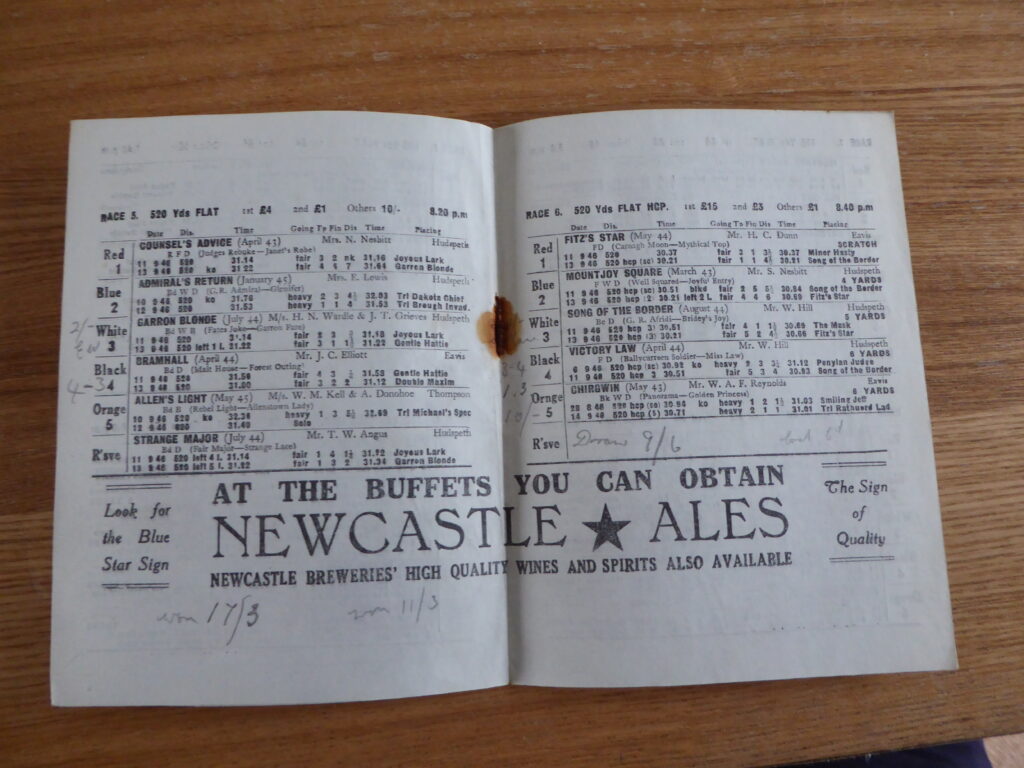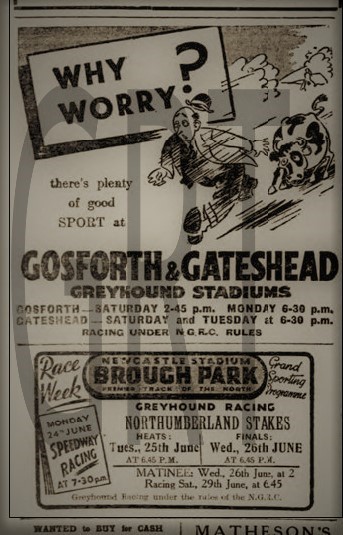 Newcastle's Brough Park Greyhound Stadium, presently flies the flag as the supreme Greyhound Racing venue in the north east of England. The stadium is situated roughly two miles east of Newcastle city centre, in a district known as Byker, in an area littered with numerous industrial estates.
Prior to the construction of the stadium in 1928, the site developed as a recreation park, mainly used by locals for various sporting activities, including Horse Racing. Brough Park staged its opening meeting on the 23rd of June 1928, and became the second Greyhound Racing venue in Newcastle to open, four weeks after a flapping track known as Towneley Park had staged their first meeting. A crowd of 5,000 attended the six race event, witnessing a greyhound called Mavin win the first ever race over the 500 yard trip. Races consisted of six greyhounds chasing an inside trackless sledge type hare, powered electrically and controlled by a hare driver positioned in a tower that was situated within the infield of the greyhound track.
Although operating as an NGRC track it was never under the guidance of the GRA, and failed to offer its patrons big competitions like some of the more prestigious venues. It wasn't until 1938 that the track made efforts to attract top greyhounds, seeing the introduction of the All England Cup, which by all means is a huge scalp on today's calendar. Further large events attracted top class hounds, such as The Tyneside Scurry Cup, The Northern Junior Cup, The Northumbrian Cup and also The Angel of the North. Brough Park added itself to the list of multi-sports venues, when Dirt Track Speedway featured for the first time in 1929, but it was a brief spell, lasting for just two seasons only.
In 1936 the venue became the home of Newcastle Rugby League Club, but again it was brief spell, lasting two seasons before the club moved in to the White City stadium, Newcastle. Horse jumping, Stunt Shows and Boxing also featured at Brough Park. Speedway returned in 1938, this time on a shale track purposely constructed within the infield the greyhound track. But the interruption of the Second World War in September 1939 had seen all motor sports suspended at Brough Park, yet Greyhound Racing witnessed little interruption, with meetings still being allowed to continue as long as they were staged during daylight hours. The return of Speedway in 1946 became more of a regular event, with Newcastle Diamonds staging matches there, and have continued to do so every season since.
Further changes occurred over the following years, when in 1964 witnessed the installation of a new type of outside hare. In 1974 Ladbrokes the bookmakers purchased the stadium, and held the reigns for nine years before selling out once more to new owners. But those following years also brought with it uncertainty regarding its future, after the kennels behind the northern bend had been sold to make way for industrial units. December 1980 witnessed Operation Sand, a manoeuvre which would see a rapid turn around of the running surface from grass to sand. Within half an hour of Crossleigh Gold winning the final race, the turf was ripped up, then replaced with 900 tons of silicon sand, at a cost of £6,000. Amazingly, the quick turn around left scheduled meetings unaffected.
April 1990 witnessed an experimental spell of eight dog racing at Newcastle, but its unpopularity with punters failed to catch on and soon returned to the regular six. William Hill purchased the stadium in 2003 for an undisclosed fee, and have continued to invest capital into a very healthy business indeed.
Today, the stadium has a crowd capacity of 1500, with six greyhounds contesting over distances of 290, 480, 640, 825 and 895 metres, and chasing an outside Swaffham type hare.
Memorabilia for this track is required for this page, if you can help please contact me.