Selby Road, Askern, Nr Doncaster, South Yorkshire.
POSTCODE————————————-DN6 0ES
LOCATED—————————————The town of Askern is situated about 7 miles north of Doncaster, with the track being about four and a half miles south of junction 34 of the M62, and about half a mile north of Askern town centre, along side the A19.
ORIGINAL SITE——————————–Farm grazing land.
DATE CONSTRUCTED———————–During the 1930's.
DATE VENUE OPENED———————-Unconfirmed 1939.
Meaning other sports may have taken place prior to the arrival of Greyhound Racing.
FIRST MEETING——————————-Most likely early 1939. Betting Licence application October 15th 1938. Raced until November 1972 when it closed for a period.
Greyhound Racing only.
LICENSED OR INDEPENDENT————-Independent
All venues covered would have to be licensed with the government, licensed suggested in this section would refer to tracks operating under NGRC Rules.
INSIDE OR OUTSIDE HARE TYPE———Once inside Sumner now outside Swaffham.
Please note that the Electric Hare suggested is only a guidance and would have been in operation for a certain amount of time at this venue. Although it is not necessarily guaranteed that it was operational all the time, as other types of lure may have been used and updated as time progressed.
DISTANCES————————————-225, 425 and 600 metres.
Please note that most racing venues distances had become varied throughout the years, the ones given above were at once point set and offers only a guidance to the track size.
CIRCUMFERENCE—————————-Dont know
Please note that alterations at most racing venues throughout its existence would see that the circumference of the track would vary, the one shown above offers only a guidance to the track size.
BIG RACE NAMES—————————-Askern Greyhound Derby.
STADIUM SHARED WITH——————Local amateur football club and Whippet Racing.
LAST MEETING——————————-Friday 23rd September 2022
Greyhound Racing only.
STADIUM CLOSURE DATE—————-Stadium now unused.
Meaning other sports may have taken place after Greyhound Racing had ceased.
STADIUM DEMOLITION——————–N/A
BUILT ON SITE——————————–N/A
In some cases, structure's that originally covered the venue after the stadium had been demolished, may have been themselves demolished too, so the one described is more likely to be the one which now presently covers the site.
EVIDENCE LEFT TODAY——————–N/A
FURTHER COMMENTS———————One of only five flapping tracks in the UK still operational. The venue closed in 1972 for reasons not known, and did not open again until 1977.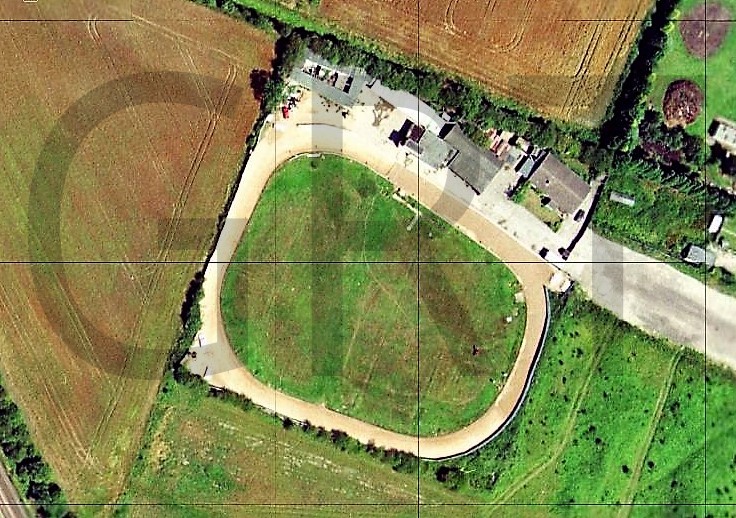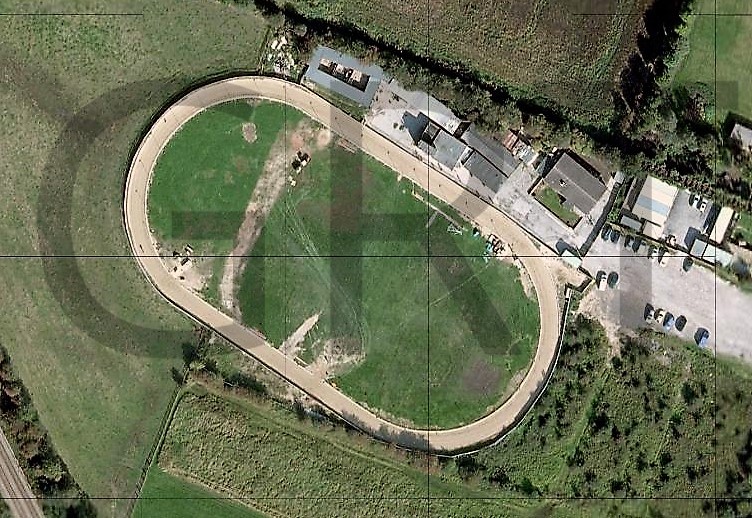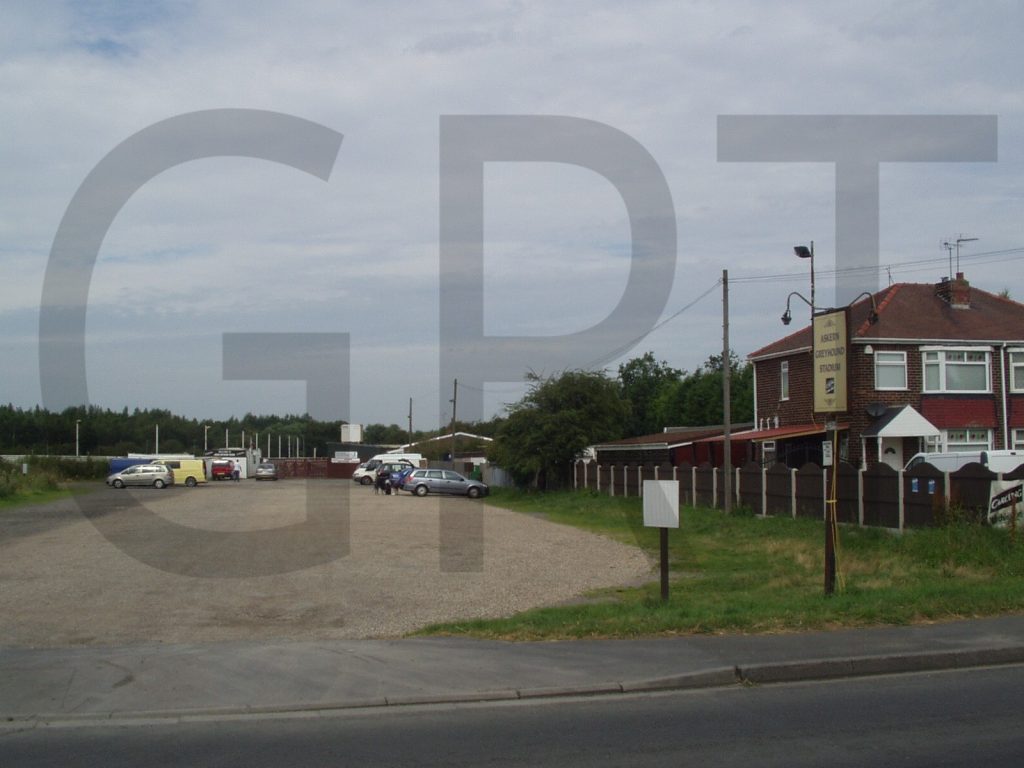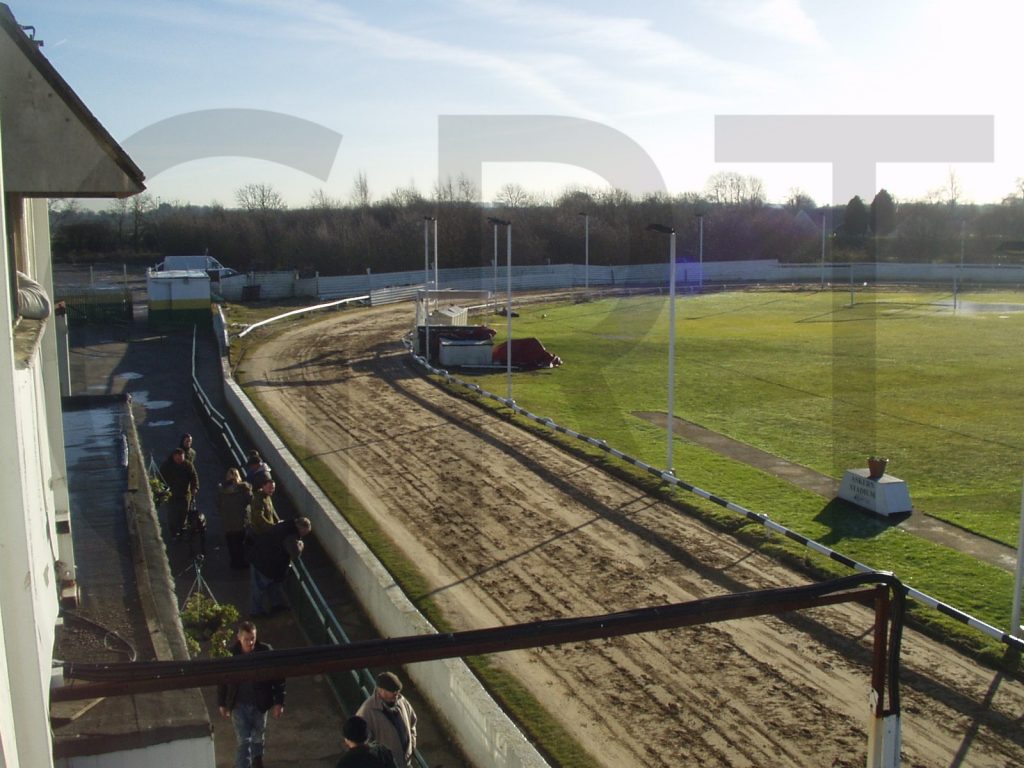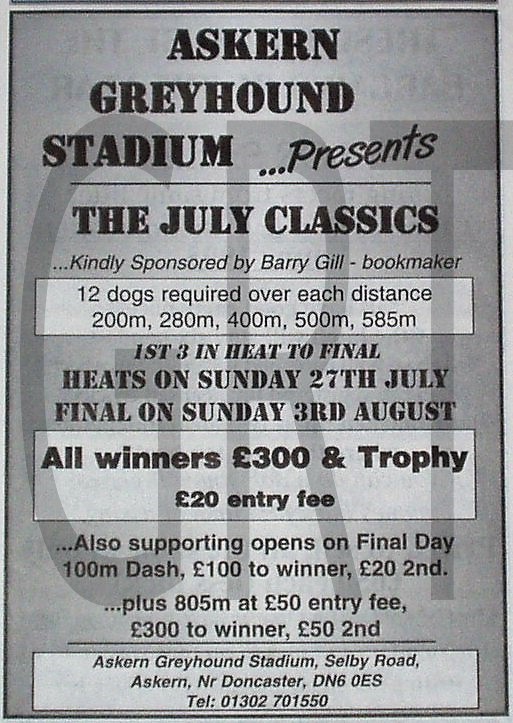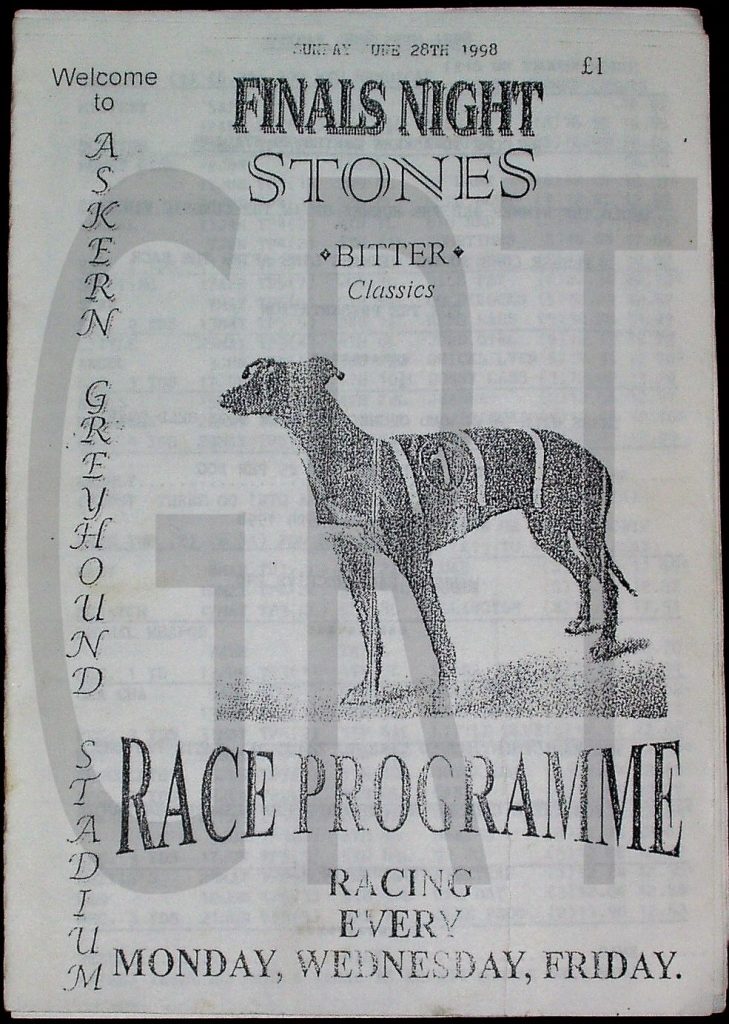 Seven miles north of Doncaster is the civil parish of Askern, and it is here in this ex-mining community lies the Askern Greyhound Stadium on the busy A19 Selby Road, four and a half miles south of junction 34 of the M62. The venue had developed during the late 1930's on a three-and-a-half-acre section of farmland known as Norton Common, virtually overlooked by a busy railway mainline.
Although details remain sketchy regarding Askern's first encounters with greyhound racing, unconfirmed suggestions say that the venue applied for a license in 1938 and that racing began during 1939, although its first evidence of its existence is proved by the track showing up on a 1948 ordnance survey map. If these facts are true then Askern may have operated during the Second World War, and like most other flapping tracks would have operated during daylight hours only. No doubt Askern was in full swing for racing during the early 1950's, but in 1972 the track closed and was instantly put up for auction.
Over the next five years the venue remained closed for racing, but a return in 1977 had seen the track re-open once more, this time under new management. Its D shaped track had found itself one of the shortest circuits in Greyhound Racing, with a circumference of just under 350 yards or 315 metres in metric terms. The Summer of 2005 had seen a total revamp of the running circuit, after the adjacent field had been purchased with a view of extending the track. The changes had seen original D shaped track extended and relayed to form a more regular oval shape circuit. A new racing distance had been extended by 25 metres to the present 425 metres four bend trip, yet the finishing line still remained in its original position directly beneath the judge's box. Further changes had seen a new outside Swaffham hare installed, which would then replace the old inside Sumner type.
Following the closure of Wheatley Hill and Highgate, Askern was the last independent track in England, however on Friday 23 September 2022 they staged their final meeting in front of a huge crowd. The twelfth and last race was won by the outsider of the four runners, a dog called Julies Boy running from trap one.
Following the closure, a 47 minute documentary of the flapping operation has been produced – see here – and details of the proposed re-opening of the site by the Watson family (owners of Doncaster Stainforth) as a licensed GBGB track, watch here.