Elland Road, Leeds, West Yorkshire.
POSTCODE———————————-LS11 8TZ
LOCATED————————————Three miles south of Leeds city centre, situated along Elland Road about a hundred yards south west of Leeds United FC Football Stadium.
ORIGINAL SITE—————————–Grazing land.
DATE CONSTRUCTED——————–1927
DATE VENUE OPENED——————-July 1927.
Meaning other sports may have taken place prior to the arrival of Greyhound Racing.
FIRST MEETING—————————–July 16th 1927, 8,000 attended.
Greyhound Racing only.
LICENSED OR INDEPENDENT———-NGRC.
All venues covered would have to be licensed with the government, licensed suggested in this section would refer to tracks operating under NGRC Rules.
INSIDE OR OUTSIDE HARE TYPE——Outside Sumner.
Please note that the Electric Hare suggested is only a guidance, and would have been in operation for a certain amount of time at this venue. Although it is not necessarily guaranteed that it was operational all the time, as other types of lure may have been used and updated as time progressed.
DISTANCES———————————–260, 460, 600, 650 and 810 metres.
Please note that most racing venues distances had become varied throughout the years, the ones given above were at once point set and offers only a guidance to the track size.
CIRCUMFERENCE—————————Dont know.
Please note that alterations at most racing venues throughout its existence would see that the circumference of the track would vary, the one shown above offers only a guidance to the track size.
BIG RACE NAMES—————————The Ebor Stakes, The Yorkshire Marathon, The Yorkshire Rose Bowl and The Yorkshire Puppy Cup.
STADIUM SHARED WITH——————Hunslet Rugby League Club.
LAST MEETING——————————-March 15th 1982.
Greyhound Racing only.

STADIUM CLOSURE DATE—————-March 1982.
Meaning other sports may have taken place after Greyhound Racing had ceased.
STADIUM DEMOLITION——————–End of 1982.
BUILT ON SITE——————————–The site lay idle other than a car park, for more than thirty years before construction of a Police Headquarters began in 2012.
In some cases, structure's that originally covered the venue after the stadium had been demolished, may have been themselves demolished too, so the one described is more likely to be the one which now presently covers the site.
EVIDENCE LEFT TODAY——————–None known of.
FURTHER COMMENTS———————The first venue in the UK to stage two meetings in one day. Leeds also became a pioneer by staging handicapped races for the first time, with the use of the individual starting traps.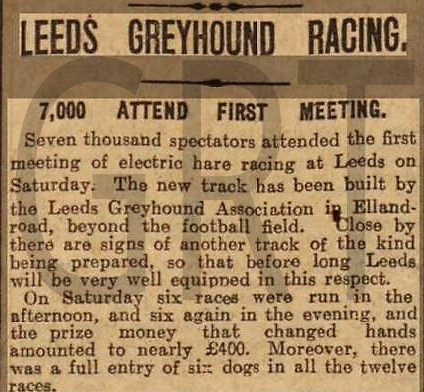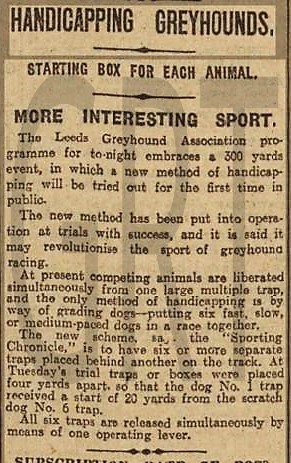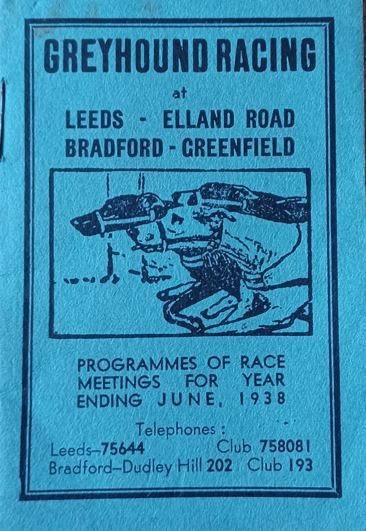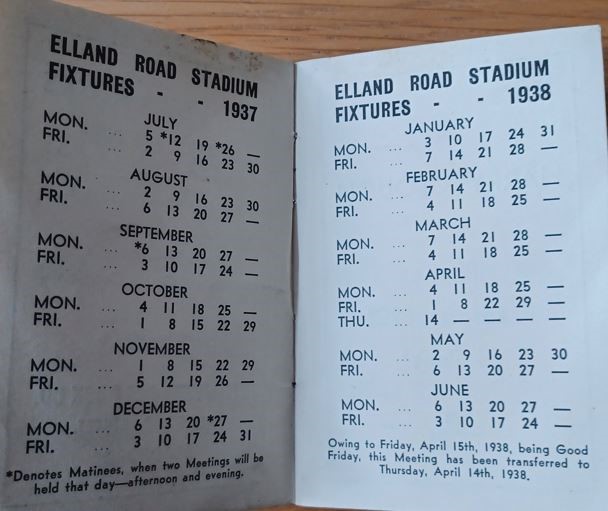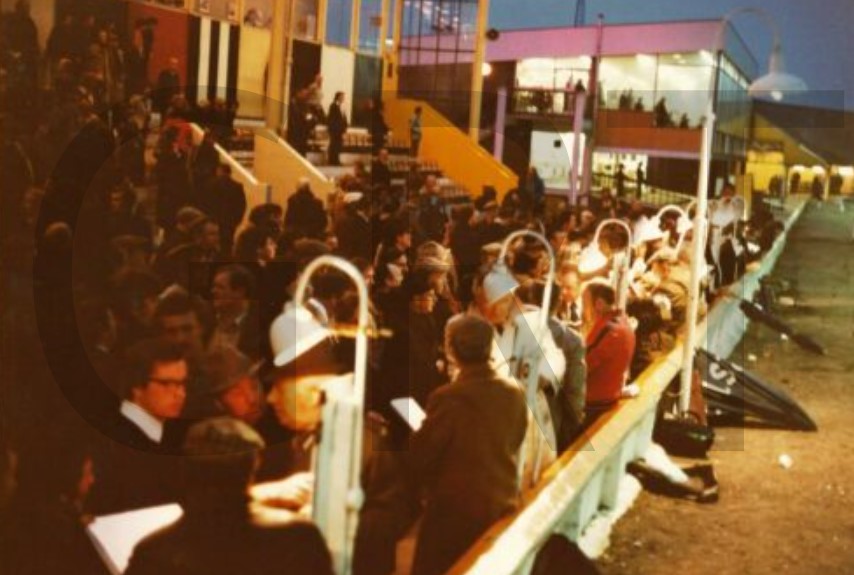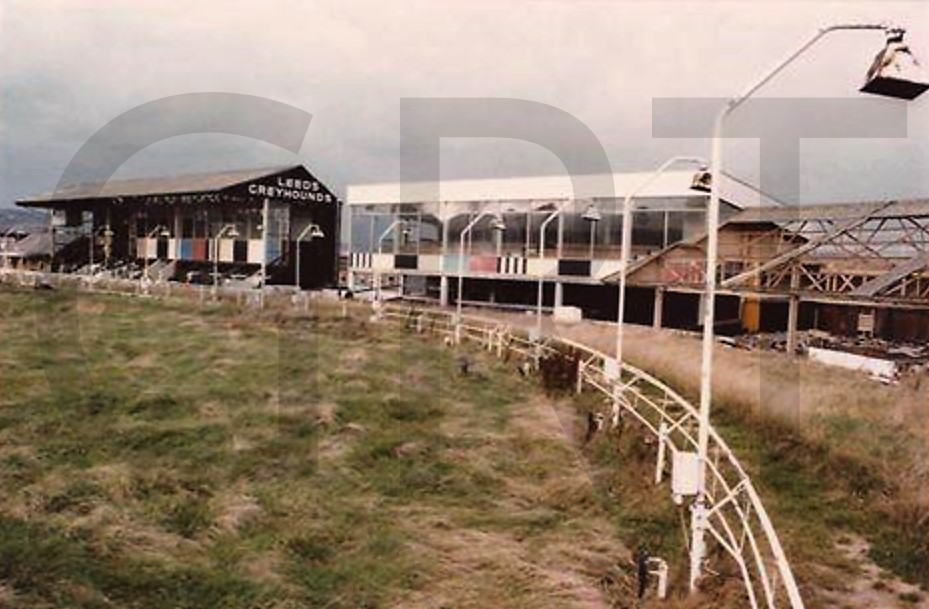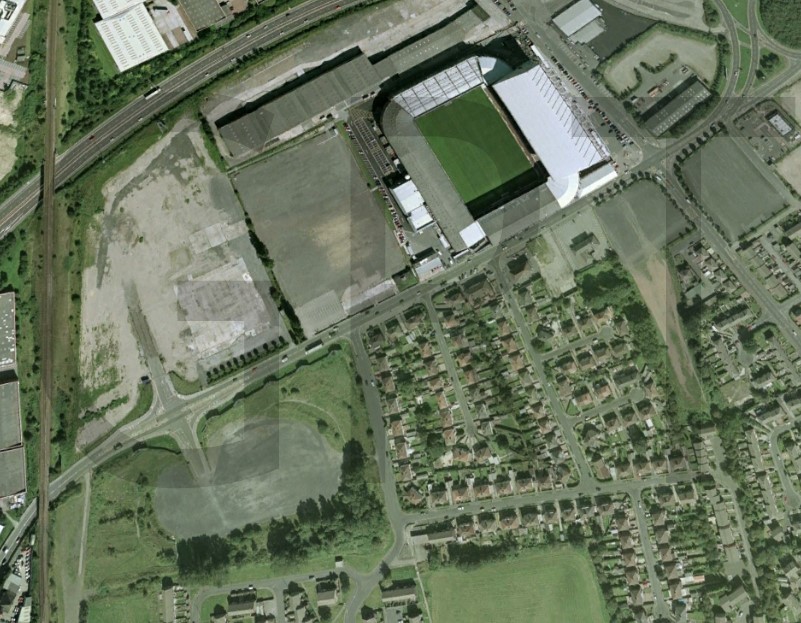 The Leeds Greyhound Stadium was located three miles south of Leeds city centre, roughly one hundred yards south west of Leeds United Football Club, with both stadiums defined by the same address of Elland Road. Construction of the stadium began during 1927 on open meadows, and had cost £67,000 to complete, and became the first of three venues to offer Greyhound Racing in the surroundings of Leeds.
On the 16th of July 1927, almost 8,000 people attended its first meeting, with a 7 to 1 chance named "Quarter Staff" making a name for himself by winning the first ever race of a six race event. Oddly enough, the second meeting followed a few hours later, when another 4,000 attended an evening meeting. This meeting became a milestone even during the early years of the sport, as it had become the first greyhound track in Britain to stage two meetings in one day. Its pioneering days had seen races run under rules similar to those of the NGRC, but did switch to official NGRC rules after they were formed in May 1928, and continued to do so, right up until the tracks closure 44 years later.
Although meetings attracted good attendances, competition for their custom wasn't very far away, as another Greyhound Racing venue that of Fullerton Park, had opened just across the road during October 1927. Fortunately, the Leeds Stadium patrons remained loyal, and the competition soon faded away as Fullerton Park was to close the following May. Another milestone came during October 1927, when the Leeds Stadium became the first greyhound track to experiment handicap racing, and became the first time that a series of single traps were used.
Up until 1973, the stadium had staged Greyhound Racing as its only purpose, but over the following seven years rugby league was to feature as the newly formed New Hunslet Club had found themselves as the stadiums new tenants. Their arrival had come about due to that the original Hunslet Rugby League Club had folded, brought on by serious financial problems, a position in which had also seen them evicted from their original ground at Parkside.
Meanwhile races consisted of greyhounds contesting over distances of 260, 460, 600, 650 and 810 metre, with the hounds chasing an outside Sumner type hare. Its big race attractions were The Ebor Stakes, The Yorkshire Marathon, The Yorkshire Rosebowl, and The Yorkshire Puppy Cup, all of which offered the best prize money too.
In 1974 the track was purchased by Ladbrokes the Bookmakers, but five years later the alarm bells began to ring, when it was announced that the tracks kennels had been sold. More truths came to light, the following year, as it became public knowledge that the track had been sold once again, this time to developers at a huge profit. But Ladbrokes did not get their own way, planning permission had revealed that the site would become an industrial and warehouse site, it was at this point that the Leeds City Council stepped in to remind them "that the land must not be used other than for sporting activities" and threatened to thwart the Ladbrokes sale by ways of a compulsory purchase order.
Yet the future of the Leeds Stadium continued to look bleak, and it came as no surprise when it was announced that the stadium would close in April of 1982. Yet another downturn in fortunes came that a charity meeting on the 15th of March 1982 would be its last one. Within seven months of its closure, the stadium became bulldozed, with the site becoming nothing more than wasteland for a good number of years, its only profitable use acting as car parking space for the football followers across the road.
Despite its closure in 1982 , it would take another 30 years or so before property developers would eventually get their own way, having been given the green light to construct a brand new police headquarters, which commenced during June 2012.