Fullerton Park Sports Stadium, Elland Road, Leeds, West Yorkshire.
POSTCODE———————————–LS11 8TU
LOCATED————————————-Three miles south of Leeds city centre, within 100 yards of Leeds United Football Stadium, directly opposite the now gone Leeds Greyhound Stadium.
ORIGINAL SITE——————————Land owned by Monks Bridge Iron Company.
-DATE CONSTRUCTED——————–Not known but previous used for Cycling and Athletics
.
DATE VENUE OPENED——————–1927
Meaning other sports may have taken place prior to the arrival of Greyhound Racing.
FIRST MEETING—————————–October 4th 1927, 6,000 attended.
Greyhound Racing only.
LICENSED OR INDEPENDENT———–NGRC.
All venues covered would have to be licensed with the government, licensed suggested in this section would refer to tracks operating under NGRC Rules.
INSIDE OR OUTSIDE HARE TYPE——-Dont know
Please note that the Electric Hare suggested is only a guidance and would have been in operation for a certain amount of time at this venue. Although it is not necessarily guaranteed that it was operational all the time, as other types of lure may have been used and updated as time progressed.
DISTANCES———————————–500 and 700 yards.
Please note that most racing venues distances had become varied throughout the years, the ones given above were at once point set and offers only a guidance to the track size.
CIRCUMFERENCE—————————Dont know
Please note that alterations at most racing venues throught its existence would see that the circumference of the track would vary, the one shown above offers only a guidance to the track size.
BIG RACE NAMES—————————None known of.
STADIUM SHARED WITH——————Speedway, Boxing and Pony Racing.
LAST MEETING——————————-April 30th 1928.
Greyhound Racing only.
STADIUM CLOSURE DATE—————-1938
Meaning other sports may have taken place after Greyhound Racing had ceased.
STADIUM DEMOLITION——————-1946
BUILT ON SITE——————————-Firstly training pitches for Leeds United FC, before eventually becoming a huge car park for their staff and also the greyhound stadium opposite patrons.
In some cases, structure's that originally covered the venue after the stadium had been demolished, may have been themselves demolished too, so the one described is more likely to be the one which now presently covers the site.
EVIDENCE LEFT TODAY——————–None whatsoever.
FURTHER COMMENTS———————Used as a training camp for the forces during the Second World War.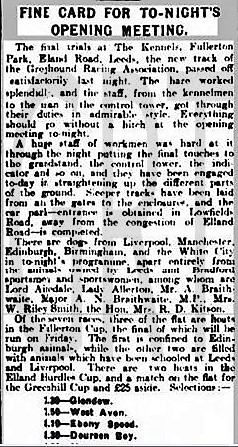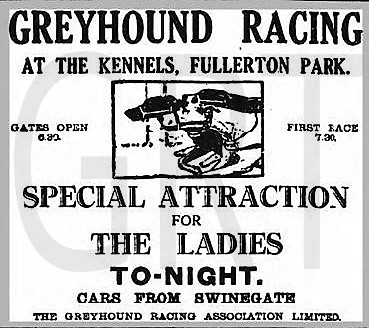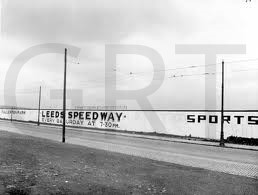 Fullerton Park Sports Stadium, became the second stadium to host greyhound racing within the boundaries of Leeds City Council. It was located three miles south of Leeds city centre, but more pinpointed when suggesting that it lay within 100 yards west of Leeds United Football Club. Just to make things more clearer, the Fullerton Park Stadium lay directly opposite another greyhound track, that of Leeds Greyhound Stadium, again situated along Elland Road.
The Fullerton Park Stadium had developed on land once occupied by the Marks Bridge Iron Company and began establishing itself as an Athletics and Cycling venue. But it was during 1927 that the stadiums owners, The Leeds Stadiums Limited, accepted an approach by the Greyhound Racing Association to stage their sport at the venue. Greyhound Racing had already featured at the Leeds Stadium opposite during July 1927, who's promoters The Leeds Greyhound Association, had no doubt disrupted the GRA's plans of making Fullerton Park the first greyhound track to open in Leeds. But it would take another three months before all racing facilities at Fullerton Park were in place, along with a good supply of greyhounds provided by the GRA from various GRA owned kennels situated around the country.
On the 4th of October 1927, Fullerton Park staged its inaugural meeting, with an impressive 6,000 crowd in attendance. Further meetings were to be held over the following two weeks, but the darker nights of Winter temporarily halted operations, the main reason was that the track did not have sufficient track side lighting. After its Winter season closure, Greyhound Racing returned once more the following March, but disappointingly racing lasted for just a month before the venue staged its final meeting on the 30th of April 1928, one week after it had been accepted to run under the newly formed NGRC rules.
The reason for its closure remained undisclosed, but soon after its closure tons of ash began to cover the greyhound circuit, ready for the venue to stage Dirt Track Speedway Racing. The size of Fullerton Pak increased also, with over £50,000 being spent to transform the venue into a super dirt track speedway stadium, which could now accommodate over 50,000 people.
By October 1928 Speedway had already staged their first meeting, with as many as 25,000 people attending some events, yet by 1930, it was announced that The Leeds Stadiums Limited had gone into liquidation, leaving the creditors to take charge and promote Speedway events during 1931. The following year witnessed another attempt to bring back Greyhound Racing, but efforts never materialised, with more bad news to follow as the speedway ceased also, leaving the stadium unoccupied by the end of 1932. Pony Racing and Boxing featured briefly after, but the venue was to remain closed for the next five years.
Fullerton Park reopened once again in June 1938, this time promoting just a handful of Speedway meetings before closing once more in October 1938. The site became unused during the months leading up to the outbreak of the Second World War, and for a period during hostilities became used as an Army Training Camp. After the demise of the war, the site remained nothing more than a rubbish dump, before being eventually purchased by neighbours, Leeds United Football Club. The football club levelled the land and began to use it as a training pitch, before eventually demolishing the whole stadium in 1946.
The site became cleared to create more space for training facilities for the football club, and later due to congestion from traffic attending football matches and greyhound meetings, persuaded the football club to transform the training pitches into a car park.
Today, the site leaves no remnants of a sporting venue, as the car park that covers it is neatly tarmacked and fenced off, and is mainly used for members, players and officials of Leeds United Football Club.