Dog Daisy Greyhound Stadium, Harlington Road, Mexborough, South Yorkshire.
POSTCODE———————————–S64 0QL
LOCATED————————————-One mile north of Mexborough town centre at the very northern end of Harlington Road, more or less were the houses on Towcester Way lies.
ORIGINAL SITE——————————Farm Grazing Land.
DATE CONSTRUCTED———————Mid 1930's.
DATE VENUE OPENED——————–1934.
Meaning other sports may have taken place prior to the arrival of Greyhound Racing.
FIRST MEETING—————————–Around September 1st 1934 for Whippet Racing. 1935 for greyhounds.
Greyhound Racing only.
LICENSED OR INDEPENDENT———–Independent
All venues covered would have to be licensed with the government, licensed suggested in this section would refer to tracks operating under NGRC Rules.
INSIDE OR OUTSIDE HARE TYPE——-Not known.
Please note that the Electric Hare suggested is only a guidance, and would have been in operation for a certain amount of time at this venue. Although it is not necessarily guaranteed that it was operational all the time, as other types of lure may have been used and updated as time progressed.
DISTANCES———————————–265 and 420 yards.
Please note that most racing venues distances had become varied throughout the years, the ones given above were at once point set and offers only a guidance to the track size.
CIRCUMFERENCE—————————Not known.
Please note that alterations at most racing venues throught its existence would see that the circumference of the track would vary, the one shown above offers only a guidance to the track size.
BIG RACE NAMES—————————None found.
STADIUM SHARED WITH——————Whippet Racing.
LAST MEETING——————————-Around March 1965
Greyhound Racing only.
STADIUM CLOSURE DATE—————-1965
Meaning other sports may have taken place after Greyhound Racing had ceased.
STADIUM DEMOLITION——————–Not known
BUILT ON SITE——————————–Housing on Towcester Way, Rasen Close and Haydock Close, just off Harlington Road.
In some cases, structure's that originally covered the venue after the stadium had been demolished, may have been themselves demolished too, so the one described is more likely to be the one which now presently covers the site.
EVIDENCE LEFT TODAY——————–The Dog Daisy Public House still exists today, leaving the only evidence that dog racing may have been close by.
FURTHER COMMENTS———————-Just ran meetings on saturday afternoons only.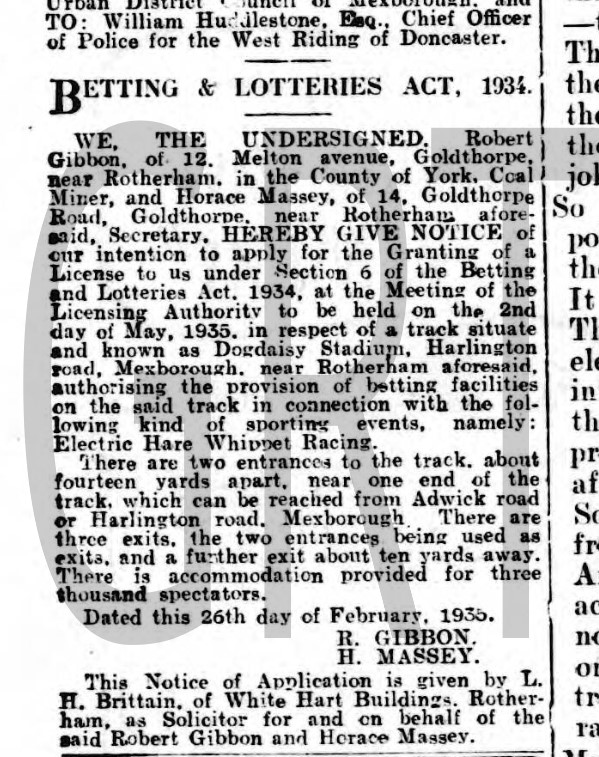 The small South Yorkshire town of Mexborough is roughly situated between Rotherham and Doncaster, and has a population of around 14 to 15,000 people. The Greyhound Racing venue described in this chapter was found one mile north of Mexborough town centre, and became known to its locals as the Dog Daisy Greyhound Stadium.
It was located at the most northerly point off Harlington Road, having developed on a three-acre section of grazing land during the mid 1930's, with the view of staging not only Greyhounds, but Whippet Racing also. It solely operated as a flapping track, with race meetings being staged on just Saturday afternoons only.
Little is known on the racing side of things, but it is known that the track lay in an east, westerly direction and had no track side lighting. Compared to other tracks, the Dog Daisy venue's life span was considerably short, with its final meeting being staged during 1965, before disappearing beneath an ever-expanding housing estate.
Today, the site of the venue is covered with dwellings situated on Towcester Way, and also the northern half of Rasen Close, which lies just off Harlington Road, yet a modern type of public house known as the Dog Daisy remains as the main reminder that the track was very close by.