Hartington Road, Holmes, Rotherham, South Yorkshire.
POSTCODE———————————S61 1EG
LOCATED————————————About one mile south west of Rotherham town centre, between Psalters Lane and Hartington Road inthe Holmes district of Rotherham.
ORIGINAL SITE—————————–Built on some disused land between sone garden allotments and a bowling club.
DATE CONSTRUCTED——————-1933
DATE VENUE OPENED——————July 1933.
Meaning other sports may have taken place prior to the arrival of Greyhound Racing.
FIRST MEETING—————————-July 31st 1933.
Greyhound Racing only.
LICENSED OR INDEPENDENT———-Independent
All venues covered would have to be licensed with the government, licensed suggested in this section would refer to tracks operating under NGRC Rules.
INSIDE OR OUTSIDE HARE TYPE——-Inside Sumner.
Please note that the Electric Hare suggested is only a guidance, and would have been in operation for a certain amount of time at this venue. Although it is not necessarily guaranteed that it was operational all the time, as other types of lure may have been used and updated as time progressed.
DISTANCES————————————405, 465, and 700 yards.
Please note that most racing venues distances had become varied throughout the years, the ones given above were at once point set and offers only a guidance to the track size.
CIRCUMFERENCE—————————Don't know.
Please note that alterations at most racing venues through its existence would see that the circumference of the track would vary, the one shown above offers only a guidance to the track size.
BIG RACE NAMES—————————Nothing known of.
STADIUM SHARED WITH——————Nothing known of.
LAST MEETING——————————-September 1974
Greyhound Racing only.
STADIUM CLOSURE DATE—————-1974
Meaning other sports may have taken place after Greyhound Racing had ceased.
STADIUM DEMOLITION——————–Mid 1970's.
BUILT ON SITE——————————–Houses on Birch Park Court and Hartington Close.
In some cases, structure's that originally covered the venue after the stadium had been demolished, may have been themselves demolished too, so the one described is more likely to be the one which now presently covers the site.
EVIDENCE LEFT TODAY——————–Don't know of anything.
FURTHER COMMENTS———————The track was constructed on a hillside which created a back straight that ran at a different level to the home straight, some owners nicknamed the track " The Wall of Death".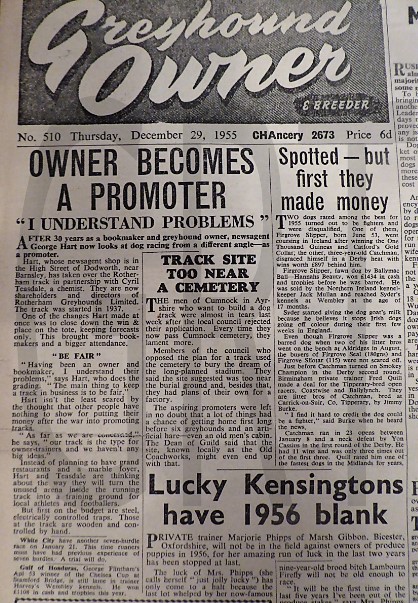 The Holmes Greyhound Stadium was located in the district of Holmes, one mile south west of Rotherham town centre. The newly constructed Holmes track had been funded by a Greyhound Racing Company who had earlier staged racing at the close by Millmoor Football Ground, the home of Rotherham United Football Club.
The previous track had operated around the perimeter of the football pitch for more than two years previous, but pressures from the landlords and other sources, forced the Greyhound Company to look elsewhere to stage their sport. This new venue began to develop on land made available by the removal of a Bowling Club, and a cluster of garden allotments, situated between Psalters Lane and Hartington Road.
The Holmes track would see itself operating as a flapping track throughout its existence, opening up with its first meeting on the 31st of July 1933, two days after it had run its last meeting at the Millmoor track. But this new venue was far from perfect, mainly due to its running surface, which had been constructed on a hillside, which had inherited a notable slope, with some owners nicknaming the track as "The Wall Of Death".
During the 1950's, races consisted of five greyhounds, but experimented with six dog racing during the mid 1960's. The hounds would contest behind an inside Sumner type hare, over distances of 465 and 700 yards, with a new distance of 405 yards becoming incorporated later.
Sadly, the track closed during 1974, after the site had been sold for redevelopment, with the venue becoming demolished soon after. Today, the site is covered by housing on Birch Park Court and Hartington Close, which pinpoints to where the track once lay, and whose presence leaves no evidence at all of a greyhound track ever having been there.