Rotherham United Football Ground, Millmoor Lane, Rotherham, South Yorkshire.
POSTCODE———————————-S60 1HR
LOCATED————————————About one mile west of Rotherham town centre.
ORIGINAL SITE—————————–Built on an old flour mill site, the land owned by The Midland Railway Company.
DATE CONSTRUCTED——————–1907
DATE VENUE OPENED——————-1907 opening up as a football stadium.
Meaning other sports may have taken place prior to the arrival of Greyhound Racing.
FIRST MEETING—————————–May 11th 1931.
Greyhound Racing only.
LICENSED OR INDEPENDENT———–Independent
All venues covered would have to be licensed with the government, licensed suggested in this section would refer to tracks operating under NGRC Rules.
INSIDE OR OUTSIDE HARE TYPE——-Dont know
Please note that the Electric Hare suggested is only a guidance, and would have been in operation for a certain amount of time at this venue. Although it is not necessarily guaranteed that it was operational all the time, as other types of lure may have been used and updated as time progressed.
DISTANCES————————————260 and 440 yards.
Please note that most racing venues distances had become varied throughout the years, the ones given above were at once point set and offers only a guidance to the track size.
CIRCUMFERENCE—————————Dont know
Please note that alterations at most racing venues throught its existence would see that the circumference of the track would vary, the one shown above offers only a guidance to the track size.
BIG RACE NAMES—————————None found
STADIUM SHARED WITH——————Rotherham United Football Club.
LAST MEETING——————————-July 29th 1933.
Greyhound Racing only.
STADIUM CLOSURE DATE—————-Rotherham Football Club moved out in 2008, but Rotherham Rugby Union Club continued to used it between 2008 and 2011.
Meaning other sports may have taken place after Greyhound Racing had ceased.
STADIUM DEMOLITION——————–Still there used for community football.
BUILT ON SITE——————————–Still there.
In some cases, structure's that originally covered the venue after the stadium had been demolished, may have been themselves demolished too, so the one described is more likely to be the one which now presently covers the site.
EVIDENCE LEFT TODAY——————–Still there.
FURTHER COMMENTS———————None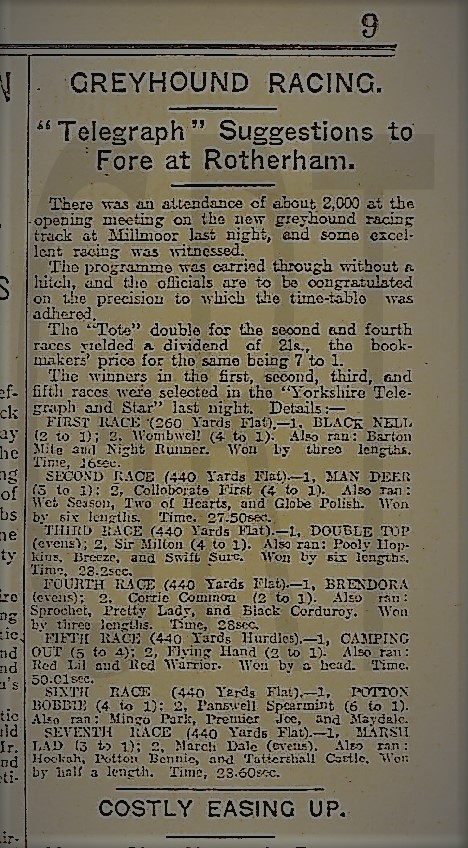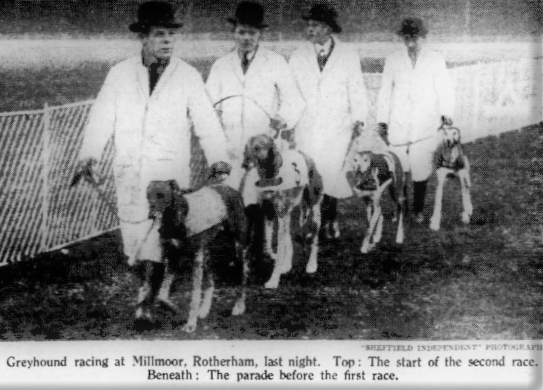 Another of the South Yorkshire locations to host Greyhound Racing at two different venues was the large industrial town of Rotherham. It is in this chapter that the first of the two venues are described, when the sport first arrived during the early 1930's at Millmoor, the home of Rotherham United Football Club.
Millmoor was located within one mile west of Rotherham's town centre and had developed on the site of demolished flour mill during 1907. The actual site was owned by The Midland Railway Company, who had agreed a lease the land to the newly formed Rotherham County FC., to play home matches there. The site became levelled and was soon followed by the erections of two grandstands, which had been transferred from the football clubs' previous ground on the opposite side of town.
It was during the early months of 1931 that Millmoor hosted Greyhound Racing for the first time, a move which would hope to create extra income, which in turn would stabilize the football club financially. The greyhound track had been laid around the perimeter of the football pitch, with the bends overlapping the corners of the playing surface, which came with some disapproval from some of the football club's directors.
Millmoor's first meeting came on the 11th of May 1931, opening up as an independent flapping track. Unfortunately, racing lasted for little more than two years, its failure possibly contributed by complaints from visiting football club officials regarding the poor condition of the pitches corner sections and also its surrounds. These issues had been reported to the Football League, who themselves, disapproved of Greyhound Racing at any football league grounds. These issues also created poor relations with the greyhound company and some of the football club board members, giving themselves no other option than to find another venue.
Millmoor's final meeting came on the 29th of July 1933, and yet within two days of this, the greyhound company had followed up with an opening meeting at a newly constructed greyhound track, less than half a mile away in the district of Holmes. Football was to continue at Millmoor for the next 75 years and became one of the last stadiums to offer that unique atmosphere found at football grounds before the world of all seater stadiums.
Although redevelopment plans at Millmoor had been passed, further investigations found that the foundations had been heavily infested with Japanese Knotweed. This newfound problem shelved plans of a redevelopment of the stadium, leaving the venue way short of reaching the Football Leagues criteria which would indeed contribute to the closure of Millmoor as a football league ground. This had left Rotherham United with no other choice but to look for a new site and play their final fixture at Millmoor in April 2008. The following three seasons had seen Millmoor host Rugby Union, but by the end of 2011 that too had gone. Strangely enough, Millmoor football ground still exists and is still remains active, mainly used by local junior soccer teams.