Manor Oaks Road, Park Hill, Sheffield, South Yorkshire.
POSTCODE———————————-S2 5JZ
LOCATED————————————About three quarters of a mile north east of Sheffield Railway Station.
ORIGINAL SITE—————————–A cricket pitch during the 1850's , then a Drillfield before becoming a recreation park.
DATE CONSTRUCTED——————–Began during the latter days of 1932.
DATE VENUE OPENED——————-April 1933.
Meaning other sports may have taken place prior to the arrival of Greyhound Racing.
FIRST MEETING—————————–April 1st 1933.
Greyhound Racing only.
LICENSED OR INDEPENDENT———-Independent
All venues covered would have to be licensed with the government, licensed suggested in this section would refer to tracks operating under NGRC Rules.
INSIDE OR OUTSIDE HARE TYPE——Inside Sumner.
Please note that the Electric Hare suggested is only a guidance, and would have been in operation for a certain amount of time at this venue. Although it is not necessarily guaranteed that it was operational all the time, as other types of lure may have been used and updated as time progressed.
DISTANCES———————————–200, 375 and 525 yards.
Please note that most racing venues distances had become varied throughout the years, the ones given above were at once point set and offers only a guidance to the track size.
CIRCUMFERENCE—————————300 yards.
Please note that alterations at most racing venues throughout its existence would see that the circumference of the track would vary, the one shown above offers only a guidance to the track size.
BIG RACE NAMES—————————The Mackeson Trophy.
STADIUM SHARED WITH——————Odd Boxing Bouts.
LAST MEETING——————————-June 1980 (month to be confirmed).
Greyhound Racing only.
STADIUM CLOSURE DATE—————-1980.
Meaning other sports may have taken place after Greyhound Racing had ceased.
STADIUM DEMOLITION——————–Early 1980's.
BUILT ON SITE——————————–Houses on Manor Oak Gardens.
In some cases, structure's that originally covered the venue after the stadium had been demolished, may have been themselves demolished too, so the one described is more likely to be the one which now presently covers the site.
EVIDENCE LEFT TODAY——————–Nothing known of.
FURTHER COMMENTS———————At one point all three Sheffield Greyhound Stadiums staged a meeting on the same day, but all agreed to stage them at different times so they would not clash.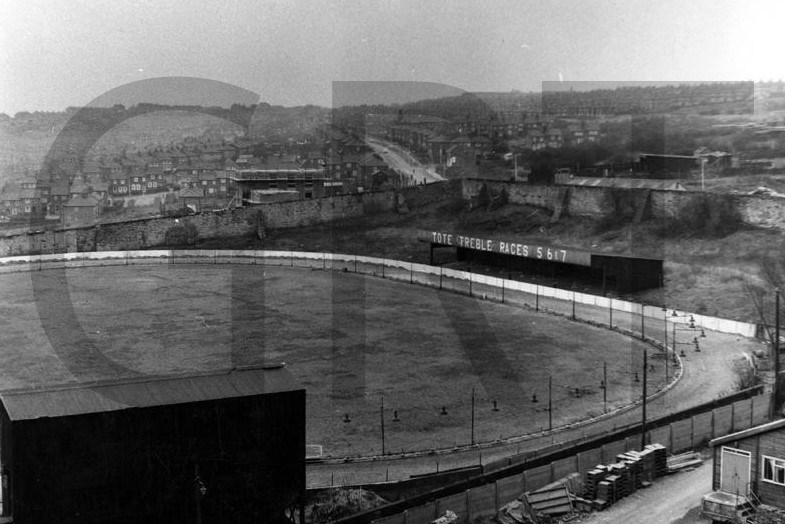 Greyhound Racing enthusiasts around Sheffield may have been blessed at one time, as the city once hosted as many as three greyhound tracks. The first two tracks which developed at Owlerton and Darnall which both operated as licensed NGRC tracks, while the third at Hyde Park, located north of the city, was a flapper.
The original site had developed during the 1850's, when the land became levelled to become a cricket pitch, but in time served as a drill ground, before becoming a recreation park well before the turn of the twentieth century. But it was during the latter months of 1932, that a greyhound track was laid, and with further structures added, Hyde Park was ready to stage its opening meeting on April 1st 1933.
Within weeks of the stadium's opener, Boxing featured at the stadium, when an estimated 15,000 people flocked to see Great Britain's light weight champion at the time, fight a Belgian opponent. Greyhound Racing attendances never reached nowhere near that figure, but racing in Sheffield in general was well supported, with all tracks communicating well with each other, so that meetings did not clash at the same time. The actual greyhound track was around just 300 yards in circumference, and wasn't really that big compared with other tracks, but it was enough for five greyhounds to race over distances of 200, 375 and 525 yards, with the hounds chasing an inside Sumner type hare.
One of its top events was the Mackeson Trophy, which would feature during the summer months, over the regular 375-yard trip. Hyde Park failed in reaching its golden jubilee, its location becoming a target for developers, whose purchase contributed to its closure in around June 1980.
The old site of the Hyde Park Greyhound Stadium is located in the district of Park Hill, three quarters of a mile East of Sheffield's main railway station and is now pinpointed by dwellings on Manor Oak Gardens.