Penistone Road, Owlerton, Sheffield, South Yorkshire.
POSTCODE———————————-S6 2DE
LOCATED————————————The district of Owlerton lies two and half miles north of Sheffield city centre. The stadium itself is located half a mile east of Hillsborough, Sheffield Wedneday's football ground, with stadium clearly visible from the A61.
ORIGINAL SITE—————————–Grazing land.
DATE CONSTRUCTED——————-1929 purposely for Speedway.
DATE VENUE OPENED——————September 1929.
Meaning other sports may have taken place prior to the arrival of Greyhound Racing.
FIRST MEETING—————————-January 12th 1932, a greyhound called Carnbrook Ted won the first event.
Greyhound Racing only.
LICENSED OR INDEPENDENT———NGRC.
All venues covered would have to be licensed with the government, licensed suggested in this section would refer to tracks operating under NGRC Rules.
INSIDE OR OUTSIDE HARE TYPE——Outside Swaffham.
Please note that the Electric Hare suggested is only a guidance, and would have been in operation for a certain amount of time at this venue. Although it is not necessarily guaranteed that it was operational all the time, as other types of lure may have been used and updated as time progressed.
DISTANCES———————————–290, 380, 500, 650 and 715 metres.
Please note that most racing venues distances had become varied throughout the years, the ones given above were at once point set and offers only a guidance to the track size.
CIRCUMFERENCE—————————Dont know.
Please note that alterations at most racing venues throught its existence would see that the circumference of the track would vary, the one shown above offers only a guidance to the track size.
BIG RACE NAMES—————————Steel City Cup.
STADIUM SHARED WITH——————Speedway, Stock Car Racing, once amateur football and Rugby League with Sheffield Eagles RLFC staging home fixtures between 1984 and 1989.
LAST MEETING——————————-Sitll in operation.
Greyhound Racing only.
STADIUM CLOSURE DATE—————-Still going.
Meaning other sports may have taken place after Greyhound Racing had ceased.
STADIUM DEMOLITION——————–N/A
BUILT ON SITE——————————–N/A
In some cases, structure's that originally covered the venue after the stadium had been demolished, may have been themselves demolished too, so the one described is more likely to be the one which now presently covers the site.
EVIDENCE LEFT TODAY——————–N/A
FURTHER COMMENTS———————Due to new stadium safety regulations brought in during 1989, he council was forced to close the stadium, although it was only temporary until upgrades and repairs were done.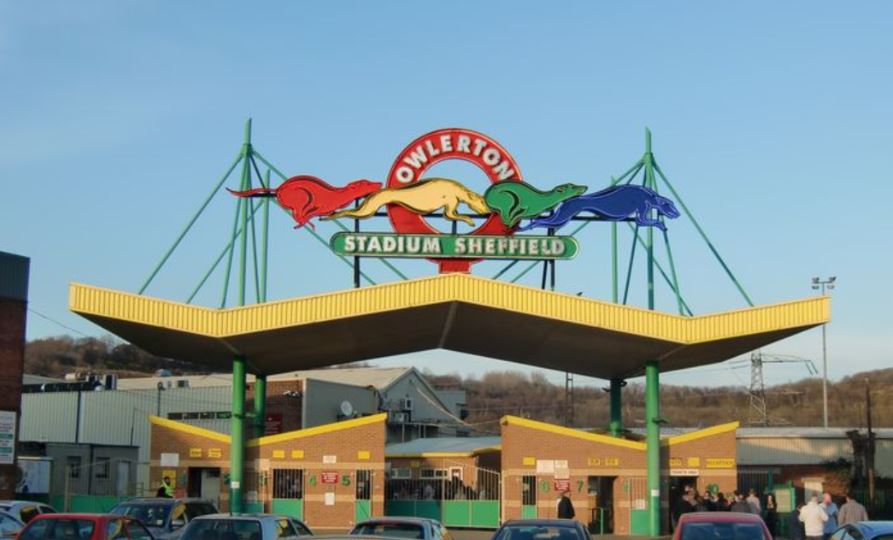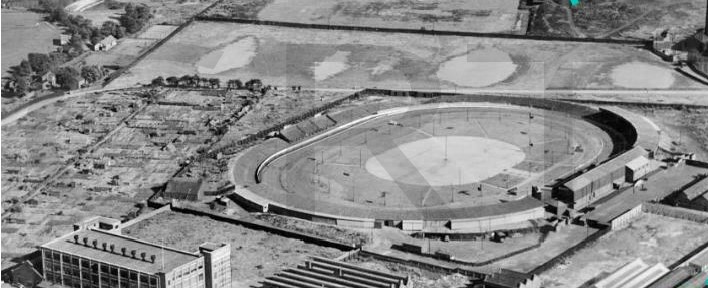 Owlerton Stadium, Sheffield, is located not surprisingly within the district of Owlerton, two and a half miles north of Sheffield city centre. The name Owlerton contributes itself also to the nearby Sheffield Wednesday Football Club, who incidentally inherited the nickname "The Owls" and who play fixtures at the close by Hillsborough Stadium. Yet the original site of Owlerton Stadium began as far back as the 1890's, when an undeveloped section of land hosted Buffalo Bill's Wild West Show.
But it was during 1928, that the twenty-acre section of land known then as Owlerton Meadows, became purchased by a group of Motorcycling Dirt Track enthusiasts, whose ideas were to promote the new thriving sport which would later become known as Speedway. The dirt track riders made their first appearance on the 30th of March 1929, with a crowd of around 15,000 witnessing an event known as The Golden Helmut. A new team was assembled and began by successfully competing in the English Dirt Track League. But early encouraging crowds began to dwindle as the team failed to fulfil its league fixtures, the reason mainly due to the Dirt Track League committee's organisation being in total chaos. By the end of 1930 the dirt track promoters had gone bankrupt, but a bid of 1,000 pounds had been accepted by the receivers from a group of greyhound enthusiasts, who were ready to invest in their new project.
It was during 1931 that a greyhound track was laid over the existing dirt track, this along with other essential facilities, would see Greyhound Racing stage their first meeting on the 12th of January 1932. Almost 10,000 racegoers witnessed a six-race event, five of them over 525 yards, with the other over 700. A 525-yard hurdle event also took place, but it was a dog called Carbrook Ted who made history by winning the very first race.
The 1930's became a boom era for the Owlerton venue, not only seeing the success of Greyhound Racing, but also a Roller-Skating Rink being constructed within the boundaries of the greyhound track, this new venture soon became very popular with the general public. Speedway returned once again in 1932, and Stock Cars also featured during the early 1950's, but it was in 1962 that The Sheffield Corporation purchased the stadium for £170.000, with plans to transform the venue into an Olympic style stadium. This move certainly created concern regarding the future of Greyhound Racing at Owlerton, but relief came six years later, when a brand-new McKee type hare system was installed, at a cost of £3,000.
In 1984 Rugby League arrived with Sheffield Eagles staging home fixtures there, but they eventually moved on to the Don Valley Stadium in 1989, after a dispute regarding rent. But dark clouds gathered once again around Owlerton in 1989, brought on by the sad events at the nearby Hillsborough Stadium, as the Sheffield council ordered the stadium to cease ventures immediately, as the venue was way short of meeting criteria's regarding safety regulations. Fortunately, the closure was only temporary, and soon the greyhounds were once again back in action well before the end of the year.
A big boost came in 1991, when the venue underwent a three-million-pound refurbishment, after the stadium was acquired by a Sheffield based leisure group. Non-league football arrived during the mid 1990's, with Sheffield Football Club, the oldest football club in the world, staging its home matches there.
Owlerton Greyhound Stadium still operates today and continues as it has always done promoting races under NGRC rules. It attracts top class greyhounds when staging the Steel City Cup run over the 500-metre trip in the Autumn, and also The Bass Cup run over 550 metres in October. Meetings consists of six greyhounds contesting over distances 290, 380, 500, 650 and 715 metres, with the hounds chasing an outside Swaffham type hare. It has a crowd capacity of 4,000 along with 700 parking spaces, and also offers a BAGS service and is recognised as the fourth most popular greyhound track in Britain.