Park Road, Ormsgill, Barrow-in-Furness, Cumbria.
POSTCODE———————————–LA14 4RD.
LOCATED————————————-The industrial estate lies three and a half miles north of Barrow-in-Furness town centre, with the venue being located one mile north in a parish called Ormsgill just off the A590 Park Road.
ORIGINAL SITE——————————A clearing in a Wooded Area.
DATE CONSTRUCTED———————1977
DATE VENUE OPENED——————-1977 for Speedway.
Meaning other sports may have taken place prior to the arrival of Greyhound Racing.
FIRST MEETING—————————–April 24th 1987.
Greyhound Racing only.
LICENSED OR INDEPENDENT———-Independent
All venues covered would have to be licensed with the government, licensed suggested in this section would refere to tracks operating under NGRC Rules.
INSIDE OR OUTSIDE HARE TYPE——Inside Sumner (purchased from the old Longlevens track in Gloucester).
Please note that the Electric Hare suggested is only a guidance and would have been in operation for a certain amount of time at this venue. Although it is not necessarily guaranteed that it was operational all the time, as other types of lure may have been used and updated as time progressed.
DISTANCES———————————–250, 415 and 595 metres.
Please note that most racing venues distances had become varied throughout the years, the ones given above were at once point set and offers only a guidance to the track size.
CIRCUMFERENCE—————————Not known
Please note that alterations at most racing venues throughout its existence would see that the circumference of the track would vary, the one shown above offers only a guidance to the track size.
BIG RACE NAMES—————————None found.
STADIUM SHARED WITH——————Speedway from 1977-85 Stock Car Racing 1984-86.
LAST MEETING——————————-March 1991.
Greyhound Racing only.
STADIUM CLOSURE DATE—————-1991
Meaning other sports may have taken place after Greyhound Racing had ceased.
STADIUM DEMOLITION——————–1994
BUILT ON SITE——————————–A company known as Colony Candles located on Bouthwood Industrial Estate, found at the very end of Bouthwood Road.
In some cases, structure's that originally covered the venue after the stadium had been demolished, may have been themselves demolished too, so the one described is more likely to be the one which now presently covers the site.
EVIDENCE LEFT TODAY——————–Nothing known of.
FURTHER COMMENTS———————The Speedway and Stock Car track came defunct during 1987 to make way for the laying of an all sanded greyhound track.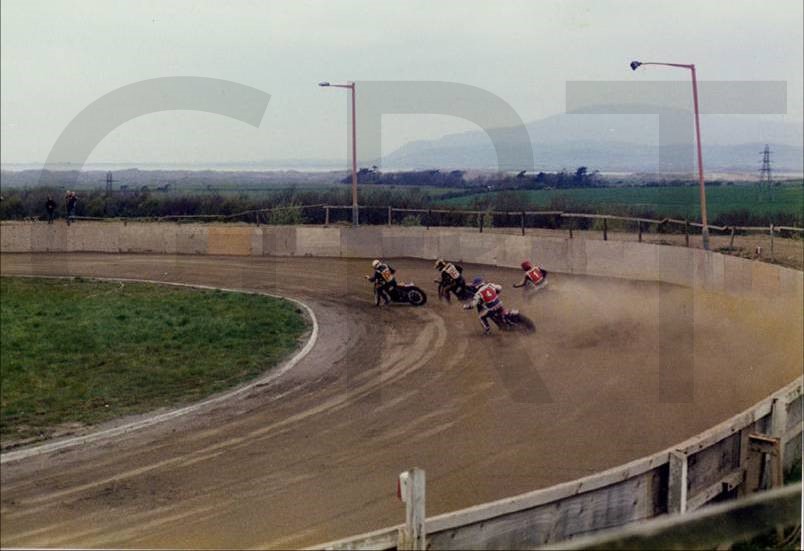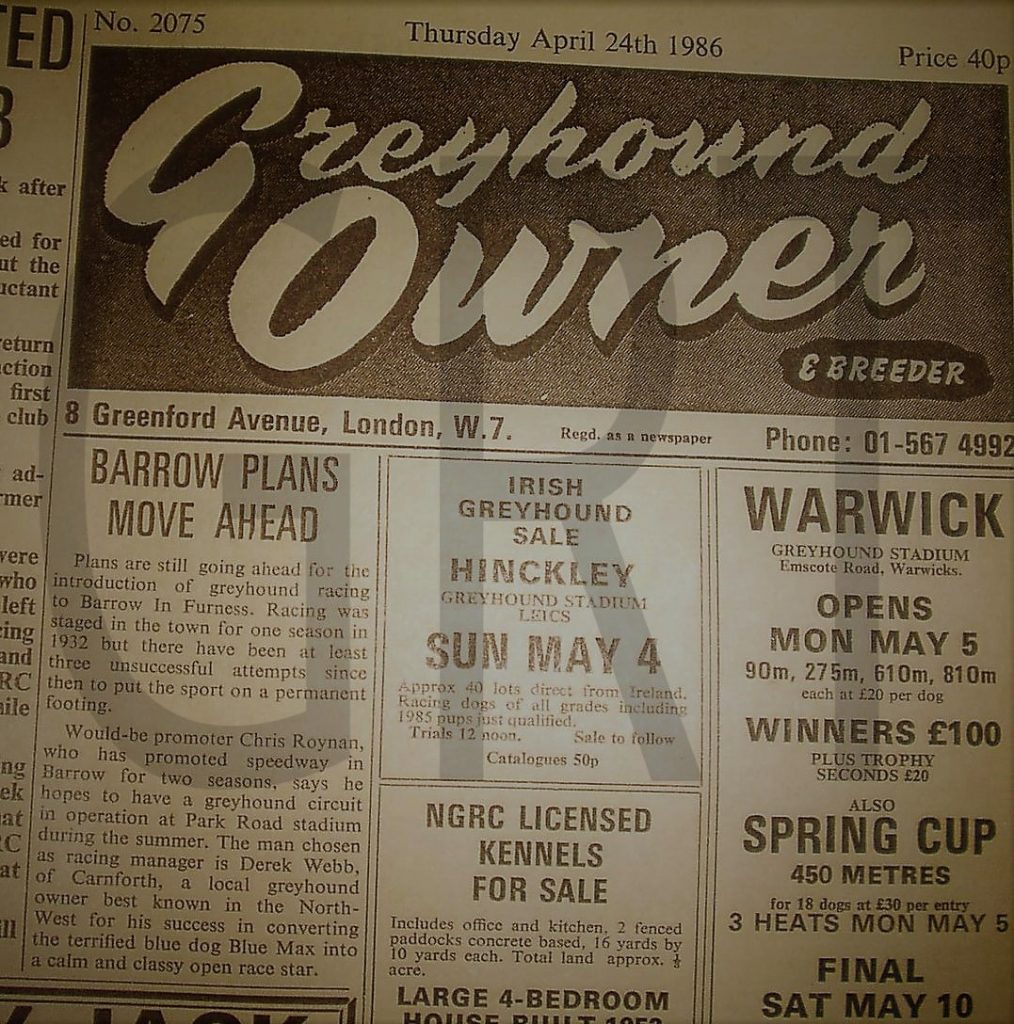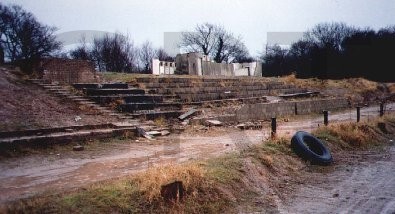 Barrow-in-Furness is a large industrial town situated off the coast of Cumbria, known worldwide for its shipbuilding industry, yet not many would know that it once hosted greyhound racing at two different venues. The one described in this section was known as the Park Road Greyhound Track, situated about three miles north of Barrow, set back just off the A590 on the outskirts of a parish known as Ormsgill.
The original site of the track had been nothing more than a clearing surrounded by woodland, situated in a picturesque location along the Cumbrian coastline, although its close proximity to the sea left it exposed to some unpleasant weather conditions during the winter months. But it was during 1976 that a speedway promoter was given permission to develop the six-acre section of land with a view to construct a speedway track.
In August 1977 Barrow opened up with its first speedway meeting in a stadium which was very limited regarding facilities and spectator cover. Although efforts from its promoters were creditable, the success of the Barrow speedway team was minimal, and found themselves finishing at the bottom of the league in virtually every season. Its outpost location contributed in its failed attempts to attract top riders, the poor crowds did not help much either, who themselves witnessed just eight troubled seasons before the speedway team disbanded in 1985.
In 1984 stock car racing was introduced, a venture which would hope to secure the stadiums future, but again crowd numbers were thin, which contributed to the sport lasting for just two seasons only before running its final meeting during 1986. After the speedway and the stock cars had failed, the future of Park Road looked bleak. But a final effort came in 1987, after the speedway promoter also a greyhound racing enthusiast, brought the dogs back to Barrow after more than a fifty-year absence. The existing speedway cinder track became covered by an all-sanded greyhound circuit, which also saw the installation of an inside Sumner type hare system, which had been purchased from the defunct Longlevens Greyhound Track, in Gloucester some 250 miles away.
Opening up as a flapping track Park Road's first greyhound meeting came on the 24th of April 1987, with events being run over distances of 250, 415 and 595 metres. Again, just like the speedway and stock cars, the same old story of an uphill struggle was becoming clear, as the Park Road Greyhound Track began to face a number of issues. Firstly, its outpost and geographical location did not help, certainly in wintertime, as access roads became treacherous in snowy conditions. Another down factor was that the track was situated in a remote area, away from any sort of dense population town other than Barrow-in-Furness. Poor attendances brought in little profit, and due to the limited numbers of greyhound's entries, it sometimes became a struggle to fill the card.
By the turn of the 1990's the track was running on borrowed time, the council had informed the tracks promoter that the site had been put up for sale and warned them that they could issue a six month notice of vacation at any given time. Sadly, that notice was issued during 1990, and the track ran its final meeting in March 1991. The site was soon bulldozed after, and construction of new industrial estate began in 1994.
As for today, nothing remains of the Park Road Stadium, the sites foundations now covered by the Coloney Candle Making Company on Boothwood Industrial Estate.
A programme, photograph or even memorabilia for this track is required for this page, if you can help please contact me.