Breck Park Stadium, Townsend Lane, Anfield, Liverpool.
POSTCODE————————————L6 0BB
LOCATED—————————————About two and a half miles east of Liverpool city centre, and about three quarters of a mile east of Liverpool Football Clubs Anfield Stadium.
ORIGINAL SITE——————————–Just undeveloped land.
DATE CONSTRUCTED———————-1926-27
DATE VENUE OPENED———————1927
Meaning other sports may have taken place prior to the arrival of Greyhound Racing.
FIRST MEETING——————————-April 23rd 1927, the first greyhound track to open in Liverpool and the second one to open, after Manchester's Belle Vue in the UK.
Greyhound Racing only.
LICENSED OR INDEPENDENT————NGRC.
All venues covered would have to be licensed with the government, licensed suggested in this section would refer to tracks operating under NGRC Rules.
INSIDE OR OUTSIDE HARE TYPE——-Outside Mechanical.
Please note that the Electric Hare suggested is only a guidance and would have been in operation for a certain amount of time at this venue. Although it is not necessarily guaranteed that it was operational all the time, as other types of lure may have been used and updated as time progressed.
DISTANCES————————————300 and 525 yards.
Please note that most racing venues distances had become varied throughout the years, the ones given above were at once point set and offers only a guidance to the track size.
CIRCUMFERENCE—————————Not known.
Please note that alterations at most racing venues throughout its existence would see that the circumference of the track would vary, the one shown above offers only a guidance to the track size.
BIG RACE NAMES—————————None known of.
STADIUM SHARED WITH——————Boxing
LAST MEETING——————————-Saturday February 21st 1948 then closed immediately after after a serious fire gutted its main stand on the 26th of February.
Greyhound Racing only.
STADIUM CLOSURE DATE—————-1948
Meaning other sports may have taken place after Greyhound Racing had ceased.
STADIUM DEMOLITION——————–Late 1940's.
BUILT ON SITE——————————–The site was renamed Edinburgh Park in 1953 after it had become The Dock Workers Social Club which is now the home of Waterloo Dock Sports Club.
In some cases, structure's that originally covered the venue after the stadium had been demolished, may have been themselves demolished too, so the one described is more likely to be the one which now presently covers the site.
EVIDENCE LEFT TODAY——————–Nothing known of.
FURTHER COMMENTS———————The venue was badly damaged when a passing ammunition train suffered a direct hit from a German bomber as it passed along side the stadium.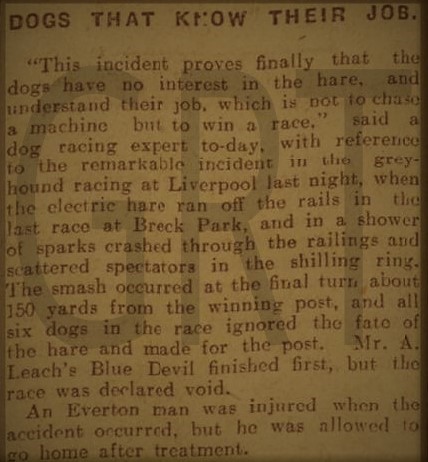 What may come as a surprise to many is that the City of Liverpool became the second town or city in the UK to open a purpose built greyhound stadium behind Manchester's Belle Vue. It was known as The Breck Park Stadium, and became the first of four greyhound venue's that would stage Greyhound Racing in the city of Liverpool, all of which were found within a mile radius of Liverpool Football Club.
The success of the new sport in Manchester, had given food for thought for a new greyhound company to be formed in Liverpool during the latter months of 1926, who soon had found themselves purchasing a section of disused land just off Townsend Lane in Anfield. Plans had been drawn up to construct a venue that would eventually accommodate as many as 20,000 racegoers, including a seated section for 1,000, plus parking spaces for over 1,000 vehicles and a kennel block that would house up to 400 greyhounds.
A date for its official opening had been announced for the 16th of April 1927, but due to unfinished building work and the grass circuit not quite ready, the opening ceremony was postponed. The grand opening was eventually staged on the following Saturday the 23rd of April, with 1,000 patrons in attendance, who witnessed a greyhound called Eyesack win the first of a six-race meeting. Although the moderate crowd seemed a little below expectation, attendances improved as more and more meetings were staged, with sometimes the figure swelling to around the 3,000 mark.
Eventually races were staged under NGRC rules, over distances of 300 and 525 yards with the hounds chasing an outside mechanical hare. Another sport that was to feature at Breck Park was boxing, witnessing a handful of important fights, but unlike other stadiums Breck Park did not feature any motor sports. The stadium also suffered its fair share of tragedies, firstly during the Second World War when a goods train carrying explosives took a direct hit from a German Bomber and exploded as it passed by the stadium. The explosion was so severe that it seriously damaged several buildings within the track's vicinity. But a more serious incident was to follow, when on the Thursday afternoon of the 26th of February 1948, the two-tiered main stand caught fire and was totally destroyed.
Due to the carnage incurred, the following Saturday's arranged meeting was transferred and run complete with the same hounds at the nearby Stanley track. Once the outcome of the damage had been assessed, incidentally with the strong suspicions of arson, a decision was made to close the track for good.
After the stadium was demolished, the land became a recreational area for The Dock Workers Social Club. In 1953 the site was renamed Edinburgh Park and became the home to a number of football and rugby pitches. Today Edinburgh Park is the home of Waterloo Dock RLFC, and Waterloo Dock Football Club, and is situated about two and a half miles east of Liverpool City Centre, with no evidence at all of the old stadium remaining.
A programme, photograph or even memorabilia for this track is required for this page, if you can help please contact me.