Harraby Park Stadium, Pettrill Bank Road, Carlisle, Cumbria.
POSTCODE———————————–CA1 3AF
LOCATED————————————–About one and a half miles south east of Carlisle city centre, and roughly two miles north west of junction 42 of the M6.
ORIGINAL SITE——————————-Farm grazing land.
DATE CONSTRUCTED———————1928
DATE VENUE OPENED———————June 1928.
Meaning other sports may have taken place prior to the arrival of Greyhound Racing.
FIRST MEETING——————————June 9th 1928.
Greyhound Racing only.
LICENSED OR INDEPENDENT————Independent
All venues covered would have to be licensed with the government, licensed suggested in this section would refer to tracks operating under NGRC Rules.
INSIDE OR OUTSIDE HARE TYPE——-Don't know.
Please note that the Electric Hare suggested is only a guidance and would have been in operation for a certain amount of time at this venue. Although it is not necessarily guaranteed that it was operational all the time, as other types of lure may have been used and updated as time progressed.
DISTANCES———————————–520 yards.
Please note that most racing venues distances had become varied throughout the years, the ones given above were at once point set and offers only a guidance to the track size.
CIRCUMFERENCE—————————Don't know.
Please note that alterations at most racing venues throughout its existence would see that the circumference of the track would vary, the one shown above offers only a guidance to the track size.
BIG RACE NAMES—————————None found.
STADIUM SHARED WITH—————–Speedway and Carlisle City Football Club 1928-29.
LAST MEETING——————————October 4th 1928.
Greyhound Racing only.
STADIUM CLOSURE DATE—————1929
Meaning other sports may have taken place after Greyhound Racing had ceased.
STADIUM DEMOLITION——————-Around 1930.
BUILT ON SITE——————————Gilford Park an amateur football ground now covers part of the original site on Pettril Bank Road.
In some cases, structure's that originally covered the venue after the stadium had been demolished, may have been themselves demolished too, so the one described is more likely to be the one which now presently covers the site.
EVIDENCE LEFT TODAY——————There is a perimeter wall and also evidence of overgrown piles of rubble here and there around the old site, it is difficult to say and yet to be proved that this was part of the original Harraby Park.
FURTHER COMMENTS——————-The site was sold to Cranemakers Cowan and Sheldon, who then sold it on to British Rail. The grandsrand was transported section by section to Redheugh Park the then home of Gateshead Football Club, another ex greyhound racing venue.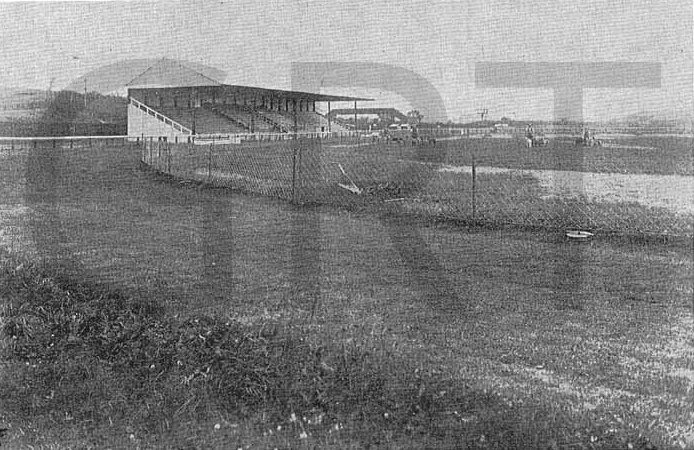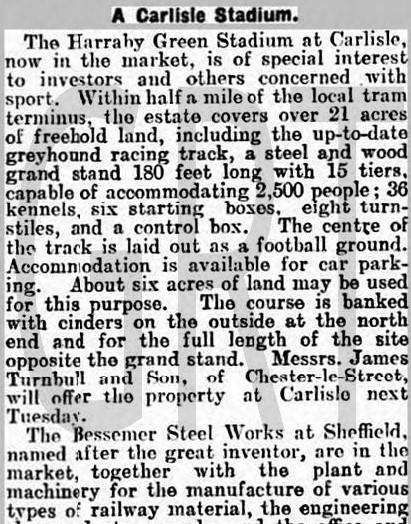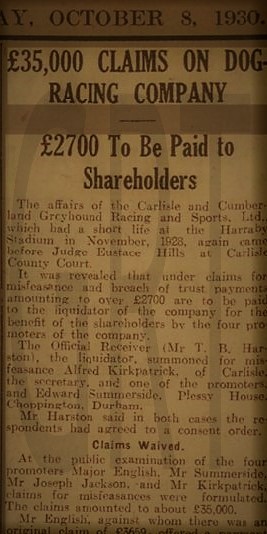 In 1927 a section of grazing land sited on the banks of the River Petteril in Carlisle, was purchased by a group of greyhound racing enthusiasts, calling themselves The Carlisle and Cumberland Greyhound Company. Their ambitions were to construct a venue to host the new sport of Greyhound Racing in the area and became known as The Harraby Park Stadium.
The venue was huge, enough to hold a capacity of around 70,000 people, with its main focal point being a 5,000 all seated grandstand. By the summer of 1928 the stadium was almost ready to stage greyhound racing, but by then it had also caught the imagination of other sports promoters. Harraby Parks first meeting for greyhound racing came on the 9th of June 1928, then continued to hold three meetings per week. But within weeks the stadium began to make its mark as a multi-Purpose sports venue, when Grass Speedway events took place there a month later. Gymkhana and football matches began to feature also, but more interest came from the newly formed Carlisle City, a professional rugby league club, who also began hosting matches there. The rugby clubs first match came on the 25th of August, against Wigan Highfield, but lack of interest by the public plummeted the club into financial ruin, and by November the club had folded.
Greyhound racing had ceased also, staging its final meeting on October 4th 1928, although Speedway did continue to feature, but again this sport also failed to attract the public's imagination, and by the following March all sports had ceased. The site was eventually sold to the Cowan and Sheldon Crane Making Company, who in turn sold the site on to British Rail. The main stand was sold off too, and became transported bit by bit to a new venue in the northeast at Redheugh Park, the home of Gateshead Football Club. Redheugh Park was another venue in time that would feature Greyhound Racing, but its main purpose was hosting league football.
In 1933 The Carlisle and Cumberland Greyhound Company moved on to promote another greyhound track, further down the Cumbrian coast at Workington, with this venture becoming more of a success, and would continue to do so for the next 65 years or so. Today the site of the old Harraby Park is known as Gillford Park, and is found two miles northwest of junction 42 on the M6, and one and a half miles southwest of Carlisle city centre. Its purpose today is still as a sporting venue but remains a totally different set up to the one that existed eighty years or so ago.
The site now hosts regular amateur football, with its training pitch next to it being possibly part of the old site also. But what does remain of the old Harraby Park is an old perimeter wall running along the north side of the training pitch, and also some weed infested banking behind the eastern goalmouth of the football ground, when looking down from satellite views these could be the remaining remnants of the venue dating back to the late 1920's. There is a possibility given further proof, that the Railway Club building and offices could also have been part of the set up from the days of the old Harraby Park.