St Annes Road, Blackpool, Lancashire.
POSTCODE———————————–FY4 3QA
LOCATED————————————-Less than half a mile north of Blackpool Airport, set back from St Annes Road at the rear of a Biscuit Factory.
ORIGINAL SITE——————————Built on grazing land within the boundaries of Blackpool Racecourse.
DATE CONSTRUCTED———————1927
DATE VENUE OPENED———————July 1927.
Meaning other sports may have taken place prior to the arrival of Greyhound Racing.
FIRST MEETING——————————July 30th 1927.
Greyhound Racing only.
LICENSED OR INDEPENDENT———–Most of its existence NGRC.
All venues covered would have to be licensed with the government, licensed suggested in this section would refer to tracks operating under NGRC Rules.
INSIDE OR OUTSIDE HARE TYPE——–Inside Sumner.
Please note that the Electric Hare suggested is only a guidance and would have been in operation for a certain amount of time at this venue. Although it is not necessarily guaranteed that it was operational all the time, as other types of lure may have been used and updated as time progressed.
DISTANCES————————————300 and 500 yards.
Please note that most racing venues distances had become varied throughout the years, the ones given above were at once point set and offers only a guidence to the track size.
CIRCUMFERENCE—————————440 yards.
Please note that alterations at most racing venues throughout its existence would see that the circumference of the track would vary, the one shown above offers only a guidance to the track size.
BIG RACE NAMES—————————None known of.
STADIUM SHARED WITH——————Blackpool Borough Rugby League Club.1954-63.
LAST MEETING——————————-October 30th 1964.
Greyhound Racing only.
STADIUM CLOSURE DATE—————-October 1964.
Meaning other sports may have taken place after Greyhound Racing had ceased.
STADIUM DEMOLITION——————–1965
BUILT ON SITE——————————–Housing on Stadium Avenue and Helens Close.
In some cases, structure's that originally covered the venue after the stadium had been demolished, may have been themselves demolished too, so the one described is more likely to be the one which now presently covers the site.
EVIDENCE LEFT TODAY——————–None known of.
FURTHER COMMENTS——————–Sold for housing during 1962.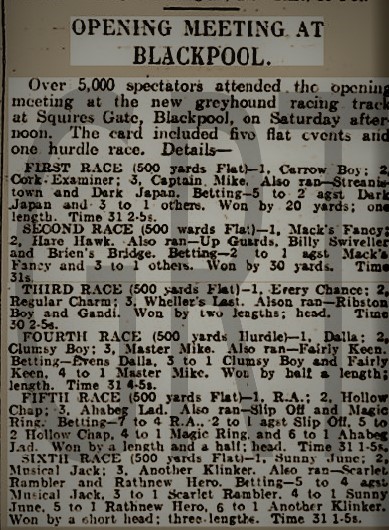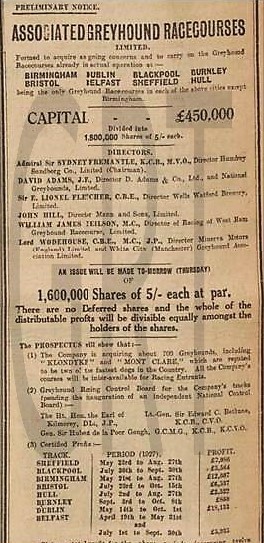 The Lancashire seaside resort of Blackpool became one of the earliest towns to experience greyhound racing after the sport had first been introduced 12 months previous at Manchester's Belle Vue. The Associated Greyhound Racecourse Company began promoting the sport by opening a number of tracks across the UK.
Blackpool had become the AGR's fifth of six tracks to begin operations during 1927, having opened new tracks at Sheffield, Birmingham, Hull and Bristol, with another expected to open at Burnley during September of that year. The site chosen for the new venue had been on grazing land, and by early 1927 the stadium began to develop, its main feature being a glass fronted grandstand with its panoramic views peering northwards towards Blackpool Tower, then brought back to reality on the western side with a biscuit factory overlooking the track.
Its location lay roughly two and a half miles, south of Blackpool Tower, and within half a mile in a northerly direction of today's Blackpool Airport. During the summer of 1927 the Blackpool Greyhound And Sports Company announced that the grand opening meeting would take place on the 30th of July, with a meeting consisting of six five dog races, racing under rules similar to those of the NGRC. Over 5,000 patrons paid their entrance fee to see a greyhound called Carrow Boy win the first ever race by an impressive 20 lengths over the 500-yard course, which later once calibrated was actually a distance of 520 yards.
The St Anne's Road track was well organised, having kennelling space for enough greyhounds to fulfil five meetings per week, all of which attracted good crowds. With the added advantage of attracting holiday makers, the stadium could boast attendance figures approaching a staggering five and a half million during the first two months of operation and showing profits of over five and a half thousand pounds by the end of September. One of its downfalls was that the number of greyhounds kennelling there was becoming too expensive, so in July 1929 the management opted out of the NGRC and invited privately owned greyhounds to race there, as long as the dogs were kennelled at the track.
The early years were proving a massive success, with the 1931's annual attendance figures almost topping 18 million. The introduction of new betting laws in 1934 had seen the reduction of meetings restricted to just 108 per year, this became a big factor which cut its annual attendance figures drastically, meaning those figures published in its pioneering years could never be reached again.
The outbreak of the Second World War had seen little effect on the St Anne's track, as racing had continued but only under government regulations at sporting events. Meetings were being run without the use of track lights, with early evening events run during the summer, then switching to afternoon meetings during the darker winter months. The track had a circumference of 440 yards which created distances of 300 and 500 yards., with the hounds chasing an inside Sumner hare.
Another sport that featured at St Anne's Road was amateur rugby league seeing a newly marked out pitch laid out within the track's perimeter. In 1954 local side Blackpool Borough turned professional and entered the national rugby league. but concerns grew as rugby league inspectors had discovered that the width of the playing pitch was too narrow and had only just reached the minimum width allowed. The positioning of the inside hare rail, on both sides of the playing pitch happened to be the problem, but all efforts to widen the pitch was refused by the greyhound company. During that spell the stadium had been filled to capacity on two occasions with 8,000 rugby fanatics witnessing home cup ties, against Oldham and St Helens. These larger attendances had stretched the St Anne's Stadium to its limit, meaning any further big cup ties would have to be played at Bloomfield Road, the home of Blackpool Football Club.
In April 1962 after 30 years of operating as a profitable business, it was announced that the stadium had been sold to a development company for an estimated £75,000. Greyhound racing continued for the next two years or so, but the rugby club had agreed a deal with the council to build a new stadium at Borough Park, just off Princess Road, and would be ready for use by the summer of 1963. Unknown at the time, greyhound racing would eventually join forces with the rugby league club once more four years later, this time at the new venue.
Sadly, greyhounds racing at the St Anne's Road Stadium came to a close, staging its final meeting on the 30th of October 1964. Today, the site is covered by semi-detached houses all of which are the same design situated on Helen Close and the appropriately named Stadium Avenue, the name possibly leaving the only trace of a greyhound track ever being there.
A photograph or memorabilia for this track is required for this page, if you can help please contact me.