White City Stadium, Chester Road, Old Trafford, Manchester.
POSTCODE———————————-M16 0RP
LOCATED————————————About a quarter of a mile from Manchester United football ground and about two mile south west of Manchester city centre.
ORIGINAL SITE—————————–The Royal Botanic Gardens built along with white gateway in 1827, before switching to an amusement park in 1907.
DATE CONSTRUCTED——————–1927
DATE VENUE OPENED——————-June 16th 1928 for Dirt Track Speedway.
Meaning other sports may have taken place prior to the arrival of Greyhound Racing.
FIRST MEETING—————————–Monday 28th May 1928.
Greyhound Racing only.
LICENSED OR INDEPENDENT———-NGRC.
All venues covered would have to be licensed with the government, licensed suggested in this section would refer to tracks operating under NGRC Rules.
INSIDE OR OUTSIDE HARE TYPE——Outside Sumner then possibly Bramwich type.
Please note that the Electric Hare suggested is only a guidance and would have been in operation for a certain amount of time at this venue. Although it is not necessarily guaranteed that it was operational all the time, as other types of lure may have been used and updated as time progressed.
DISTANCES———————————–525 yards later 485 metres.
Please note that most racing venues distances had become varied throughout the years, the ones given above were at once point set and offers only a guidance to the track size.
CIRCUMFERENCE————————–Not known.
Please note that alterations at most racing venues throughout its existence would see that the circumference of the track would vary, the one shown above offers only a guidance to the track size.
BIG RACE NAMES————————–Manchester Cup, The Northern Oaks and the Cock of the North.
STADIUM SHARED WITH—————–Amateur football, Rugby League, Athletics, Speedway and Stock Car Racing all can claim they had a spell there.
LAST MEETING——————————October 30th 1981.
Greyhound Racing only.
STADIUM CLOSURE DATE—————Stock Car racing ceased in 1982.
Meaning other sports may have taken place after Greyhound Racing had ceased.
STADIUM DEMOLITION——————-Around 1990.
BUILT ON SITE——————————–A modern day shopping retail park.
In some cases, structure's that originally covered the venue after the stadium had been demolished, may have been themselves demolished too, so the one described is more likely to be the one which now presently covers the site.
EVIDENCE LEFT TODAY——————-The huge white entrance stonework is still there, acting as a pedestrian access to the retail park.
FURTHER COMMENTS———————None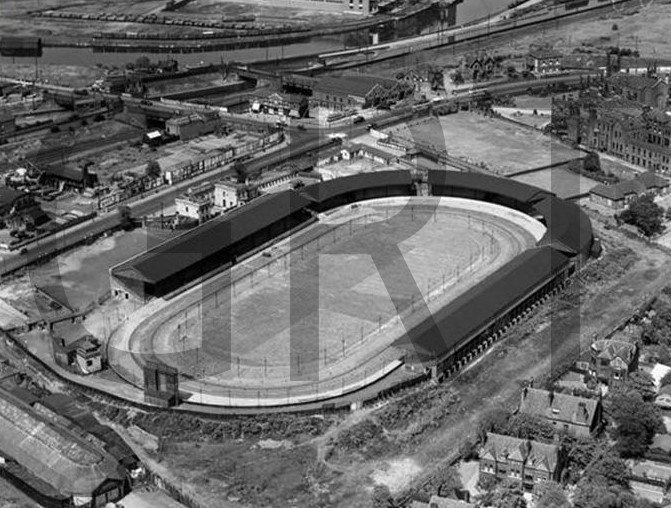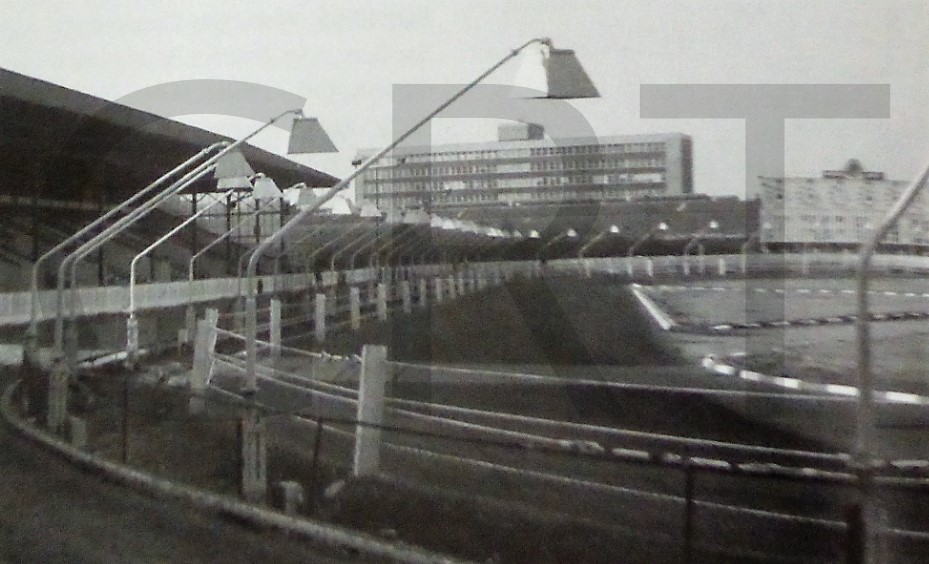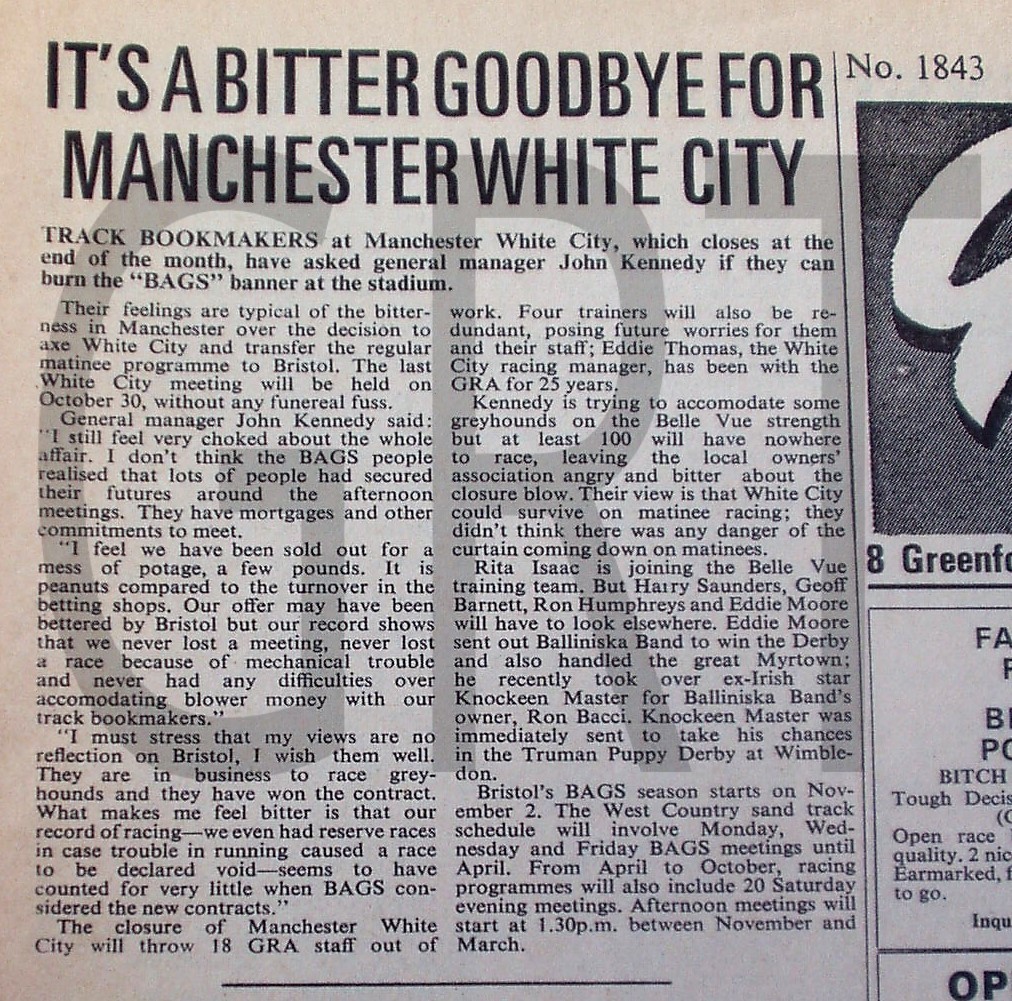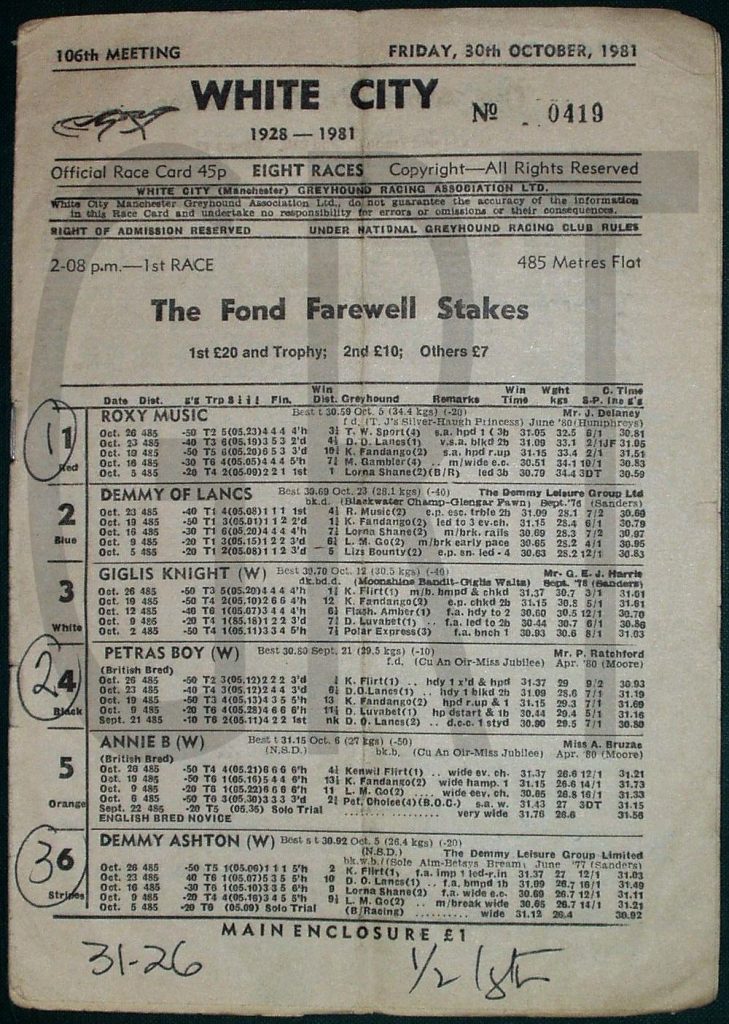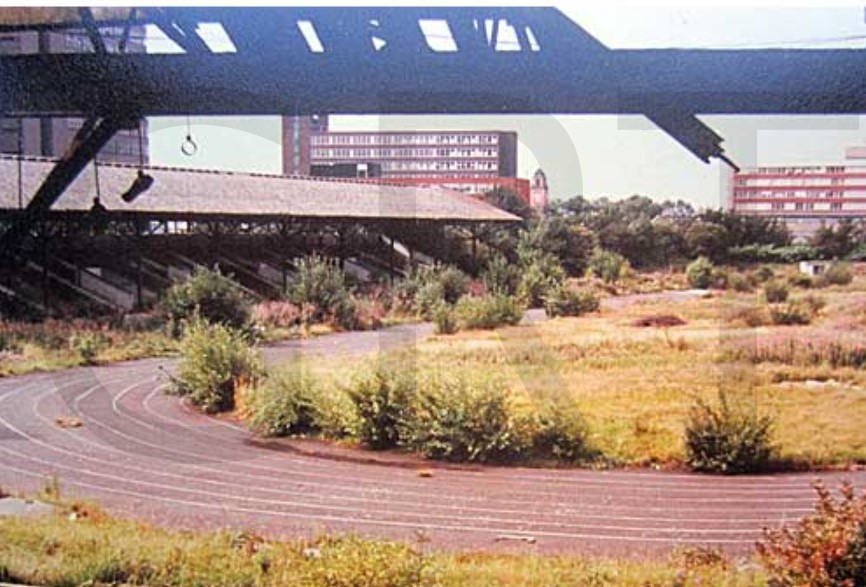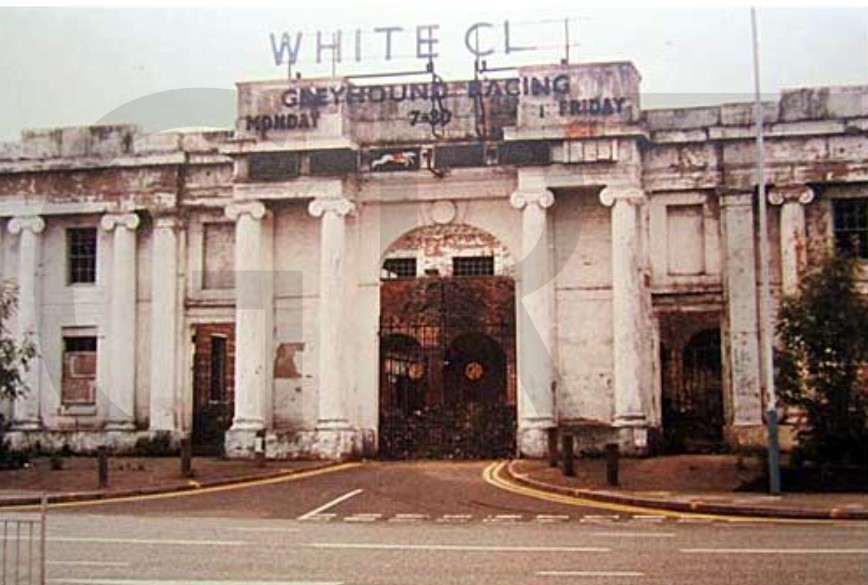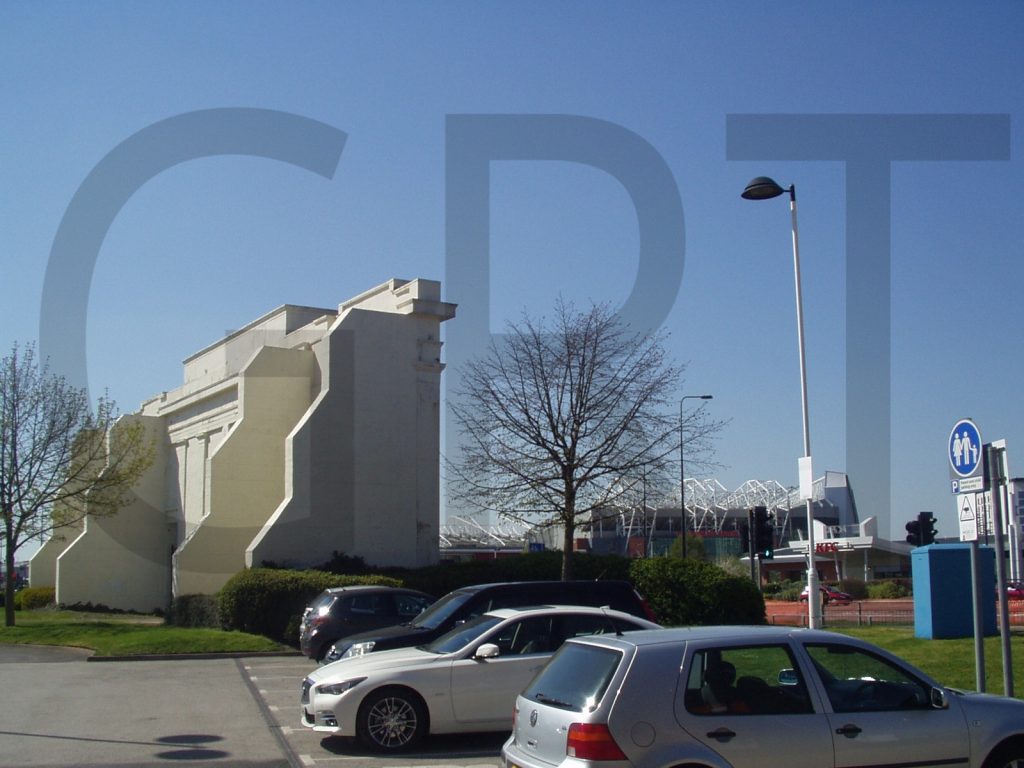 When discussing the origins of Greyhound Racing in Manchester, people's thoughts are immediately triggered in to thinking of the present day Belle Vue Stadium. Yet for over fifty years another large licensed Greyhound Racing venue operated in Manchester, that of The White City Stadium, a venue which may not have been as luxurious but even so just as popular with racegoers. It was situated on the opposite side of the city, two miles south west of Manchester city centre, and within four hundred yards of Manchester United's Old Trafford football ground.
Since 1827 its original site has been occupied by The Royal Botanic Gardens, a large complex smothered by glass buildings that covered a 16-acre section of land. But by the turn of the century the interest for the gardens had waned, and in 1907 a five-acre section of the site was sold to a company who would construct The White City Amusement Park. The remaining eleven acres of land lay idle until 1927 and having witnessed the success of Greyhound Racing at Belle Vue a few months previous, a consortium known as The Canine Sports Company purchased the site with a view of building a new advanced sports stadium that would host both Greyhound and Dirt Track Speedway Racing. The completion of the White City Stadium had proved itself an impressive venue, a venue whose main feature was a 9,000 all seated grandstand, and also covered accommodation for another 40,000 standing spectators, along with a vast car park that could hold up to 1,200 vehicles.
Manchester could now boast it had a White City and became one of a number of stadiums across the UK labelled with the White City prefix, such as the ones found in Newcastle, Cardiff, Liverpool, Swansea, Glasgow and the more familiar one in London. But before Greyhound Racing got under way, dirt track speedway staged its first meeting on the 16th of June 1928, on a cinder surface constructed within the infield of the greyhound track. Trials for the greyhounds had taken place prior to the speedway's opening, with experiments leading up to the latest method for releasing dogs from the traps, and also a new idea of using banked bends to reduce bumping, a problem experienced by most other pioneering tracks.
White City's first meeting came on 28th May 1928, with the preliminary heats of the Gold Cup Stakes. Greyhound Racing was becoming to prove itself a success, but it wasn't the case for the speedway team whose poor relationship with its promoters brought on their disbandment two years later. With the speedway gone, the greyhounds struggled to finance the stadium on their own and by the end of 1929 they too ceased operations. In 1930 the stadium was sold to the Greyhound Racing Association, who was already in control of a number of stadiums across the UK, including the one a Belle Vue, Manchester. Like the others White City venues this too would operate under NGRC rules, with events being run over 525 yards and races consisting of six greyhounds who would chase the inside Sumner type hare.
Greyhound Racing continued successfully throughout the 1930's and 1940's, but in 1953 the venue was to change dramatically, after it had been chosen to stage international athletics, which meant a total revamp of the stadium on and off the track. Funded by the British Athletics Board, the vast stadium was now in a position to attract some of the biggest names in athletics from around Europe. Another sport added to White City's list of sporting activities was Rugby League, when a Salford-Swinton Select team faced The New Zealand Touring side of 1961, even though the fixture attracted a good crowd, it was the only time that Rugby ever featured. White City did stage some attractive events during the greyhound calendar, such as The Manchester Cup, run in March over the 525 yard trip, The Mancunian Cup, run in September, and also The Cock Of The North, which later became transferred to Belle Vue after its closure.
However, the early sixties witnessed the start of its decline, once new betting legislation had contributed to the tracks falling attendances. More changes came in 1967 when a modern outside hare system replaced the old inside Sumner hare, a fixture which had served the track for almost forty years. Another financial boost came in 1972 with the arrival of another motor sport, this time in the form of Stock Car Racing, whose presence competed in every season right up until the stadium's closure in 1982. But the tracks future received another boost in 1978 after a BAGS contract had been agreed, but it was the loss of this contract three years later that almost certainly contributed to the stadium's demise. This disastrous news, together with an ever decaying stadium, sent fears amongst its eighteen remaining staff, along with its four remaining attached trainers.
It came as no surprise when it was announced that the greyhounds would feature for their final time on the 30th of October 1981, a Friday afternoon meeting which would say goodbye to Greyhound Racing after more than 50 years. With the greyhounds now gone Stock Car Racing still continued, albeit for just one more year before the stadium's staff padlocked the gates for the final time.
After a number of years of being left silent, not surprisingly the venue eventually drifted into a poor derelict state, and it was during 1991 before it was eventually demolished. Nothing remains of the actual stadium today, although its huge white gateway entrance fortunately does, and acts a pedestrian access to a modern-day shopping retail park, but also acts as a landmark to where the stadium once lay.
A photograph or memorabilia for this track is required for this page, if you can help please contact me.