St Helens Town Football Club, Hoghton Road, Sutton, St Helens, Merseyside.
POSTCODE————————————WA9 3GR.
LOCATED————————————–Roughly three miles south east of St Helens town centre, and within a quarter of a mile north east of St Helens Junction Railway Station.
ORIGINAL SITE——————————-Former home of Sutton Cricket Club who vacated the site.
during the early 1900's. Garden Allotments then coverd the site before being purchased in 1946 by businessman representing St Helens Town football club.
DATE CONSTRUCTED———————1946
DATE VENUE OPENED——————–1946 As a football stadium for St Helens Town FC.
Meaning other sports may have taken place prior to the arrival of Greyhound Racing.
FIRST MEETING——————————July 2nd 1993.
Greyhound Racing only.
LICENSED OR INDEPENDENT———–Independent
All venues covered would have to be licensed with the government, licensed suggested in this section would refer to tracks operating under NGRC Rules.
INSIDE OR OUTSIDE HARE TYPE——-Inside Sumner.
Please note that the Electric Hare suggested is only a guidance and would have been in operation for a certain amount of time at this venue. Although it is not necessarily guaranteed that it was operational all the time, as other types of lure may have been used and updated as time progressed.
DISTANCES———————————–310 and 512 yards.
Please note that most racing venues distances had become varied throughout the years, the ones given above were at once point set and offers only a guidance to the track size.
CIRCUMFERENCE————————–Don't know.
Please note that alterations at most racing venues throughout its existence would see that the circumference of the track would vary, the one shown above offers only a guidance to the track size.
BIG RACE NAMES————————–St Helens Derby, Guineas and St Leger.
STADIUM SHARED WITH—————–St Helens Town Football Club and Highfield Rugby League Club.
LAST MEETING——————————October 9th 2001.
Greyhound Racing only.
STADIUM CLOSURE DATE—————2001
Meaning other sports may have taken place after Greyhound Racing had ceased.
STADIUM DEMOLITION——————2001-02
BUILT ON SITE——————————Housing on Telford Drive off Hoghton Road built on site around 2004.
In some cases, structure's that originally covered the venue after the stadium had been demolished, may have been themselves demolished too, so the one described is more likely to be the one which now presently covers the site.
EVIDENCE LEFT TODAY——————Nothing known of.
FURTHER COMMENTS——————–None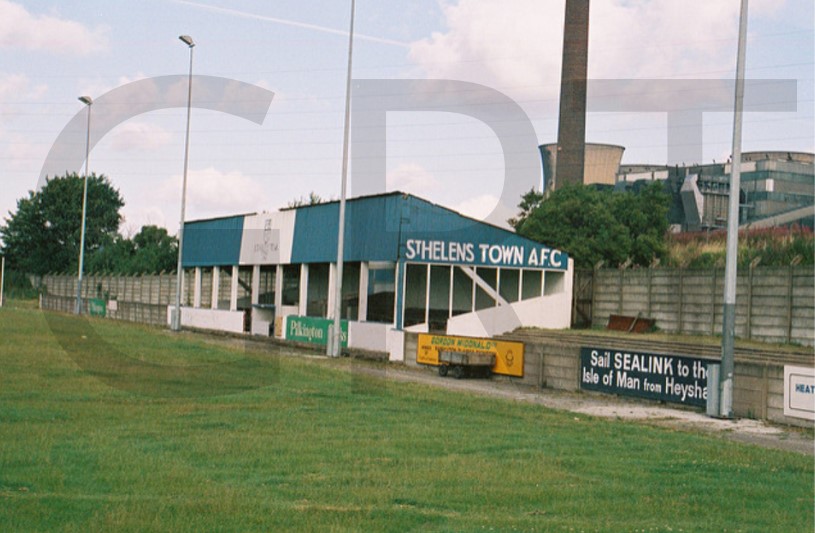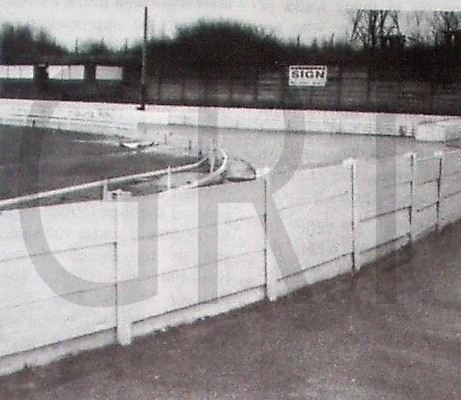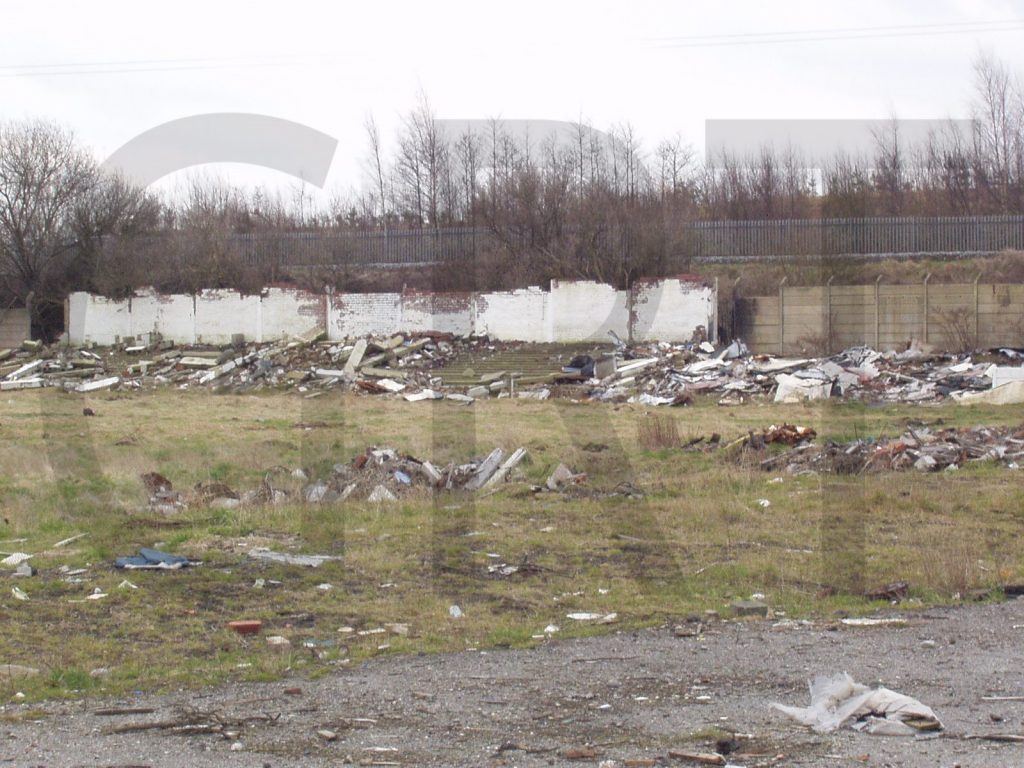 Another of the northwest towns to accommodate two greyhound racing venues was Merseyside's St Helens. It was thought that greyhound racing in the town had come to an end when the track at Park Road had closed during February 1993. But what rose from the ashes was enthusiasts with enough interest to find another venue on the opposite side of town. It was situated in the district of Sutton, three miles southeast of St Helens town centre, close to the St Helens Junction Railway Station.
Originally the site had been the home of St Helens Cricket Club who vacated the ground in the early 1900's, leaving the abandoned site to be overwhelmed with a cluster of garden allotments. But it would be the following months after the end of the Second World War, that would see it eventually return to a sporting venue. The Hoghton Road venue only became about due to the interest of a group of businessmen who began to look for a site for their newly formed football club, St Helens Town. The post war years had brought success, and in 1949 St Helens town had arranged a friendly fixture with giants Manchester City, with a view of raising money to fund a new main stand. Manchester City's response to a friendly included a number of star names at the time, including their legendary goalkeeper Bert Trautmann, an ex-German prisoner of war who himself had become a household name in the world of football. Never again would Hoghton Road attract so many people, with an estimated 5,000 turning up to see the star-studded event.
Yet the last 15 years of Hoghton Roads life witnessed more changes than ever, with floodlights firstly installed as late as 1988, with rugby league featuring for the first time in 1990, with Runcorn Highfield moving in as tenants. The stadium was slowly becoming a multi sports venue, with football and rugby league featuring regularly, yet by the end of 1993, another sport was about to join the list of sports, as a newly formed greyhound company had been given the green light to construct a track around the pitch. But the football pitch needed some alterations to accommodate the track, meaning part of the terracing at the clubhouse end had to be removed, and also the playing area narrowed to accommodate the finishing and back straights.
The track became an all-sanded affair, with distances calibrated at 310 and 512 yards with the hounds chasing an inside Sumner type hare. Opening up as a flapping track, Hoghton Road's first meeting came on the 2nd of July 1993, seeing further meetings being staged weekly on Tuesday and Friday evenings. Yet the track at Hoghton Road experienced the same problems as most tracks that ran around football pitches, as the tightness of the bends often witnessed trouble, and certainly a dog that could rail had clearly an advantage.
Its Big Annual Attractions Were The St Helens Derby, and The St Helens Guineas. But the turn of a new century brought with it disappointing news that the site of Hoghton Road had been sold to developers, and that no more leases would be renewed. On 29th April 2000 St Helens Town Football Club played their final home match against Vauxhall Motors, even though the greyhounds were allowed to continue for another year. Greyhound Racing did continue, but with less greyhound entrants and fewer people through the turnstiles the Greyhound Company began operating at a loss, which contributed to them staging their final meeting on the 9th of October 2001, with a mere 50 racegoers attending. The football club moved on to ground share at another sporting venue in the town, but sadly Greyhound Racing had no doubt been lost forever.
It wasn't long before the stadium became stripped of all its assets, then in turn left derelict before it was eventually demolished in 2004. Today the site is covered by modern housing along Telford Drive and leaves no evidence whatsoever of a sports stadium ever being there, even the adjacent clubhouse has gone.
A photograph or memorabilia for this track is required for this page, if you can help please contact me.