Saracen Park, Hawthorn Road, Possilpark, Glasgow.
POSTCODE———————————G22 6RU
LOCATED————————————About two miles north of the city centre of Glasgow along side the B808.
ORIGINAL SITE—————————–Wasteland but was used for dog racing prior to the Second World War.
DATE CONSTRUCTED——————-Began in 1937 as a football stadium.
DATE VENUE OPENED——————1937 for Football, but Speedway and unofficfial Whippet Racing and Greyhound Racing featured also.
Meaning other sports may have taken place prior to the arrival of Greyhound Racing.
FIRST MEETING—————————-April 21st 1956.
Greyhound Racing only.
LICENSED OR INDEPENDENT———-Independent
All venues covered would have to be licensed with the government, licensed suggested in this section would refer to tracks operating under NGRC Rules.
INSIDE OR OUTSIDE HARE TYPE——-Inside Sumner.
Please note that the Electric Hare suggested is only a guidance and would have been in operation for a certain amount of time at this venue. Although it is not necessarily guaranteed that it was operational all the time, as other types of lure may have been used and updated as time progressed.
DISTANCES————————————270, 450, 640 and 830 yards.
Please note that most racing venues distances had become varied throughout the years, the ones given above were at once point set and offers only a guidance to the track size.
CIRCUMFERENCE—————————Don't know.
Please note that alterations at most racing venues throughtout its existence would see that the circumference of the track would vary, the one shown above offers only a guidance to the track size.
BIG RACE NAMES—————————Ashfield Regal Derby.
STADIUM SHARED WITH——————Speedway and junior football.
LAST MEETING——————————-Maybe 14 August 1988, but October 1998 also quoted.
Greyhound Racing only.
STADIUM CLOSURE DATE—————-Still operating as a sports stadium for junior football and Speedway.
Meaning other sports may have taken place after Greyhound Racing had ceased.
STADIUM DEMOLITION——————–N/A
BUILT ON SITE——————————–N/A
In some cases, structure's that originally covered the venue after the stadium had been demolished, may have been themselves demolished too, so the one described is more likely to be the one which now presently covers the site.
EVIDENCE LEFT TODAY——————–The Results Board still remains, overshadowing the eastern bend.
FURTHER COMMENTS———————Arguably the most popular independent venue in Scotland, with at least 20 Bookmakers attending meetings during the 1980's.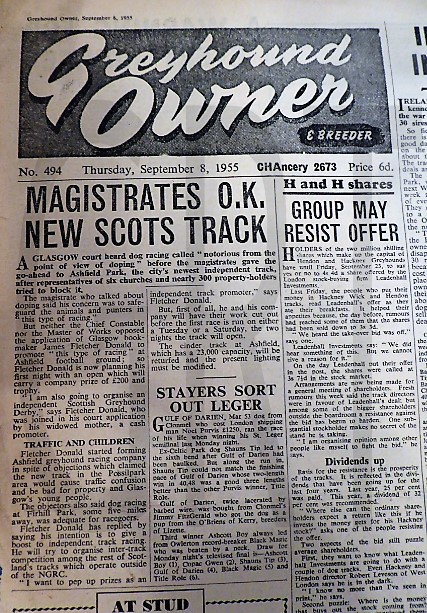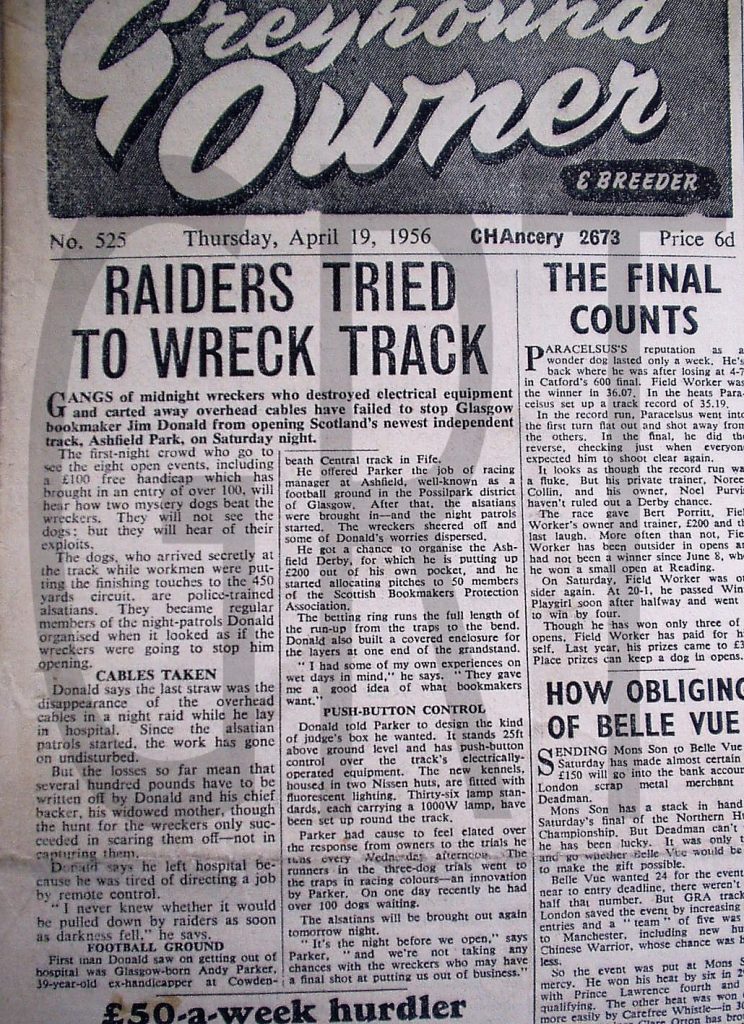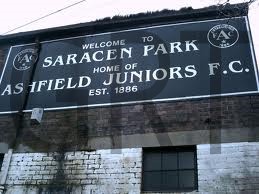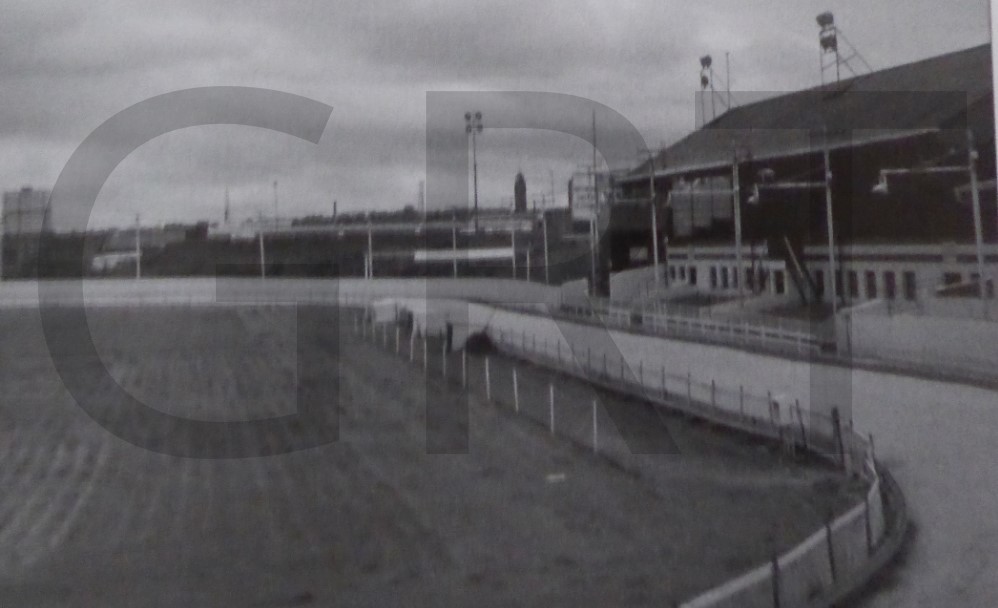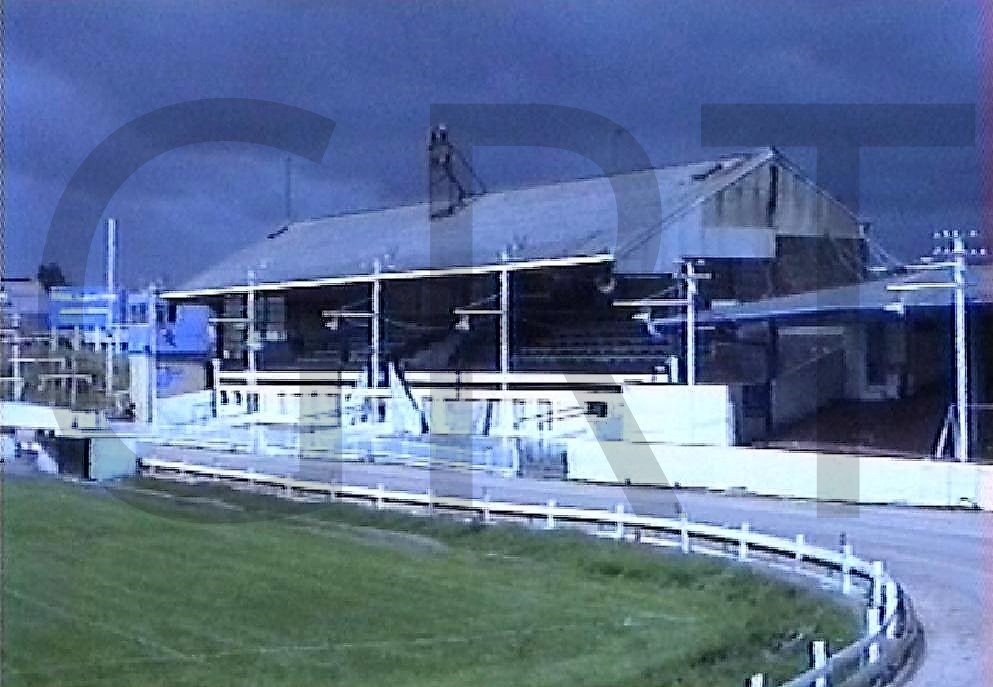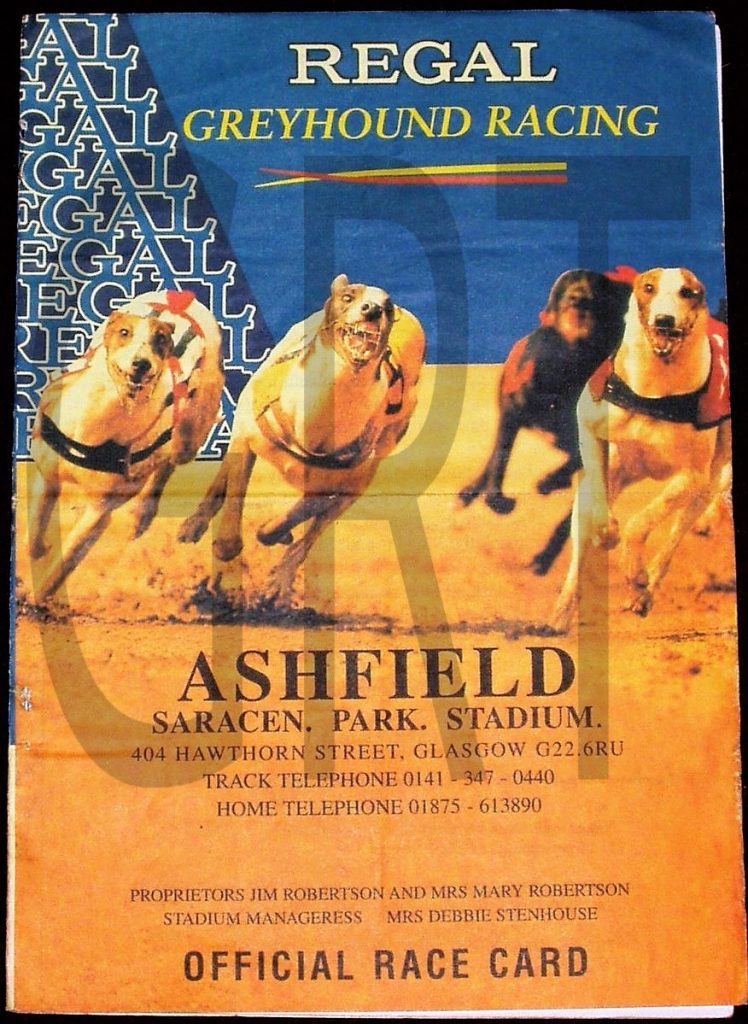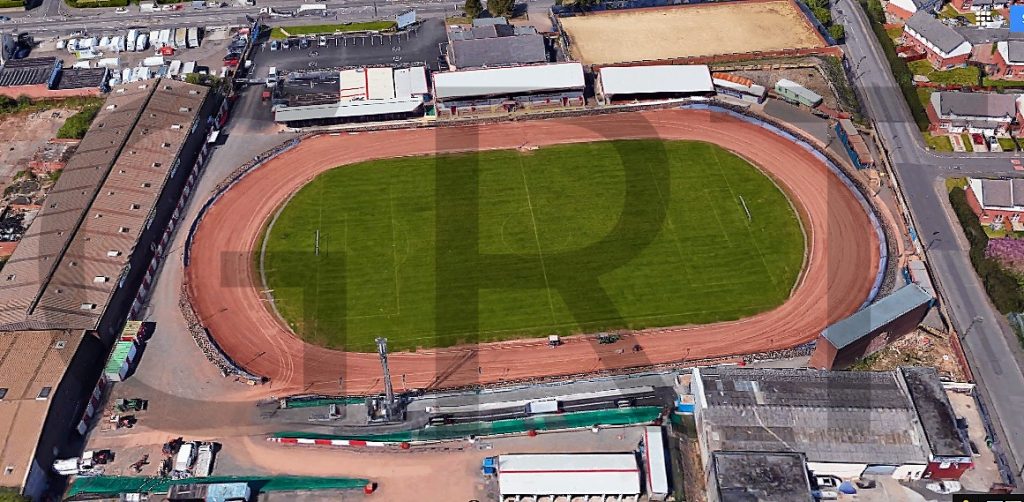 Ashfield Greyhound Stadium was probably recognised as the most popular flapping track north of the border during its time. It was located on Hawthorn Street in a district known as Possilpark, two miles north of Glasgow city centre. But more surprisingly is that the venue still exists today, and is known to its regulars as Saracen Park, a venue that hosts not just Scottish junior football, but also Speedway Racing, a sport which continues to attract good attendances.
The venue was originally developed on wasteland during 1937, with the levelled site becoming the new home for Ashfield Juniors Football Club. The venue was christened The New Saracen Park, after the football clubs original one had been demolished in 1934. Although it was purposely built as a football ground, Greyhound and Whippet Racing did feature prior to the outbreak of the Second World War, but it had only as a been a temporary spectacle.
In 1949 The New Saracen Park became the home to Speedway Racing, with Glasgow Giants hosting fixtures there, but the death of their star rider in 1951 triggered of a decline in attendances, which contributed to the Speedway club folding in 1953. Football continued, but in August 1955 the stadium was purchased by a Bookmaker called Jim Donald, who happened to be a Greyhound Racing enthusiast. The owner invested heavily in the stadium, laying a new 450 yard grassed circuit around the football pitch, along with 36 track side lamps each consisting of 1000 watt bulbs. Nissan huts were brought in to act as kennels, along with a purpose built stand, erected as shelter for the bookmakers. Prior to its opening the track suffered a series of attacks of vandalism and theft, possibly by local thieves, but even more likely from culprits who opposed the opening of the greyhound track.
Ashfields first meeting came on the 21st of April 1956, with almost 50 bookmakers standing, all set in a line along the full length of the start and finish straight. Ashfield operated as a flapping track throughout its whole existence, but it did not fail in attracting some of the top class greyhounds around, certainly one of the reasons was the impressive prize money on offer. It staged big events, such as The Anniversary Sprint, The Glasgow St Leger and of course The Ashfield Greyhound Derby, with prize money in excess of £4000 even during the 1980's. Meetings were staged with six dog races, run over distances of 270, 450, 640 and 830 yards, with the hounds chasing an inside Sumner type hare.
Sadly, the 1990's brought troubled times at Ashfield, mainly financially, with the track operating at a loss, and by 1996 it was announced that it could no longer afford to carry on. Although Greyhound Racing was to continue, the inevitable closure came during 1998. The sports departure witnessed the return of Speedway Racing in 1999, with its promoters laying a new oval cinder circuit on top of the old greyhound tracks foundations. The new cinder track forced the removal of the greyhound's trackside lights, a move required due to the widening of the Speedway track, leaving the new sport to be lit by the football clubs floodlights. Luckily enough, evidence of greyhound racing still survives, with the results board still overshadowing the eastern bend. Although upgrading of the venue has changed things considerably, in my view Saracen Park remains a time warp, as these old stadiums get fewer and fewer every year.
The venue still has a future, although stadium regulations have enforced a ground capacity of 3,600 for Speedway events, with the football matches restricted to just 600 spectators, all of which are allowed only to view matches from the main stand.
A programme, photograph or even memorabilia for this track is required for this page, if you can help please contact me.