Kirkmanshulme Lane, Gorton, Greater Manchester.
POSTCODE———————————–M18 7BA
LOCATED————————————-Two and a half miles east of Manchester city centre, set back of the A57 Hyde Road in the district of Gorton.
ORIGINAL SITE——————————Built on land that one occupied the Higher Catsknoll Farm and a section of Marshland.
DATE CONSTRUCTED———————1926
DATE VENUE OPENED———————July 1926.
Meaning other sports may have taken place prior to the arrival of Greyhound Racing.
FIRST MEETING——————————July 24th 1926.
Greyhound Racing only.
LICENSED OR INDEPENDENT————NGRC.
All venues covered would have to be licensed with the government, licensed suggested in this section would refer to tracks operating under NGRC Rules.
INSIDE OR OUTSIDE HARE TYPE——–Outside Swaffham.
Please note that the Electric Hare suggested is only a guidance and would have been in operation for a certain amount of time at this venue. Although it is not necessarily guaranteed that it was operational all the time, as other types of lure may have been used and updated as time progressed.
DISTANCES————————————260, 470, and 590 metres.
Please note that most racing venues distances had become varied throughout the years, the ones given above were at once point set and offers only a guidance to the track size.
CIRCUMFERENCE—————————Don't know.
Please note that alterations at most racing venues throughout its existence would see that the circumference of the track would vary, the one shown above offers only a guidance to the track size.
BIG RACE NAMES—————————The Scurry run over 260 metres and the Northern Flat run over the 470 metre trip. Once staged The Cesarewitch between 1972 and 1994,and up until recently staged The Laurels and The Oaks.
STADIUM SHARED WITH——————Stock Car Racing since 1999, Speedway Racing and 1950's rugby league club Broughton Rangers.
LAST MEETING——————————-June 6th 2020.
Greyhound Racing only.
STADIUM CLOSURE DATE—————-June 2020.
Meaning other sports may have taken place after Greyhound Racing had ceased.
STADIUM DEMOLITION——————–Venue remains dormant.
BUILT ON SITE——————————–N/A
In some cases, structure's that originally covered the venue after the stadium had been demolished, may have been themselves demolished too, so the one described is more likely to be the one which now presently covers the site.
EVIDENCE LEFT TODAY——————–N/A
FURTHER COMMENTS——————–Eight dog racing was introduced during May 1971, yet the new attraction never really appealed to the punters, as it was hard enough to pick a winner with six dogs never mind eight. The old derelict toteboard that overlooked the east end bend burnt down in July 1980, yet the one that replaced it on the western bend is still there, but remains redundant at this moment in time. This once eye catching structure had been designed by the GRA and put in to service in 1971. It stood well over 20 feet high and was 110 feet long, and featured some 8,200 lamps to cover the eight dog racing.
An additional request from one of the websites readers,

Hi everybody . I used to follow racing at Belle Vue in the early 70's when I really got the " bug " . This eventually led to owning some dogs and even raising a couple of litters ( with only modest success ) . In due course family came along and a house move further away meant that my participation faded away .
I have always retained an interest to a lesser degree and of course was very sorry to see the demise of Belle Vue !!
One of the main drivers for my initial enthusiasm was the success of a dog owned by my father-in-law at Belle Vue, trained by Bill Francis it was called " Anchors Aweigh " . Along with all my "Greyhound "Magazines and Greyhound Post Or World ?? the little 4 page publication and my old race cards have long since gone. I have tried to track down Anchors on various Greyhound Databases and can find his possible litter brother " March Anchor " who never raced but no trace of " Anchors " .
Does anyone recall him and better still perhaps an old program with him in that I could perhaps copy . Anchors dam was Scarboro Lady and he was whelped in 72 or 73 to either Winning Hope or earlier litter The Grand Silver so I guess he was racing about 1975 -76 .
A long shot I know but I thought I would ask. Merry Christmas, Ray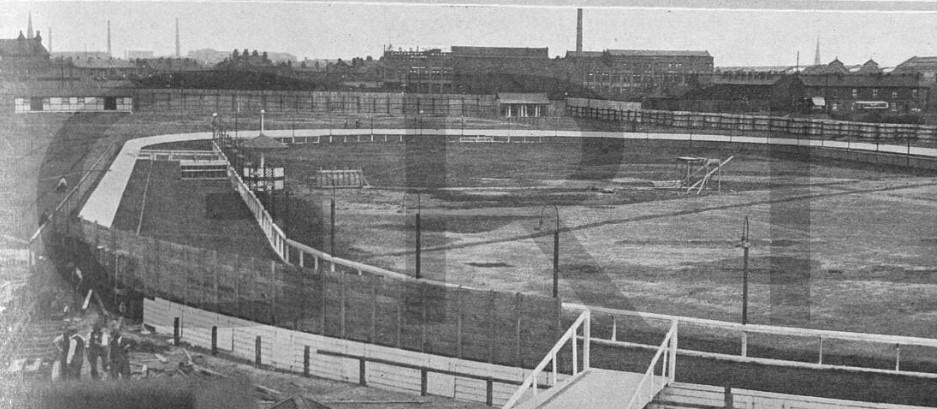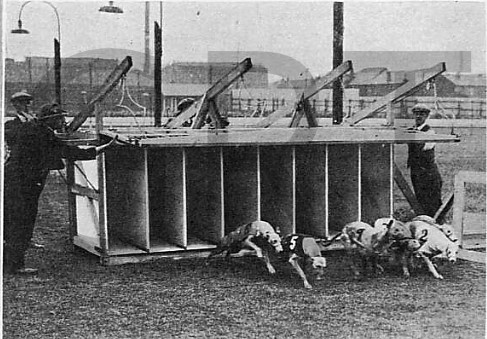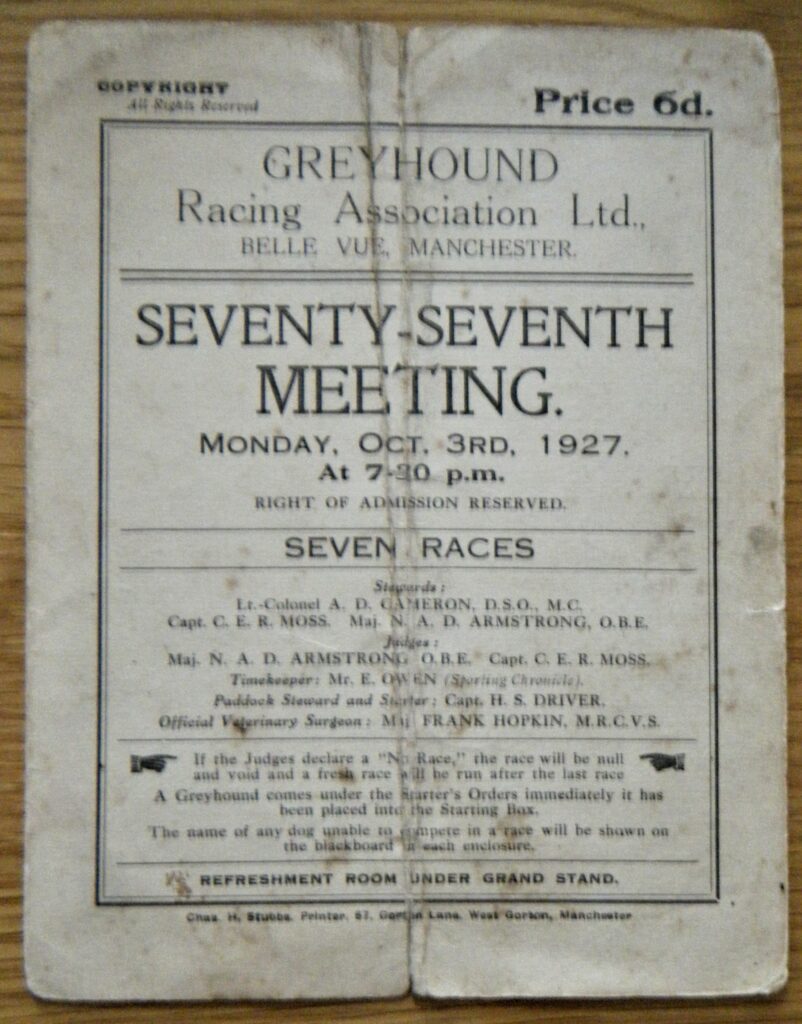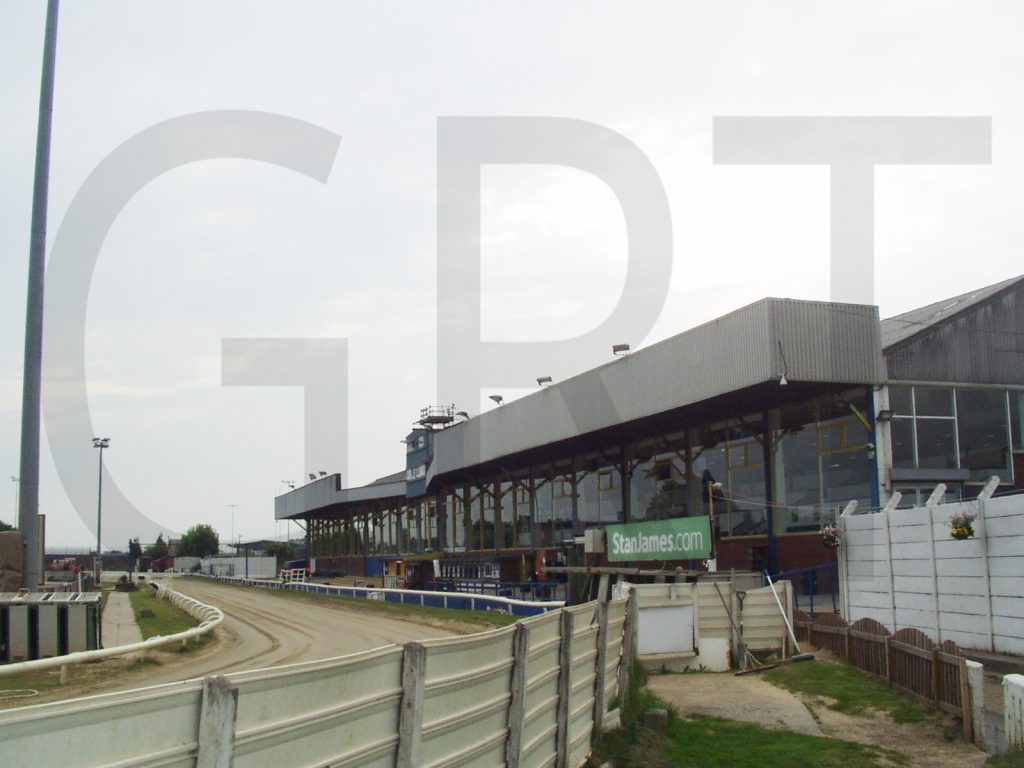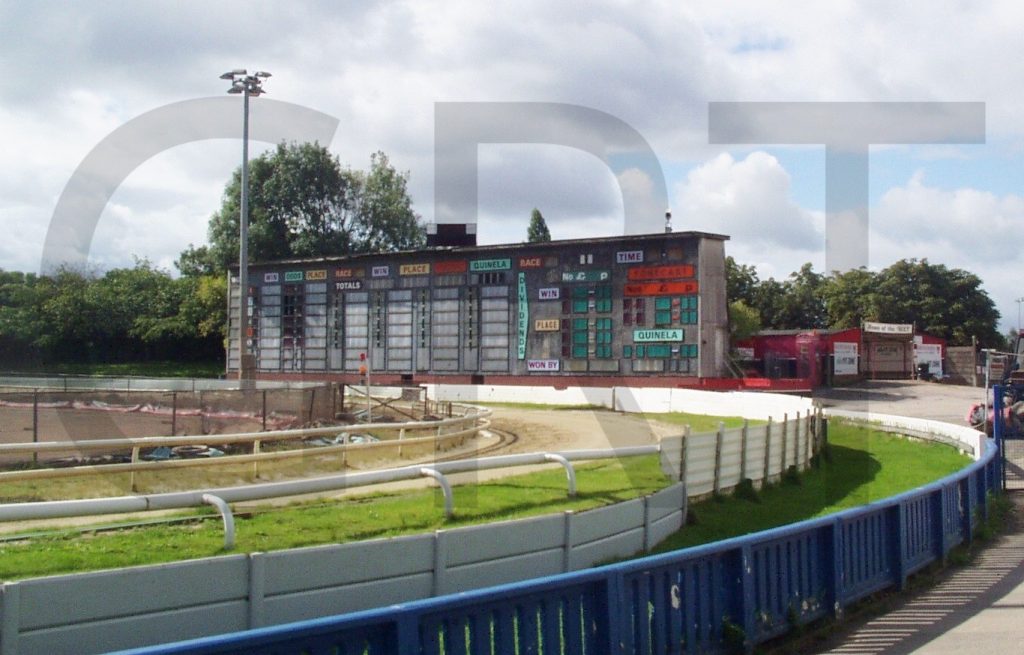 The present Belle Vue Greyhound Stadium is located two and a half miles east of Manchester city centre, situated just off the A57 Hyde Road in the district of Gorton. Sometimes known to regulars as "The Zoo", due to its once close proximity of a zoo that ceased operations in 1977, which had become a part of a huge amusement park that dominated the site for over a century.
Although greyhound racing had been experienced in the UK prior to the days of Belle Vue, normally seen run at unauthorised meetings on straight courses, but what was about to happen in Manchester was something different and no doubt would certainly attract the attention of the British public. It was during October 1925 that a meadow situated between the amusement park and Higher Catsknoll Farm, was purchased by a group of businessmen, with a view to promote a new sporting product.
Within nine months of its purchase and at a cost of £22,000, the new purpose-built greyhound stadium was up and ready for operation. The new venue would be managed by the newly formed Greyhound Racing Association and all events were to be run under rules very similar to those of the NGRC, who incidentally were formed two years later.
Belle Vue's first meeting came on the 24th of July 1926, when a mere 1700 racegoers witnessed a greyhound called "Mistley" win the first ever race. Although I describe the 1700 as mere, you may say the figure was respectable compared to today's numbers, but the second meeting's attendance figure of 16,000, explained why. By October 1926, 37 meetings had taken place, with attendances averaging 11,000, the sport was no doubt proving a success.
As greyhound racing dominated events at Belle Vue, other sports moved in as tenants, firstly in 1928 when Dirt Track Speedway was experimented, then featuring again sixty years later in 1988, and also Stock Car Racing which first appeared in 1999. But the main sport that had its links with Belle Vue greyhounds was Speedway Racing. Less than a mile away from the greyhound track was the Belle Vue Aces Speedway Stadium, its roar of motor bike engines regularly outgunned the greyhound fraternity at Saturday night meetings, a noise which created a unique atmosphere totally different to any other dog track in Britain. But that atmosphere was lost in 1987 when the Speedway Stadium was condemned by inspectors and closed down, although devastating it was an event that brought an even closer partnership between the dogs and the bikes as the Aces moved in as tenants.
The first forty years of Belle Vue's life would see the stadium develop into a respectable venue and make a name for itself as one of the top greyhound tracks in Britain. But good and bad changes came once the 1970's decade approached, although attendances figures had dropped slightly, the interest was still there, with racegoers packing both its main stands on Saturday evenings. 1971 witnessed the opening of a brand-new totalisator board complete with its brightly coloured numbers which was credited more with its appearance than its purpose. It was designed to operate an eight-digit totalisator system, after eight dog racing had been introduced on the 8th of May 1971. When in operation's its colourful numerals flickered over the west bend, and with the professionally arranged flower beds and waterfalls, which lay within the infield of the greyhound track, Belle Vue was a colourful spectacle indeed. The new tote board meant the old white scoreboard that overlooked the eastern bend was now redundant and remained unused and derelict until 1980 when a large fire contributed to its demolition.
Another part of Belle Vue's history was lost in 1991, after the stand on the back straight known as the Chieftain Stand, named after one of Belle Vue's legend "Hack Up Chieftain", had been condemned by building inspectors. The cost of replacing its asbestos roof and refurbishing its run-down condition overshadowed the need of the stand, which lead to the structure being demolished soon after. Concrete foundations of both the Chieftain Stand and the old tote board still remain clearly evident, with the latter set back at the top of the terracing overlooking the eastern bend.
Over the years Belle Vue has staged category race events such as the Cock Of The North, an event once run over 880 yards. The Cesarewitch which proved a crowd puller, having been transferred north due to the closure of the West Ham track in 1972, with Belle Vue hosting the event up until 1994 before being transferred to Catford. Up until recently, Belle Vue has staged The Laurels and The Oaks, but sadly due to limited sponsorship they category competitions have now been transferred to other venues.
In more recent times Belle Vue's big events had been the Scurry Gold Cup run over 260 metres, an event once held at London's Clapton Stadium, and The Northern Flat both contested during October. Races had consisted of six greyhounds chasing a Swaffham type outside hare, over regular distances of 260, 470 and 590 metres. Early 2018 had witnessed a reduction of meetings to just three per week, losing its Friday night gathering due to supposedly cutbacks, although a healthy crowd still supported its Saturday evenings events.
Rumours had been lingering for a number of years regarding the site being required for new housing, yet there was hope as The Arc Group took over the lease during early months of 2020, which in turn eased the thoughts of its closure. But new recommendations by the government regarding the Covid 19 outbreak had seen greyhound racing halted throughout the UK during March 2020. A return to racing on the 1st of June, had seen greyhound racing being staged behind closed doors, with Belle Vue offering three afternoon meetings per week. After meetings had been staged on Wednesday the 3rd, and Saturday the 6th of June, it came as a shock that the Sunday meeting had been cancelled, along with a message from the racing office announcing that no more meetings would take place until further notice.
The original reason for its cancellation had been blamed on the northwest high rate of infections from the Covid 19 virus, then changed the blame to a shortage of entries which had become more of a contribution for the reason. Further announcements did not confirm the true reason of its closure, but it did suggest that a review regarding its reopening would take place during August 2020. As for myself, it's tragic that Belle Vue has closed, and I hope that Greyhound Racing does reappear, as my memories of The Zoo range from the Duella and Quinella days of the early 1970's, watching racing from the once packed now demolished Chieftan Stand, right up to as recent as 2014, when an A1 grader I owned reached the Semi Finals of The Laurels. Belle Vue had been the only venue that staged greyhound racing in the northwest since independent Ellesmere Port closed during June 2014, meaning today that the area has no more venues to stage the sport.
When I first became involved with greyhound racing during 1970, I can comfortably say that I could go to a meeting at a different track every night of the week within a 25-mile radius of where I lived. Fifty years on and no dog track in the northwest, it's not good news, but I know I am one of many that the greyhounds do appear once more at the zoo. At present, it's now unused restaurant once accommodated around 400 diners, along with extra seating which offered panoramic views from inside the glass fronted main stand. The lower level of terracing in front, may not have been the best place to view racing, but the presence of the bookmakers and racegoers created an excellent atmosphere.