Colwick Park Stadium, Daleside Road East, Colwick, Nottingham.
POSTCODE———————————-NG2 4BE
LOCATED————————————Roughly three miles east of Nottingham city centre along side A612 just north of the Nottingham Racecourse.
ORIGINAL SITE—————————–Built on a car park that once served the Horse Racecourse.
-DATE CONSTRUCTED——————-1979
DATE VENUE OPENED——————-January 1980.
Meaning other sports may have taken place prior to the arrival of Greyhound Racing.
FIRST MEETING—————————-January 24th 1980.
Greyhound Racing only.
LICENSED OR INDEPENDENT———-NGRC.
All venues covered would have to be licensed with the government, licensed suggested in this section would refer to tracks operating under NGRC Rules.
INSIDE OR OUTSIDE HARE TYPE——Outside Bramwich.
Please note that the Electric Hare suggested is only a guidance and would have been in operation for a certain amount of time at this venue. Although it is not necessarily guaranteed that it was operational all the time, as other types of lure may have been used and updated as time progressed.
DISTANCES———————————–305, 480, 500, 700 and 925 metres.
Please note that most racing venues distances had become varied throughout the years, the ones given above were at once point set and offers only a guidance to the track size.
CIRCUMFERENCE—————————437 metres.
Please note that alterations at most racing venues throughout its existence would see that the circumference of the track would vary, the one shown above offers only a guidance to the track size.
BIG RACE NAMES—————————The Eclipse, The National Sprint and the Produce Stakes. Hosted The 2019 Greyhound Derby.
STADIUM SHARED WITH——————Nothing known of.
LAST MEETING——————————-N/A
Greyhound Racing only.
STADIUM CLOSURE DATE—————-N/A
Meaning other sports may have taken place after Greyhound Racing had ceased.
STADIUM DEMOLITION——————–N/A
BUILT ON SITE——————————–N/A
In some cases, structure's that originally covered the venue after the stadium had been demolished, may have been themselves demolished too, so the one described is more likely to be the one which now presently covers the site.
EVIDENCE LEFT TODAY——————–N/A
FURTHER COMMENTS——————–None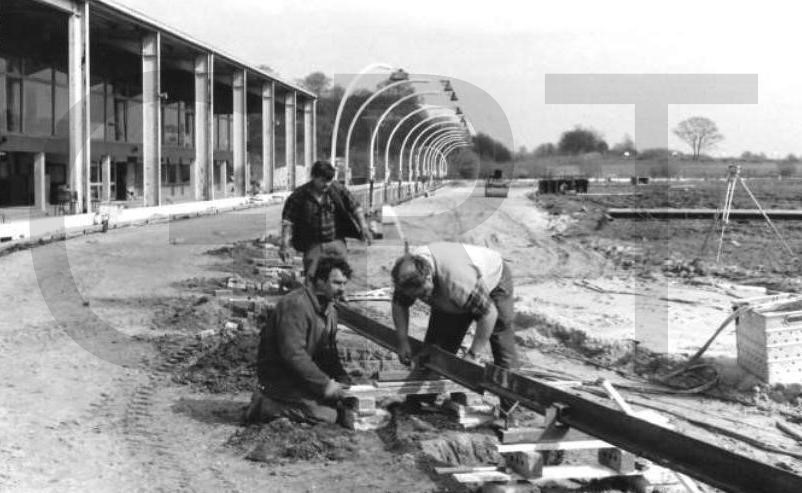 Nottingham Greyhound Stadium or Colwick Park as it is sometimes known, is found roughly three miles east of Nottingham city centre, set back just off the A612 main road, next door to Nottingham Racecourse. A relatively new track compared to most, having developed due to the efforts of enthusiasts, who were desperately in need of a replacement within the city's boundaries, after the old Nottingham White City stadium had closed in September 1970.
It was announced in the Greyhound Owner of November 1972, that proposals had been forwarded to the Nottingham council, to construct a new venue on the car park of the cities Horse Racecourse. The new site happened to be ideal, as it was within one mile of the old White City track, but due to circumstances, it would take another seven years or so before the stadium was ready for action. Work began during 1979, with an all-sanded track, which had a circumference of 442 metres, being laid in front of a new grandstand that would accommodate 1,500 people.
Before the Winter was out, the stadium was ready to stage its first meeting, with almost 2,500 racegoers witnessing a greyhound called Tartan Al win the first ever event on the 24th of January 1980. Distances were contested over 295 and 500 metres with the greyhounds chasing an outside Sumner type hare system, a system that would eventually be changed to an outside Bramwich type in 1989. But its early days suffered problems, after four months, top trainer Charlie Lister left Nottingham, leaving them a shortfall of required greyhounds, and by June, just seventy were on hand to fill the two meetings a week race card.
Fortunately, things did improve, its links with nearby tracks Leicester and Coventry eased things a little by arranging a succession of Inter Track competitions. The success of Colwick Park continues today, and features regularly on Racing Post Television, offering minor category open races regularly, taking advantage of its Midland location, which is littered with a good number of unattached trainers. Let's not forget that it also attracts top greyhounds from across the UK, with its high category events such as The Eclipse, The National Sprint and The Produce Stakes just to name a few.
It operates six dog races over a track that's circumference is 437 metres, which creates distances of 305, 480, 500, 700 and 925 metres.
A programme, photograph or even memorabilia for this track is required for this page, if you can help please contact me.